Bill that would allow Eversource-Hydro-Quebec deal wins approval
NH Senate OKs measure that would let PUC consider power purchase agreements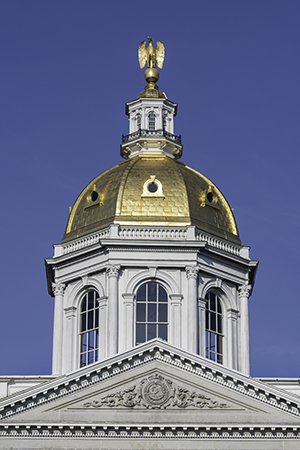 The state Senate passed a bill Thursday that would enable Eversource to purchase power for its New Hampshire customers over Northern Pass transmission lines, for the ratepayers' benefit and at their risk.
The Senate passed Senate Bill 128 just days after the Public Utilities Commission rejected a 20-year power purchase agreement (PPA) between Eversource and Hydro-Quebec to buy 100 megawatts of power dedicated to New Hampshire customers.
Eversource, which redacted terms of the contract, had argued that the agreement would have saved $100 million under most scenarios, but would have cost ratepayers more under one. But the PUC never got around to evaluating the economic benefits of the agreement because it ruled it violated both the state's restructuring law and a recent agreement for Eversource to divest itself of its generating assets. The PPA was "essentially the same as Eversource owning an electric generating facility," the PUC ruled.
SB 128, however, would alter that restructuring law, permitting the PUC to consider a PPA if it can be shown that it lowers electric costs and would "reasonably protect ratepayers from stranded costs."
The PUC would also have to minimize the impact that any such agreement would have on the competitive market.
Stranded costs were the result of two other decisions that lawmakers and regulators thought would save money: the billion-dollar-plus investment in the Seabrook nuclear power plant, one of which was never built, and a $430 million investment in a mercury scrubber to keep Eversource's coal-burning Merrimack Station power plant in Bow running. The plant is now being sold off at a huge loss.
"Every time we come up with a legislative fix it ends up costing us more," said Sen. Andy Sanborn, R-Bedford. "Stranded costs are a huge part of that."
"We are allowing the utilities to come back to the ratepayers for that guaranteed rate of return," said Sen. Martha Fuller Clark, D-Portsmouth. "Utilities never want to take the whole risk. We are turning to the hybrid system we were just on the verge of getting rid of."
But Sen. Jeb Bradley, R-Wolfeboro, argued that the bill was the "opposite of the legislation that created the scrubber" because in this case it just gives the Public Utilities Commission "the authority to look things over." He also said the bill does not undermine competition — it just gives the commission a tool to lower rates.
The bill does not specify the Eversource PPA with Hydro-Quebec and could apply to any utility or nonutility PPA for any energy source, including wind and solar, but not gas, which was stripped of the bill, partly to mollify those who oppose gas pipelines going through their districts, said Sen. Dan Feltes, D-Concord.
But it was also "because we have an overreliance on gas and we need diversification," he said.
The Senate passed the bill 17-6 over to the House.