Benson rings in 2005 Start Up N.H. competition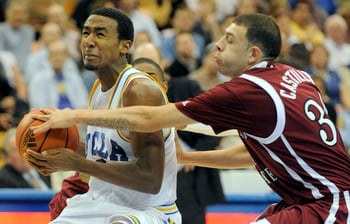 Winning in one category of the 2004 Start Up New Hampshire business plan competition has given Bill Lankins' company more visibility with potential investors and a bigger customer and vendor base.
"Having written that plan and polished it to a fine point, we've been able to strategically sort out opportunities over time," said Lankins, CEO of ActiveShock Inc. of Manchester, a start-up company that develops, manufactures and sells microprocessor-controlled shock absorbers to high-performance suspension markets.
Lankins spoke to a group of about 35 people gathered Oct. 26 at the Palace Theater in Manchester, where Gov. Craig Benson kicked off the 2005 Start Up competition.
Underwritten by Public Service of New Hampshire, the competition showcases promising start-up companies in several categories, and divides $250,000 in cash prizes among those whose plans are judged to be the most successful.
Benson called it the contest – the largest of its kind in the country – "a major, major, major contribution for Public Service of New Hampshire."
The competition is open to any team or company located or willing to locate its business in New Hampshire. Some 212 business plans were submitted last year. The grand prize went to Woomera Therapeutics Inc., a Lebanon-based company developing a cancer-fighting antibody. Deadline for business plan submissions is March 31.
The three categories, each paying $30,000 to the winner, are: Biomedical/Life sciences, New Hampshire North Country (open to those starting a company in Coos, Grafton or Carroll counties), and Manufacturing, which is new this year.
"Keeping manufacturing growing and thriving is vitally important and moving great ideas into implementation is what Start Up New Hampshire is all about," Benson said.
On May 16, the semifinalists will present their plans to a panel of judges, and the winner of each category will be finalists in the $130,000 grand prize category, which is for the best overall business plan in any industry. The first runner-up receives $20,000 and the second runner-up wins $10,000. Grand prize finalists will present their plans May 17, and a winner will be announced later that day.
Benson said a single company could potentially win $220,000 by taking all four categories. For instance, a biomedical company in the northern part of the state that also happens to do manufacturing could win the grand prize as well.
ActiveShock won in the "All Other Industries" category a year ago — a category that didn't offer a cash prize and is not offered this year. While his company didn't win a cash prize a year ago, Lankins said the prize money can be a driving force.
"Do not underestimate the importance of that cash prize," Lankins said. "Having that big a prize at the end of the day really attracts the best, the brightest, and the most serious in the state to compete in this. … They're really going to take the competition seriously and take their plan to a higher level as a result of that."
Benson said he'd like to see more companies stepping up to the plate to make donations.
"We want to have the greatest business plan competition in the country and the world," Benson said.
Benson said he expects the on-line competition registration to start toward the end of the year. Anyone interested should visit nheconomy.com for more information.