Benson is back on the board of Planet Fitness
Former governor, a franchise owner, returns as director after two years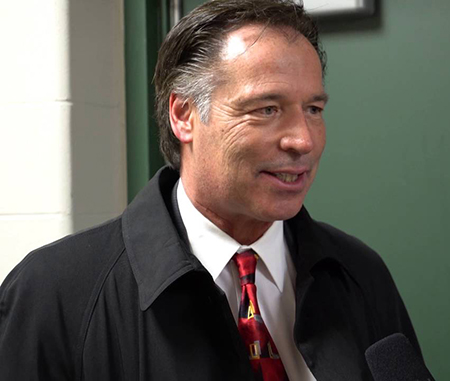 Former Gov. Craig Benson has rejoined the board of directors of Planet Fitness, a national gym chain based in Hampton in which he is a substantial franchisee and which uses software from a company that Benson partly owns, according to a Securities and Exchange Commission filing.
Benson, who co-founded the former Cabletron Systems, once the state's largest employer, and served a term as governor from 2003-2005, had been on the Planet Fitness board from 2007 to March 2015. Shortly after leaving the board, he and other company officials threatened that the company would leave the state unless lawmakers changed tax laws to lessen the burden on companies deciding to go public, which Planet Fitness was about to do. At the time, Benson said he owned a fractional share of the company.
Planet Fitness – which started trading on the New York Stock Exchange in August 2015 – kept its headquarters in the state, and in 2016 the Legislature passed a version of the tax break the company was advocating for.
Planet Fitness, which was founded as a single gym in Dover in 1992, grew quickly with its trademarked "judgment-free zone" philosophy, with low monthly membership fees.
"Unlike other gym models, we're not about the fit getting fitter. We cater to the 80 percent of the population that doesn't have a gym membership, casual exerciser or first-time gym user that has never worked out before," said CEO Chris Rondeau in an earnings call last week.
Healthy gains
Since its $1.6 billion initial public offering, Planet Fitness increased the number of gyms from 1,000 to 1,400, and its membership has grown from 7.1 to 10.4 million, according to its financial filings.
The earnings report showed healthy gains in the second quarter ending June 30, with quarterly revenues up 17.3 percent, to $107 million (with projected annual revenue from $409 million to $415 million), system-wide, store sales rose 9 percent, and quarterly net income attributed to common shareholders tripled to $12.4 million, or 16 cents a diluted share.
The company's growth means that by 2018 it will no longer be protected from several reporting requirements meant to help shelter smaller businesses from overregulation. For instance, shareholders will be able to vote on things like executive compensation.
Radianse Systems
The appointment of Benson will increase the Planet Fitness board from five to six directors. Benson has been a franchisee since 2012, when he entered an area development agreement – mostly in New Jersey – though his ownership interest in BL Technologies, according to an Aug. 1 disclosure filing.
As of June 30, he has opened 11 stores, is in the process of opening two more, and is obligated to open another 24. In 2016 and the first half of 2017, Benson paid $1.9 million in royalties and fees to Planet Fitness and purchased about $600,000 in equipment. Benson gets the same deal as other franchisees, said the filing.
Benson has another connection to Planet Fitness. He owns 10.5 percent of Airpointe of New Hampshire, doing business as Radianse Systems, a Rochester amenity tracking compliance software company that services fitness clubs, prisons and health care facilities.
Currently, Radianse is a vendor for two of Planet Fitness's corporate stores and 108 franchise gyms, but Planet Fitness has engaged Radianse to provide its software to all corporate stores and make it available to all franchisees.
Planet Fitness paid Radianse "an immaterial amount" last year and the first half of this year, the company said.
Benson is not expected to serve on any of board committees, and he will receive the same compensation as other board members: $100,000, half in stock and half in equity.