Belletetes goes the extra mile in serving customers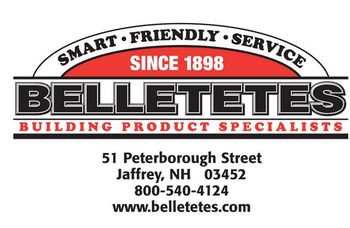 When Eli Belletete opened a general store in Jaffrey in 1898, selling lumber and hardware supplies along with groceries and household goods, he had no way of knowing he was starting a family business that would span — so far — five generations.
Today Belletetes Inc. employs 220 people in six New Hampshire and one Massachusetts location. "I'm sure he'd be very surprised," said Mike Shea, the company's vice president and a great-grandson of the founder.
The general store is long gone, but Belletetes has grown to be one of the largest lumber and building products dealers in the state. With lumberyards in Jaffrey, Peterborough, Nashua and Ashland in New Hampshire and in Winchendon, Mass., a hardware store in New Ipswich and a drywall distribution center in Hooksett, Belletetes continues to expand as a company with a reputation for quality products and exceptional customer service for more than 100 years.
"We plan to be around for another hundred years," said Shea, who makes it clear the company is not sitting on its laurels.
From maintaining a large inventory of building products to on-time job site delivery, Belletetes goes the extra mile to meet a customer's needs.
"We can provide our customers with one-stop shopping for almost everything," said Shea. "Whether it's framing lumber, engineered lumber, trusses, plywood, roofing, siding, drywall, windows, cabinets professional tools and more, we have them covered. We also pre-hang our own interior and exterior door units at our millwork facility in Jaffrey."
And Belletetes delivers in more ways than one.
"With our fleet of more than 40 delivery vehicles, we get the material to the job site, professionally and on time, whether it's with a boom truck or a flatbed with a forklift or a box truck," Shea said. "We have the right vehicles for the job."
And Belletetes' service goes beyond delivering materials. "Our outside sales force stays directly involved, calling on customers, providing blueprint takeoff services and visiting job sites regularly."
"One of the biggest changes that I've seen over the last 20 years is the number of options on products today," said Shea. Belletetes personnel attend seminars annually so they can inform and advise customers on the latest in products and options. Not only professional builders, but people doing their own home improvements have become increasingly sophisticated consumers, Shea said. "Customers can go online and within an hour become pretty knowledgeable about the products they are interested in." Belletetes take pride in providing the homeowners with the same quality of service available to the professionals.
"Homeowners come to us for the same reasons professional contractors do — quality products, knowledgeable and highly trained sales people and specialized service," Shea said. "They know that if they start with the same quality ingredients as the professional builder, they are more likely to have a completed project they can be proud of."
And all their customers have come to expect a friendly smile and warm greeting when they come to Belletetes, the building products specialists with smart, friendly service.
"It's who we are and what we do," said Shea.
The NHBR Business Profiles section contains content provided by New Hampshire Business Review advertisers.