'Behind the curve' on imports
Why is NH's foreign trade zone so underused?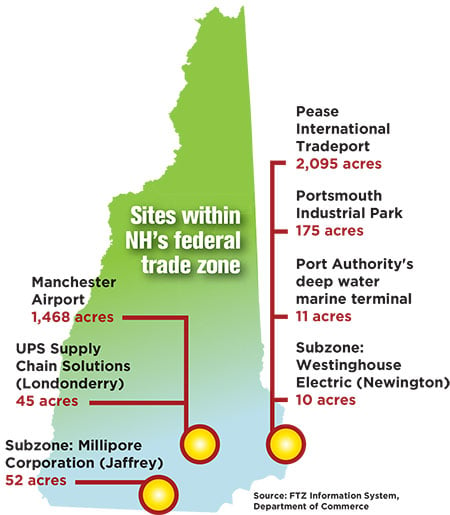 If the U.S. ever gets involved in a trade war, businesses in New Hampshire and the rest of New England will be especially vulnerable, not just because they are involved to a high degree in international trade but also because they currently do business with very little protection against high import duties.
That protection — foreign trade zones — alleviates tariffs on 12 percent of all U.S. imports, but the Granite State is "behind the curve" when it comes to FTZs, to borrow a phrase from Glenn Page, a former U.S. Customs official and managing partner of FTZ Solutions in Portsmouth. "It's late to the game."
Nationally, there are 262 foreign trade zones — an average of more than five per state — that enable companies to defer, reduce and sometimes avoid tariffs altogether. In 2015, 2,900 firms imported $660 billion in goods in 186 of the zones.
However, New Hampshire is one of a handful of states that only have one trade zone and none of the hundreds of companies within the zone utilize it. One company has taken the trouble to create its own subzone, but New Hampshire is one of six states that has yet to file a petition to make that process easier. In fact, it only filed its petition on Sept. 1.
Indeed, many companies don't even know about FTZs, and even firms that do — lulled into complacency by low tariffs created by trade agreements like NAFTA — shy away from the expense and effort of applying.
In some ways, much of New England is in even worse shape. New Hampshire imported $100 to $250 million in 2015 through its FTZ. That's more than Maine, Rhode Island, Vermont and Connecticut, and all but Rhode Island have more than one zone. No companies participate in the four FTZs in Connecticut, and Massachusetts, a much larger state, imported somewhere between $1 billion and $5 billion through its two FTZs. That's the same as Delaware.
Compare that to Kentucky, landlocked, with no significant airport and nor located near an international border. It has imported $25 billion through its four zones. Texas, the nation's largest user of FTZs, with 32 of them, imported and exported more than $100 billion.
Time-consuming process
Now that NAFTA is being renegotiated, and the Trump administration is threatening to slap high tariffs on Chinese goods, interest in FTZs is increasing throughout the nation.
"There has been lot of discussion," said Geno Marconi, director of ports and harbors at the NH Port Authority, the state's only FTZ grantee. But firms are still hesitant to take part, he said. "In the end it's an internal decision. It has to work for them."
Geno
Marconi, director of ports and harbors at the NH Port Authority
Once a decision is made, it takes as long as a year to set up a foreign trade zone, especially for companies outside New Hampshire's designated zone. That zone actually consists of four sites: Pease International Tradeport, Manchester Boston Regional Airport, Portsmouth Industrial Park and the Market Street Marine Terminal in Portsmouth.
Companies outside those boundaries have to set up their own subzone — a time-consuming process.
But MilliporeSigma did just that, transforming its Jaffrey site into its own 52-acre FTZ. The company makes finished filtering devices used in the pharmaceutical, electronics and food/beverage industries.
MilliporeSigma submitted its application on Nov. 30, 2004, and it was approved on Sept. 20, 2005. That doesn't take into account the time required to file another application to utilize the FTZ.
Yet in 2015, Millipore was responsible for all of New Hampshire's FTZ imports ($100 to 250 million) and exports ($500 million to $1 million), according to the Foreign Trade Zone boards' annual report.
The state could reach companies outside existing zone areas by expanding them, which is difficult, or altering the zone's boundaries, which is a bit easier.
Marconi did that in 2014, moving a 50-acre site in Dover — set up long ago when shallow boats used to ship cargo up the river from Portsmouth Harbor — to expand the airport site into Londonderry. This was done to accommodate Pratt & Whitney's new United Parcel Service-operated logistics center, Marconi said.
But five years later, "they never went forward," said Kevin Smith, Londonderry's town manager. Pratt & Whitney declined comment on the status of the trade zone, and UPS did not respond in time for this article.
On the other hand, there have been more inquiries from some of the other 46 businesses on the Londonderry parcel, said Smith.
'Less painful'
There is another way to expand an FTZ throughout the state.
The state can set up an alternative site framework (ASF), which would allow any company in the county adjacent to the grantee's zone county (in New Hampshire's case, Rockingham is adjacent to Strafford, Merrimack and Hillsborough counties) or within 60 miles or 90 minutes driving time. In New Hampshire, that would include much of the state.
Most states have taken that route. Some 153 zones in all but six states now have set up an alternate site framework, with another five zones pending. Half of the six that failed to file are in New England: Massachusetts, Rhode Island and New Hampshire.
Setting up an ASF would certainly make it "less painful" for companies outside the zone to participate, said Marconi, who has been meaning to do it for years, "but I was the only one handling it, and didn't have a lot of demand at the time. I've been a one-man show. That's why I hired Glenn."
But Marconi bit the bullet, budgeted $30,000 to pay Page to submit an application to the national FTZ board. The contract starts Sept. 1, thought it will take about 10 months to for the board to approve it.
That may be one reason trade zones are not used more here. In addition, other states more heavily market their free trade zones. Marconi does his best. He talks them up at various economic development groups. Smith in particular has been promoting it in Londonderry.
"They definitely know about it," he said. "But it would be good if it were more widely advertised."
Michael Bergeron, who heads business recruitment at the newly created NH Department of Business and Economic Affairs, mentions the FTZ "whenever we make a sales presentation, but we don't actively market it."
It's unclear what kind of marketing the state does for those companies particularly interested in international trade.
The BEA declined NH Business Review's request to interview the director of the International Trade Resource Center, but at the federal level, Justin Oslowski, director of the Commerce Department's New Hampshire Export Assistance Center said that it doesn't normally pitch FTZ.
"I'll have to say it isn't one of our core issues. If the company would ask, we refer them to the right people, but we will be looking into promoting it. Maybe we can arrange a seminar on it," said Oslowski.
'Companies are spooked'
It isn't just a matter of awareness. FTZs are just not right for everyone.
Take Westinghouse Electric's facility in Newington. It set up a subzone back in 1992, when it was ABB Combustion Engineering Inc.
But thanks to trade agreements, "the tariffs for the things we needed basically went down to zero," said Mark Hanson, purchasing manager there at the time. "There were fewer things we could benefit from." Hanson ended the program and has since moved on to another position.
Westinghouse did not respond to NHBR inquiries whether it is considering using FTZ again, now that NAFTA is being renegotiated.
ECCO USA, which is in the Manchester airport subzone, got approval to use the FTZ in 1999 and used it for a few years. But it now manufactures most of its products overseas and just distributes in the U.S. Thus an FTZ would mainly defer tariffs, not avoid them. It still might be worth it, "but we just don't have the time to look into it," said Jasper Frokjaer, the company's chief financial officer.
Nobody in Dover was interested in using an FTZ, said Dan Barufaldi, director of Dover's Business & Industrial Development Authority. Barufaldi is a strong believer in FTZs.
He was a member of the local FTZ board when he was in Rochester, N.Y., where it was utilized heavily.
But in Dover, "we have small-to-moderate companies, and until you have a threshold of volume, it just isn't worth it," he said.
He said it might be worth setting up another zone near Canada, but New Hampshire used to have one in Colebrook and that was shut down years ago.
No business in the state's largest FTZ site — Pease Tradeport, with 1,900 acres encompassing 256 businesses — participates. There was one warehouse that was interested but never went ahead.
"Companies are spooked by the inventory management that is in place, especially about the security with customs. You are open to inspection at any time," said Dave Mullen, executive director of the Pease Development Authority.
Still, all agree it is important that companies at least check to see if an FTZ makes sense to them.
"Companies should do this before there is an increase in tariff," said Michael D'Aoust, CEO of PointTrade Services Inc., a Florida-based consultant to Millipore. "It's important to be aware of your options to be competitive before it is too late."