Bankruptcy trustee files $1 billion suit against two ex-GTAT executives
Former CEO, COO ignored employee warnings, misled board, suit charges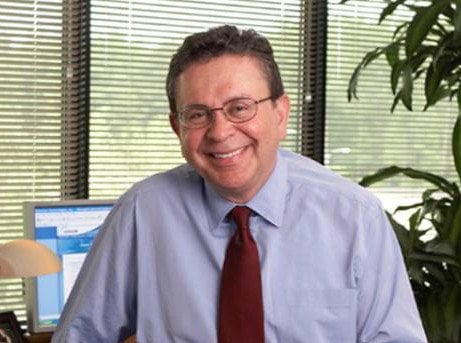 Two former top GT Advanced Technologies executives were responsible for the disastrous deal with tech giant Apple that bankrupted the Merrimack-based company, charges the bankruptcy trustee in a suit demanding almost $1 billion from them.
The suit, filed Thursday in U.S. District Court in Concord, alleges that GTAT's former CEO, Thomas Gutierrez, and ex-chief operating officer Daniel Squiller ignored employees' warnings and falsely reassured the board about the deal.
Both knew that GTAT could not produce enough quality sapphire in a hastily constructed Arizona factory for Apple to produce its new iPhone in 2014, says the suit. Indeed, the staff thought that the timeline was "crazy" and "bonkers," and at one point Gutierrez himself admitted that the Apple deal "sucks."
Eventually, even Squiller agreed that the results were a "f—ing disaster."
But Gutierrez kept all this information from the GTAT board, using words like "plausible" and "conservative" when describing the company's ability to meet production goals, the trustee charges.
Only a tiny fraction of the material would meet Apple's expectations, leading to GTAT's $1.3 billion bankruptcy, the second largest in New Hampshire's history. By that time, the executives had cashed out on a good portion of their stock option and collected their bonus. It is that money – nearly $16 million – plus $962 million in costs related to the Apple contract, the bankruptcy case and the resulting regulatory investigations – that the trustee wants back from the defendants, or more realistically, their insurers.
But the defendants' attorney dismissed the 50-page lawsuit as a routine filing
"The plaintiff's claims are of the sort typically filed in the aftermath of a bankruptcy. They lack any merit, and we intend to contest them vigorously," said Jordan D. Hershman of Morgan Lewis, lead counsel for the defendants and leader of the firm's Securities Litigation Group in Boston.
Misplaced confidence
In 2013, when GTAT headed into the Apple deal, it was in bad shape. Indeed, that was the reason it entered the Apple deal in the first place. As the complaint notes, GTAT, which started out as making equipment to produce the materials to make solar cells, was "hemorrhaging" cash.
The solar market had collapsed, and even as GTAT moved equipment to make sapphire for the LED lighting market, that market too was flagging. Sapphire could be used in smartphone screens, but to be economical, the furnaces to produce them would have to create a very large boule of sapphire that could then be sliced into screens.
GTAT had managed to produce a 115-kilogram boule, but in order to convince Apple to use the sapphire, the company assured it could grow 165-kg boules. Furthermore, Gutierrez and Squiller stated in their presentation to Apple back in March 2013, "GT is not just an equipment supplier. We can be a partner."
By May, they were promising to not just install the equipment, but run it.
"In other words, GTAT — which had virtually no experience with manufacturing — would handle the complete sapphire production and fabrication process for one of the largest companies in the world," says the suit.
As negotiations proceeded, and Apple disclosed that the iPhone would have a larger display screen, it became clear that GTAT would have to increase its boule size to 260 kg to be economically feasible. And the company told Apple it would do it.
Apple was skeptical. In July 2013, Apple sent an email to Gutierrez and Squiller, stating, "We have had several bad experiences in the past where supplier's development plans don't work out. Jumping from 165 kg to 260 kg for production seems like a huge risk."
But Gutierrez said he was so confident that he would bet $200 million on the purchase price "putting our money where our mouth is."
Apple wanted more than that. In a deal that Squiller later said "shifted all the economic risk to GTAT," GTAT would keep the equipment, becoming a mere material supplier to Apple, which would advance the payments for that material to GTAT. But Apple was under no obligation to buy that material if it did not meet its specifications.
Words of warning
The suit names several employees that warned how difficult it would be for GTAT to fulfill its promises:
• Dr. Christine Richardson, GTAT's head of research and development, said that her level of confidence that GTAT would successfully get to 260 kg, was a 4 on scale of 1 to 10 scale by June 2014 – and the timeline called for production to start in January 2014. Later, she allegedly said, "We all thought the timeline was crazy."
• Dr. James Zhahler, another member of GTAT's R&D team, who responded that even 224 kg was "uncharted territory" He also said the high (98 percent) utilization rate of furnaces was "wishful thinking" and that the timeline was "just bonkers."
• Paul Matthews, a GTAT product manager, also used the term "literally uncharted territory," because such a jump in size would be a "paradigm shift."
• Gene Skayne, GTAT's vice president of finance, emailed Squiller worried that changing the utilization rates of furnaces from 90 to 98 percent would be "very aggressive. I don't see how we get there." Later, he said about all the targets, in an email to Squiller, "I don't want us all to look stupid next year if we can't get anywhere near the targets agreed with the customer."
Squiller allegedly wrote back to Skayne, "Yes, both Tom [Gutierrez] and I are aware of the increased risk. Apple has a box we are trying to get into to make the program viable."
Despite these concerns, Gutierrez assured the board in August 2013 that producing the 262-kg boule was "plausible" and a "reasonable proposition" and the contract they had negotiated was "conservative compared to actual projections."
"GTAT's board never would have approved the Apple Contract if Defendants had disclosed their true knowledge about the technical and economic infeasibility of the entire deal," says the suit.
All told, GTAT delivered less than 6 percent of the material that it had committed to produce under the Apple contract. The company declared bankruptcy in October 2014, and was delisted from the Nasdaq stock exchange.
It emerged from bankruptcy in 2016 when its legacy assets (primarily the legacy New Hampshire R&D material equipment company in Merrimack) were bought by private investors.
Meanwhile, the trustee to the bankrupt estate has been trying to collect money to pay out some claims to the creditors. The trustee has filed more than 300 adversary lawsuits, settling less than half of them.
None of this money is expected to reach shareholders, whose best hope is an ongoing class action suit that names Gutierrez and GTAT officials, though not Squiller. There is a motion to dismiss the claims in that suit, and the judge in the case wrote that he had expected to rule on "fairly short order" by January.
A conference was held in March, but there has been no filing about a settlement or ruling.