Balloons popping and dancers twirling, festival packs fun for all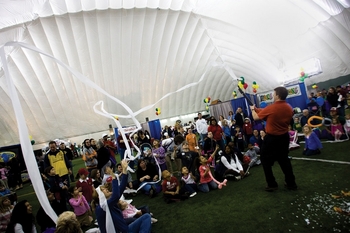 Activities kept families busy Saturday at the Hampshire Dome in Milford as the Family Fun Fair presented a variety of things to watch and do. A rock-climbing wall, a playground, face painting, a section where skateboarders could practice tricks and crafts available the whole day for kids to enjoy provided some of the entertainment.
There also were shows such as "I'm Not a Clown," performed by Sean McDaniels.
"He had funny shoes on," said Anthony DeTone, 4, of Weare.
Anthony was called on to help McDaniels with one of his acts. Balloons were a big part of McDaniels' performance and made Anthony a little hesitant. He asked his mother, Dina DeTone, to go up there with him.
"It was probably because of all the people and balloons popping," DeTone said. "He'd probably go up again by himself."
Robert Daniel Photography, of Amherst, took photographs of kids with Mrs. New Hampshire International, Irene Raissis Alton. After showing their pearly whites, they were presented a 4-by-6 glossy photo inside a black frame – for free.
"I think it's great for the kids to see," said Jackie Lemoine, of Bedford.
Lemoine's daughter, Stephanie, 6, was dressed in a Little Red Riding Hood outfit and was excited about the fair and her upcoming performance with her N Step Dance Center dance team.
"When I get to go on stage, I have a lot of fun," said Stephanie, who has been dancing for four years.
At noontime, the dance center, out of Manchester, gathered a huge crowd and proved to be the stars of the day, as cheering and smiles came from everyone who watched.
Performers included a dancing duo – Breanna Eccleston, 8, of Manchester, and Nathan Landry, 9, of Derry – who have been partners for two years.
"Hopefully, not three," Breanna said.
The two pushed each other around like a brother and sister, but when they performed to "You Are My Sunshine," Breanna – wearing a dress and with braids in her hair – could be seen batting her eyes at Nathan, who was wearing a cowboy outfit. "It's fun to pick on her," Nathan said, receiving a jab from Breanna. "I just like it."
The youngest performers were 4 and the oldest was 18.
"It's the one thing I've done throughout my life," said Lindsay Pelletier, a senior at Manchester Memorial High School. "I enjoy it."
Pelletier will start her freshman year at the University of New Hampshire, and because it's her last year with the dance center, her mother, Ellie Pelletier, admitted the last performances are emotional.
"It's unbelievable. This is it for her," Ellie Pelletier said.
"It's going to be rough on all of us," added Rick Eccleston, father of Breanna and a friend of the Pelletiers.
This was the first year the dance center has attended the Family Fun Fair, and it impressed Jennifer Mallios, director of N Step Dance Center.
"It's amazing. It's a great, fun event," she said. "There's a wide variety of activities."
"The dome is cool," Lindsay Pelletier added.
First-time goers Andrea Miranda and daughter Hannah Cheneau, 10, of Milford, enjoyed their time walking around and seeing what was offered at the fair.
"So far, so good," Miranda said. "It has a little bit for everyone."
Parents were seen acting youthfully, wearing balloon hats and having fun with the clown who was walking around. Some older kids were having fun jumping in the bounce house that had a slide connected to it.
"I'm not too big to go on the slide," Lindsay Pelletier said. "Unless they tell me I'm too big."
The event was presented by Parenting New Hampshire and sponsored by ChaD, Havard Pilgrim Health Care Foundation, Hannaford, WMUR and WZID. The proceeds benefit the nonprofit organization Child and Family Services of New Hampshire.