Ayotte co-sponsors Internet of Things bill
Bipartisan group of senators introduce DIGIT Act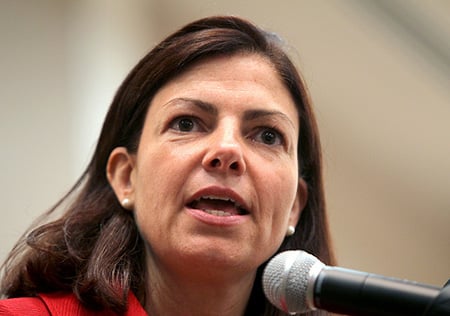 New Hampshire's Kelly Ayotte is among the bipartisan group of U.S. senators who have introduced a measure aimed at addressing the future impact of the Internet of Things.
Along with Republican Ayotte, U.S. Sens. Deb Fischer, R-Neb., Cory Booker, D-N.J., and Brian Schatz, D-Hawaii, are sponsoring the Developing Innovation and Growing the Internet of Things (DIGIT) Act. It is a follow-up to a resolution sponsored last year by the senators that called for a national strategy on the Internet of Things. The resolution passed the Senate last March.
The DIGIT Act directs the Federal Communications Commission to complete a report assessing spectrum needs required to support the Internet of Things. It also convenes a working group of both federal and private entity stakeholders that would provide recommendations to Congress. These recommendations would focus on how to plan for, and encourage, the growth of the Internet of Things in the United States.
The rapidly developing market of health wearables, connected homes, and other novel solutions represents an expanding industry of consumer products.
"Innovation is the backbone of the American economy, and we must continue to work towards smart policies that foster creative solutions for people and businesses. Policymakers have an important role in studying the opportunities IoT presents," said Ayotte. "Whether it's fitness wearables or cloud infrastructure, harnessing the full potential of connected data flow from IoT devices will serve to create newfound efficiencies for consumers, entrepreneurs, and businesses of all sizes."