At some N.H. firms, the summer weekend starts on Friday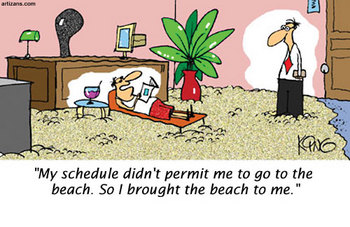 "TGIF" takes on a whole new meaning during the summer months when the sun is high and the air is warm until late in the day.
So a growing number of New Hampshire companies are adjusting their summer schedules, offering employees more time to take advantage of the short summer season.
A call to Breathe New Hampshire, formerly the American Lung Association of New Hampshire, on a Friday afternoon during the summer will yield a friendly recording informing you that the office closes at 1:30 p.m. each Friday between Memorial Day and Labor Day.
In exchange for having Friday afternoons off, Breathe New Hampshire employees agree to take only a half-hour lunch during the week rather than the typical one-hour lunch.
The Bedford-based organization instituted the policy more than two years ago in the hope of extending the weekend for their 14 employees. Happily, Breathe New Hampshire and its employees have benefited from the practice, said Beth D'Ovidio, director of public relations and communications.
"It's a really nice benefit," said D'Ovidio. "It lets us either get a jump on the weekend errands so we can enjoy a whole weekend or just enjoy a nice afternoon. It's a real morale booster and a great perk."
According to D'Ovidio, the arrangement works well for the organization too. While the practice has little impact on its bottom line, it makes for happier employees and saves on the cost of utilities.
"It's really a multi-purpose arrangement," D'Ovidio said. "Of course we're very mindful of the environment, and this allows us to conserve by shutting down our utilities a little earlier."
Of course, it's not unusual to find workers still in the office after 1:30 on Friday, D'Ovidio said. "Many still end up here anyway, but it's nice knowing the option to leave is there."
Small business owner Michael Donovan lets his four employees either head out by noon on Friday or, in some cases, even take an occasional Friday off as long as they don't mind an occasional cell phone call if an emergency arises.
"It's so easy to get a hold of people these days. Cell phones and the Internet mean people work all the time," Donovan said. "I know we all work hard here so if somebody wants to take a Friday off to take their kids to the beach, that's fine. The job gets done and our customers never feel neglected."
For the last decade, BAE Systems in Nashua has carried its adjusted summer schedule through the entire year.
By working nine-hour days the 1,500 employees in Nashua are able to take every other Friday off – all year long. It's what they term a "9/80 work week."
"It's really wonderful," Marianne Murphy, public information officer for BAE Systems, said of the arrangement. "It's one feature we do tell potential employees about. It's one of the benefits you don't get at many other companies."
A duty station is always available to address the needs of BAE clients during off-hours, Murphy said. And key personnel are always available via cell phones.
Like Breathe New Hampshire, the employees at BAE use their extra Friday to take care of the weekend "to-do list," leaving Saturday and Sunday free for spending time with the family and just having fun.
For Murphy, the adjusted schedule means she has felt less of a need to take extended vacations.
"Sometimes that whole three days is all you really need to regenerate and relax," she said.