At NH House committee hearing, jobs become focus of key energy bill
Biomass industry turns out in force to support measure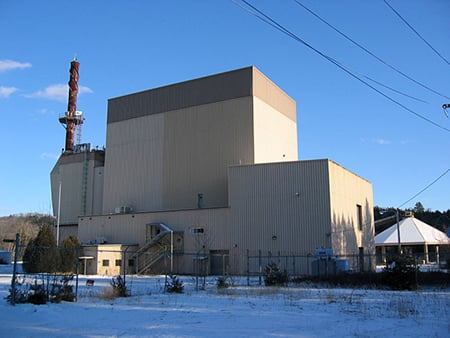 The main goals of Senate Bill 129 are to triple the Renewable Portfolio Standard for solar energy and dedicate 15 percent of the Renewable Energy Fund to support renewable projects dedicated to low- and moderate-income residents, but the reason more than 100 people packed a legislative hearing room Tuesday was not about energy. It was jobs.
The Indeck Energy biomass plant in Alexandria had just shut down, and the timber industry was hoping that the bill could be a vehicle to help keep it, and five other plants like it, open.
Biomass plants are about the only remaining market for low-grade wood with the recent closing of paper mills in Maine.
"That has devastated our business," testified John Scales, parts manager at Anderson Equipment Company in Manchester and Lancaster, which sells to loggers. "We didn't make any money last year. We are not a nonprofit. We need the low-grade market."
"This is a job bills," said Sen. Bob Guida, R-Warren, at the House Science Technology and Energy Committee hearing. "Alexandria serves as a canary in a coal mine."
But the bill comes with a cost that ratepayers would pay. Most of that cost would be for the biomass part of the bill, the part that would increase the maximum Renewable Energy Certificate (REC) price from $45 to $55. RECs are what utility companies have to pay (on top of the cost of the electricity) if they do not meet renewable energy standards.
If New Hampshire utilities had to pay the full price for these RECs, said critics of the bill, the price would amount to some $75 million. For the NH Electric Cooperative, that would translate to $1.40 a month for the average residential customer in 2017, $7.99 in 2018 and a $9.42 in 2019.
But the bill's sponsors, Sen. Jeb Bradley, R-Wolfeboro, and Sen. Dan Feltes, D-Concord, argue that this is the worst- case scenario, since it would be the result of an unlikely full market price. And they pointed to the savings that would be involved in a section of the bill involving methane. Bradley estimated that the true cost over the three-year period would be about $25 million. To put that in perspective, Eversource spends $40 million every year on tree-trimming, he said.
Feltes pointed out that the part of the bill involving solar, which increases requirements from a third of a percent to 1 percent, would help mute peak demand. Our peak demand compared to other states that have much more solar energy has resulted in a higher transmission bill from the regional grid, which is costing us an extra $5 million a year.
But the best way to measure the bill, said Bradley, was "the number of people in this room."
Bradley said that at least 900 wood-related jobs are at risk, and job growth in the solar industry – which also employs about 1,000 – would go elsewhere
In fact, Michael Sharp, a Bridgewater logger, told the committee about his $800,000 payroll. And now that the Alexandria plant has shut down, he said, "I have to scramble to find other markets. The last few years have been a catastrophe for us. I'm asking you, please. Keep my men employed."
But the Business and Industry Association of New Hampshire tried to put that number in perspective. Manufacturing employs 68,000 people in that state, and many of those businesses are large energy users.
"This bill isn't just about jobs, but it is about costs and jobs," said Stefanie Lamb, vice president of public policy at the BIA. "Whether it's $28 million or $75 million, it's obvious it's going to cost ratepayers, and for that reason we oppose it."