At 67, Tom Rath remains the one and only
'You would be hard-pressed to find someone with a bigger Rolodex in our state,' says former U.S. Sen. Warren Rudman of his longtime friend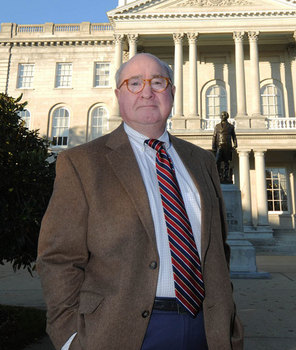 With yet another political campaign season behind us, consider this fact of New Hampshire lore – if Tom Rath didn't exist, it's likely only a Hollywood screenwriter could create a character with his persona and iconic status as Mr. Republican New Hampshire.
Rath, who was a senior adviser to Republican presidential contender Mitt Romney this time around, himself admits his timing has been extraordinary.
"I have been very fortunate," he said. The former New Hampshire attorney general has combined a successful legal and lobbying practice focused on public policy – Rath, Young and Pignatelli in Concord – with a national political connectedness rare for someone not located in Washington, D.C.
The 67-year-old Rath, who has never run for public office himself, has helped elect presidents, U.S. senators (such as Warren Rudman, the New Hampshire attorney general who hired him in 1972) and was the wizardly force behind the scenes in getting David Souter, his former AG office colleague, appointed to the U.S. Supreme Court – by President George H. W. Bush, a candidate who Rath didn't support in the 1988 presidential primary.
To Rath, the growth of his law firm, which he founded in 1987, and his rise as a public figure coincided with the major rise of importance – perceived and real – to the quadrennial New Hampshire primary spectacle.
"Early on, when we were really in our infancy and developing a public persona, I was doing television a fair amount," Rath said. "I had a pretty high degree of visibility, and it made us look a little bigger than we really were."
With his genial nature and web of statewide and national connections, Rath is the most sought-after political get for Republican presidential aspirants. Most of the top national political reporters have his phone numbers on speed dial, and when he's not quoted directly for campaign stories, he's frequently known as that "senior campaign adviser" for background purposes.
"There can only be one Tom Rath," said Charlie Arlinghaus, director of the Josiah Bartlett Center for Public Policy and former chair of the New Hampshire Republican Party. "He's the ambassador of Republicanism who became a party elder statesman at a very young age. Everyone knows him and everyone likes him. Everyone assumed he would be a cinch for a major officeholder (in New Hampshire), but by the late 1990s it was clear that wouldn't be the case. It has allowed him to work without people wondering if he's positioning himself for something for the next endeavor. This is his next endeavor."
Collection of talent
Rath, a New Jersey native, got his first lesson in the twists and turns of the New Hampshire primary while a student at Dartmouth in 1963.
In the Republican primary, he supported New York Gov. Nelson Rockefeller over the eventual nominee, Arizona Sen. Barry Goldwater. In a move reflective of a bygone era, the state party elite rejected both Rockefeller and Goldwater and put Henry Cabot Lodge, then the ambassador to Vietnam, on the ballot. Lodge won without setting a foot in the state.
After attending Georgetown University's law school and clerking for a federal judge in New Jersey, Rath said he and his wife Christine (now the superintendent of schools in Concord) wanted to return to New England. In 1972, he applied for a job in the expanding New Hampshire Attorney General's office and was called up for an interview.
"It was my first, and pretty much only, job interview," Rath recalled. An assistant AG named David Souter interviewed him.
"He was the smartest man I'd ever met," Rath said.
Souter, who was the deputy to Attorney General Warren Rudman, hired Rath.
Few knew at the time the historical collection of legal and political talent in the office during the early 1970s.
After serving as AG from 1970 to 1976, Rudman was twice elected to the U.S. Senate, in 1980 and 1986, and was best known for the budget-balancing legislative efforts in 1985 known as Gramm-Rudman-Hollings.
Souter succeeded Rudman as AG and later served on the New Hampshire Supreme Court and the U.S. 1st Circuit Court of Appeals. In 1990, Rudman, Rath and former New Hampshire Gov. John H. Sununu — then the first president Bush's chief of staff — successfully pushed for Souter's appointment to the U.S. Supreme Court in 1990.
Rudman says that Rath, who became attorney general in 1978, was destined for a unique path as an "authority" on and a major player in New Hampshire politics.
"He was instrumental in my Senate campaigns and worked with me on the confirmation hearings for David's (Souter) nomination to the Supreme Court," said Rudman by email from his Washington, D.C. office. "But, all the while he has always been embroiled in politics and has established himself nationally as a pundit on the New Hampshire political climate. He speaks with authority because he eats, lives and breathes New Hampshire politics, and you would be hard-pressed to find someone with a bigger Rolodex in our state."
'A different world'
Rath hasn't always picked winners, but he says what matters most is choosing good candidates to support. He served as a senior national adviser to the presidential campaigns of Howard Baker, Robert Dole, Lamar Alexander, Mitt Romney and George W. Bush. He has been a delegate to every Republican National Convention since 1984, and he was twice a Republican Party National Committeeman for New Hampshire — in 1996-2000 and 2002-2007.
Rath, who said he is concerned about the political polarization and big money that is coming to dominate political discourse and dealmaking, remembers the days before 24/7 saturation news coverage. Those were the days when political reporters would file a story and then sit around, share a few drinks and get to know the local political characters.
He said something has been lost in the relationships among lawmakers and pointed to the demise of the New Hampshire Highway Hotel in Concord, a former central meeting point for lawmakers, who used to spend their time there talking, playing poker and getting to know each other as people and not just politicians.
"It was a very different world back then," Rath said.
"Tom Rath makes us proud to be in New Hampshire," said Kate Hanna, a Manchester lawyer and former Democratic lawmaker who worked on the re-election campaign of President Obama. "He is a partisan Republican, but Tom has been a voice of moderation and maintained good humor and respectful attitude. No Democrat would call him nonpartisan, but he is still tremendously liked."
After he left the AG's office in 1980, he worked in private practice for a few years before founding the Concord-based law firm of Rath, Young and Pignatelli. The goal was to bridge the gap between typical legal practices and the expertise needed for clients looking for help with legislative and public policy issues.
"In Concord, you see the nexus of the public and private sectors, and we thought there was a need for the type of expertise that we had in understanding how state government worked," he said.
Rath said the firm's big break came in the late 1980s. Because it had no conflict-of-interest issues with the then-independent Public Service Company of New Hampshire, Rath's firm handled the purchase of the bankrupt company by Northeast Utilities — a $2.3 billion deal that required special legislative approval.
"It was a big-league case, and it just took off," said Rath. "It tested all our skills, gave us a great deal of visibility on a complex case."
Two decades later, Rath's firm is handling another complex and controversial client in Millennium Gaming, which is lobbying for expanded gambling in the state.
'Special standing'
Rath's public reputation took a hit in 2010, when he pleaded guilty to a DUI charge in Portsmouth.
"I think of myself as a model citizen, and this was very painful," he said. "It was triggered by an adverse reaction to medication, but I took responsibility for what happened. I wish it hadn't happened, but I learned a lot from it and was humbled by how many people reached out to me."
Rath said he still arrives at work early in the morning but no longer works as late into the night as he used to — but otherwise has no plans to slow down.
He was invigorated in 2004 when he and Judi Rhines formed The Rath Group to focus on strategic consulting for regional and national businesses and not-for-profit clients. "It was an enormous opportunity to be able to concentrate more on a smaller set of issues," Rath said of the group, which has offices in Concord, Boston and Washington, D.C.
Like Arlinghaus, Hanna said she believes that Rath's stature has been enhanced because he's not a former elected official or candidate.
"It has given him special standing to be on the outside advising the insiders and given him an extra step up the ladder of power," she said.
Rath has been tempted to run for office, but either the timing or political circumstances weren't right, but, he said, he believes it worked out for the best.
"I did consider running from time to time, and twice pretty seriously — one opportunity arose not too long after we had opened the firm, and the timing wasn't right," Rath said. "The second time would have required a primary that would have not been in the best interests of the party. In both instances, the Republic survived and thrived."