Assessing Nashua's business climate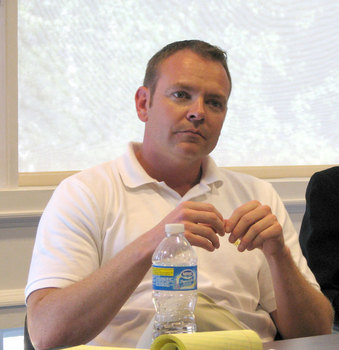 NHBR's editors recently met with businesspeople from around Nashua to get their take on how the area's economy is faring and what their expectations are for the future.The participants were:
• Karen Cooper, executive director of development and marketing, Rivier College
• David R. Heath, principal, CPA firm of Melanson Heath & Company
• Frank Teas, president and chief executive, The Nashua Bank
• Terry Crimmins, vice president, strategy, electronic solutions, BAE Systems
• Bill Schick, principal, Mesh Interactive Agency
• Chris Williams, president, Greater Nashua Chamber of Commerce
• Hollis McGuire, Nashua area director, New Hampshire Small Business Development Center
(Photos by Karen Bachelder)
How has the area economy been performing in the last couple of years?Frank Teas: We've seen issues in that people are being laid off, trying to start up their own businesses. The SBA's credit enhancement programs helped, but there are a lot of people with the entrepreneurial spirit trying to rejuvenate. I personally look at the sheet metal shops that are four, five, six months ahead of the curve. They're doing smaller jobs or much larger jobs, and we're starting to see that pick up.But as we all know, depending on which channel you watch or which paper you read, you get kind of mixed signals. I don't think we're going to get worse, and I don't think we're the worst part of the country by far. I think we are in pretty good shape, and we know how to kind of reinvent ourselves.Is that a perspective other people share – that things seem to be picking up?Chris Williams: I think it's kind of a general rule of thumb here in the greater Nashua area that we're kind of the last to be impacted by the recession, but we're also the last to come out of it in the end. Rather than peaks and valleys, we tend to be more on a hill, so we never really feel the worst of it, and we don't feel the best of it either, though. I don't know if that has to do with our unique combination of industries or our proximity to Boston, but we're still on the outside of it.Based on what I see sitting in my office, the larger companies are coming out of this. They have regrouped and are looking long term again more optimistically. It's the small guys that I'm still a little concerned about.The Telegraph recently had a story about our downtown and some new shops opening up there. I'm still holding my breath in terms of whether or not this really means that there's this overall optimism among small businesses over the next six months to a year.
What is the perspective from BAE?Tyler Crimmins: The word I'm picking up in here is stability, and I think that is what we're seeing. Last year was a pretty uncertain year in terms of the defense aerospace market. We have been on quite a ramp-up in the last seven or eight years with the conflicts in Iraq and Afghanistan. I think the industry understood that that level of spending increase could not be sustained by the U.S. government because of the situation with the national debt. So the whole industry generally went into a softening and uncertain mode.There were some cutbacks and reorganizations. Some of that here in New Hampshire and some of our satellite offices in New York and New Jersey. But what we're seeing now is things seem to be stable. Our story now is more about moderate to conservative growth, but holding on to the jobs we have and continuing to support the economy the way we've been accustomed to in the last five years.Bill Schick: Maybe a year and a half ago we were getting a lot of traffic — startup companies looking to brand and market and communicate on their product. A lot of them said, "Look, in three months we're going to get our funding, and then we're going to pull the trigger." And then they went away.We would follow up and say what happened? You had this great idea and you had the funding — "Well," they said, "we can't get funding anywhere." That impacted that particular part of our business.We also deal with a lot of mid-sized businesses. Those businesses, not just in New Hampshire because we have multinational clients and throughout the U.S. They took a step back and said they had their marketing budgets axed and had to put all of their campaigns and marketing on hold. So last year was really soft. For the first four years we doubled in size every year. Last year we only saw about 24 percent growth, which is down quite a bit. This year we're back on track again because we are seeing a lot of those people opening up their budgets again.We're actually not seeing any startups – not sure what's happening there. We're seeing existing companies either changing the way they communicate with their customers or they are introducing new product lines.Karen Cooper: We are seeing both stability in some areas and growth in others. It's very good time for us at Rivier in particular in such a challenging economy.Right now seven out of 10 high-school graduates are going on to college. They have a lot of choices out there and they are weighing both price and value into making that decision. You see so much on the news about student debt, how much they're graduating with and what's the value of an education. We are successful because we are positioned as a very affordable, quality institution.Our numbers right now – our undergraduate this summer, which is our day and evening students combined over the summer is up 15 percent over last year. Our graduate program is up 26 percent from last year.David Heath: I've heard the word stability. Yes, things have stabilized. It's like someone coming into the ER and they triage it and they get the person stable, their vital signs are stable, but they still have a breathing tube or something in them. That's kind of what we have here. The patient is still alive, the economy is still alive, but it's being sustained, it's still cautious.There are pockets of prosperity. I've seen a couple of situations that it's the last person standing – it's been a shakeout.Hollis McGuire: I have seen a lot of contradictions in businesses. I'm still getting calls, not as many as I was last year, from companies that are circling the drain. So we are still seeing some of that. I'm getting a lot more upsides, though, than I was getting a year ago. A lot of it is science and high tech-based. I'm seeing a lot more SBIR-focused companies coming through my doors. I'm seeing angel money start to move again.But the most frustrating thing is, honestly, the tax structure. Ten years ago, eight years ago, I was looking at Massachusetts who had a 9 to 9.5 percent corporate tax rate, and we had a 7, then an 8, then 8.5 percent. Now Massachusetts is down to 8.8 percent and we're at 8.5 percent. And then there was the LLC situation, and that's big. I have some very successful serial entrepreneurs who are saying to me, "I'm moving across the border to Massachusetts" because the New Hampshire advantage is not there.I would like to see us get that back.DH: What's happening is from a tax and business environment perspective, particularly the Department of Revenue is doing everything in their power to drive businesses out of the state. So the state is competing with itself. The state has this Department of Revenue and the Department of Economic Development, which is doing a great job, and I wish they would get in the same room at some point.We were able to attract people and businesses to this area for various reasons. One of them we had hands-down over Massachusetts — the whole "taxachusetts" thing. We have gone from that situation to a situation where people are now moving to Massachusetts or even other states. We border Vermont and we border Maine, they all have income taxes. One of the things businesses survive on is certainty, predictability, some sort of answer. Now people come to me and I can't give them that answer.CW: We are the Gate City here, and we are called that for a reason. We are what people come through into New Hampshire. Hollis said we are losing that competitive advantage, and Dave and I will say we have lost it.You look at what's happened in Concord over the last couple of years. You have the state WARN act, an attempt by the house legislators to return to the 2 percent insurance premium tax, to try and reinstate the state tax on properties. They are completely ignoring us on the net operating loss. They're going to repeal the LLC tax, but only because there was enough of a bloody outcry from the entire state to do so. We are at the front line here in the Gate City, and we have been screaming to our generals back in Concord that we are losing the battle in terms of recruiting businesses and keeping businesses.
When people think of Nashua, a lot of them think of BAE Systems with this huge economic footprint, and then a bunch of technical businesses and business offshoots. But that's not just the whole Nashua economy. What other kinds of businesses are we talking about?CW: I have often said there is kind of a tripod upon which the Nashua community stands. First and foremost being that high-tech sector. Under the high-tech umbrella I put software, and manufacturing is kind of shifting more towards the high-tech side of things. I do think that sector continues to be very strong led by BAE systems and also Oracle Systems still held here in our footprint.The second is the health-care industry. If you combine St. Joseph (Hospital), Southern New Hampshire (Medical Center) and Dartmouth-Hitchcock Nashua, they match the employee base that you see at BAE Systems. So that is a major industry and they continue to do well.The third is the retail industry. Nashua has always been known for its Pheasant Lane Mall and Exit 1 with the D.W. Highway strip. Yes, we've taken a hit with the retail industry, but there are always those little glimmers of hope, like the new Apple Store opening up at the Pheasant Lane, Five Guys opening here in Nashua and now expanding to other parts of New Hampshire.
What about the real estate sector?DH: I think the commercial real estate industry itself across the country is really in a difficult position right now for two reasons.Number one, you look at how businesses are run today. Even 10 or 15 years ago, you had these pools of workers in cubicles — engineers, secretaries. The point is there were a lot of people in the building. Last fall I was down in Rhode Island on the way to the U.S. Open tennis tournament, and there's a town called Mineola, N.Y., and it's the hotbed of business. IBM, Microsoft — they were all there. Now you drive down the main drag there and you see all these big, empty buildings. Not vacancies — empty, no one in them.I've talked to a couple commercial real estate people in the Nashua area, and they are up to 40-50 percent vacancies in their office buildings. I don't think there will ever be people building office buildings again. Why would they? You have to fill what you've got first. You may renovate or refurbish and that kind of thing, but why would anyone in the U.S. build another office space anywhere?The residential piece I'm seeing that it is stabilizing a bit. But there is a lot of inventory.CW: I think on the commercial side of it, we had a 17 percent vacancy here in Nashua, going into the recession. The commercial vacancy is certainly not a good thing right now. Given the recession, I'd be surprised if it's under 20 percent right now.HM: Early-stage businesses are waiting longer and longer to get a physical space. The serial entrepreneurs are doing this as well. Because they understand it's a cost savings, and they are stretching out their dollars and they just don't need the space. They are doing much more – I have companies that are working in five, six, 10 different locations. And they are coordinating very well without one physical location.FT: Chris mentioned concerns about downtown before. You walk downtown to get a bite to eat, and there used to be two or three empty spots, now it's six to eight. And I'm concerned that the Broad Street Parkway is going to do even more damage to downtown.
What is the Broad Street Parkway?CW: The Broad Street Parkway is a 40-year project to bring a new roadway connecting the Everett Turnpike to Nashua's downtown. Basically its goal is to make it easier to bring commerce to downtown.
I say 40 years because the idea has been around that long, and it's only been in the last two that we've seen the decision made or the trigger pulled to get make this happen. So you will see the parkway actually constructed and operational within the next three years.I think Frank's concerns are shared with a lot of those who own shops on Main Street. They're concerned about that traffic bypassing Main Street and therefore not stopping in and providing the foot traffic that those on Main Street rely upon.The good news is I think the mayor is on top of that. She's brought in a player out of New York, Renaissance Downtown, who really are making themselves known within the city. Between the mayor and Renaissance Downtown, there is the effort to really look at the big picture of what Nashua's downtown is today and what it could be. They are starting small and hoping that by starting small, if they are successful with that initial project, I think we will start to see more improvement to the rest of downtown.KC: I wanted to comment on that. One way we are trying to contribute to a vibrant downtown is through our young professionals network, which is called IUGO, which is part of the Nashua chamber. We're all about connecting young professionals and bringing them together for a variety of events, both for social and professional development. We're all about utilizing the downtown area quite a bit, rotating between different bars and restaurants and other venues for both social and professional events. We are bringing together great crowds, from 40 for our professional events to 100 or more for our social events. It's a great opportunity to try out new bars and restaurants and we've found the downtown area is a great spot for that.
One of Nashua's main attractions in terms of both people and businesses is its proximity to Boston.CW: The thing they may like most about living in Nashua is the quality of life. I have a great career and I'm only 40 minutes from some of the best performing arts in the country. We have great dining here in Nashua – Michael Timothy's, Unums, Surf. When I go out to performing arts I go to Boston. I don't shy away from that at all. I think that's one of the perks of Nashua, being so close.FT: I have always been jealous of Manchester because it's like, "Let's increase the airport," and they did it. "Let's build Verizon Wireless," and they did it. "Let's build a baseball field," and they did it. But as Chris said, I love it here. The quality of life here is just phenomenal. I was in Chicago about a month ago. I was talking to someone and I said I was from New Hampshire. He said, "Where?" I said, "I'm from the most central location," and he said, "Nashua." I don't think he knew another city. People know about Nashua.TC: I think with the completion of Route 3 a few years ago it makes it easier to get to Boston. And the Big Dig finished up. We feel like we are closer now to the universities and the town, that we can draw the town out of MIT and attract employees up here.CW: That's actually one of the draws I use when I'm recruiting, or helping businesses to recruit employees. I say you can make a good income if you come to New Hampshire. You can find a good place to live, low taxes — and Boston is in your backyard.HM: And the mountains are your front yard. I like living here because I can drive 12 miles and I am in the woods. You can't do that in Boston.KC: You have everything in Nashua that you need. Between working and running around in Nashua, it fits my needs perfectly well.CW: I'm still bullish on getting the railroads here, and I think Nashua has a great opportunity to get the rail extended up to Tyngsboro. Right in the Pheasant Lane Mall there. The mayor is very active, and she's actually met with Tyngsboro officials and other officials in the area and asked how we can make this rail happen. Tyngsboro is very open to the idea. The MTA down there is very open. I think the right pieces are in place.Imagine doing your work on the train and having Wi-Fi access, no traffic to worry about, the construction that happens on the highways – none of that. I think the younger people — and I use young loosely, anyone under the age of 50 — can appreciate what a rail could do.I think it will be one of the biggest boons to come to Nashua in recent history.BS: Would that get them a base to build up the Nashua transportation system? Out of the mall and then to the other places?CW: I imagine you would see the city's bus system really pick up in operations. A BAE shuttle, the hospital having a shuttle service.What do you think things will be like in another year or so in the area? CW: What I'd really like to see a year out from now, it might be several years out, but I think you are going to see some strong growth here in the Nashua area again. Because we tend to be again on the front lines businesswise here in New Hampshire, and as the economy around us improves, including the Merrimack Valley area which is just south of us, we will benefit from that.The Broad Street Parkway opening in a few years. The project Renaissance Downtown, I think, has a huge potential to really kind of trigger some of that revitalization that the people downtown are talking about. Our retail sector I think will continue to do very well, especially if we get that commuter rail up here. Not only will it bring employees it will bring shoppers also.TC: From BAE Systems' perspective, we're going to continue to invest in Nashua, in communities and the universities. We have a big diversity initiative within our company to bring people from all different backgrounds into the fold. Whether it be global or continuing to sponsor diversity with women or minorities within the company. So I think you'll see a more colorful hodgepodge of employees in the future.Also, we'll continue to invest in secondary school systems programs like FIRST and try to generate enthusiasm down at the grammar school and high school level on technology so there will be more kids coming out of high school that want to get the engineering or technical degree so that we don't have a shortage.BS: I think we are going to see a surface-level change in the next year or two. The economy is changing. We've got a global community, so we need to rethink not even just how we market our businesses but how we service our customers and communicate with them. We're seeing a huge push for that right now.FT: Nashua has changed, and it will continue to change. Most of the change I like. I think from an economic standpoint, I have begun to see the improvements. I am concerned from a national standpoint — I can't control any of that. But I still think there are viable business ideas. We are seeing well-qualified people coming in to the bank every day. Our country has been though issues like this in the past. It's going to get better.HM: I see that the regional banks have really made an effort to reach out to the communities with businesses, and I think the communication is better than it was before going in to this recession. I am very concerned about the state tax policy that makes us less and less competitive. I am very much hoping we can take a step back and look at the unintended consequences of this policy from a business standpoint and correct that course.