As coronavirus spreads, how will it affect New Hampshire's economy?
Uncertainty grows amid 'changing and evolving situation'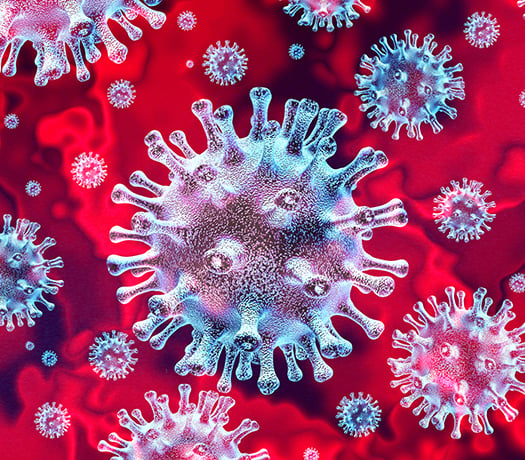 Businesses around New Hampshire are closely monitoring the spread of Covid-19, the disease caused by the new coronavirus, as travel warnings have been issued against several countries, including China, and stock markets have taken a hit.
New Hampshire reported its first confirmed case of Covid-19 on March 2, which has now grown to four cases in total as of March 8. The federal Centers for Disease Control and the New Hampshire Department of Health and Human Services are asking businesses to take precautions, monitor employees and be prepared to change how they are doing business.
And, like the epidemiologists and public health officials who are warily eyeing the virus' spread, economists and businesses are being watchful to see what it could mean for the economy, both internationally and in New Hampshire itself.
"My primary thought is uncertainty is the enemy of prosperity. I coined that, and it is very appropriate in this setting," said economist Russ Thibeault, president of Applied Economic Research in Laconia. "There is tremendous fear right across the board."
He noted the Federal Reserve Board took the unheard-of step of cutting the federal funds rate – its benchmark interest rate – by 50 basis points on March 3. Despite that, the Dow Jones Industrial Average still fell by 3%.
"There is nothing you can do to overcome the fear that is causing people to change their behavior," Thibeault said. "It's very disconcerting in every way. Hopefully, the fear is not transmitted into reality."
Travel concerns
Across the country, there are reports of companies curtailing travel for their employees and others are asking employees to work from home. Thibeault said he had to cancel his own plans to meet with a colleague whose company, AT&T, has suspended all corporate travel.
However, Cheryl Paiva, of Manchester-Boston Regional Airport, said there is no immediate travel threat to travelers coming in or out of MHT at this time.
"As always, we encourage everyone traveling to regularly and thoroughly wash their hands and to take advantage of hand sanitizers located throughout the terminal, to avoid the spread of germs," according to a statement from MHT. "Manchester-Boston Regional Airport is working closely with the city of Manchester Health Department and New Hampshire Department of Health and Human Services to monitor information and updates relative to the novel coronavirus. We are also in close communications with our airline partners and terminal tenants to ensure proper procedures are in place, as it relates to this new virus."
At BAE Systems, the state's largest manufacturing employer, "we are keeping our travel policies under constant review. Like other organizations, we are minimizing non-essential travel while focusing on meeting our customers' needs," said Kelly Golden, the company's director of external communications. BAE, which has facilities in Nashua, Hudson and Manchester, is the U.S. subsidiary of BAE Systems plc, an international defense, aerospace and security company that employs more than 85,000 people in 40 countries.
Thibeault said there are indications individuals and businesses are pulling back investments and consumption out of fear. As an example, he said he was purchasing a piece of office equipment now rather than wait in case it wouldn't be available later.
He noted China's industrial production was down 37% a few weeks ago. "It's a double whammy – it hits on the production side and on the [high tech] manufacturer's side."
'First priority'
Like Thibeault, Kevin Flynn, of the Business and Industry Association of New Hampshire, is hearing stories of supply chains under stress and businesses canceling travel.
He said a BIA staffer visiting a large employer was asked if he had traveled internationally before being allowed to enter the building.
"People are taking this seriously," Flynn said. "Thoughtful employers want to be proactive. They are reviewing cleaning procedures, telecommuting policies and determining which staff can stay home and which staff is essential to be on-site."
Around the state, hospitality businesses like the Omni Mount Washington Resort are keeping a close eye on the progress of the virus.
"Our first priority is the health and safety of our guests and associates. We are following the direction of the leading authority, Centers for Disease Control, which currently states that 'for the general American public, who are unlikely to be exposed to this virus at this time, the immediate health risk from COVID-19 is considered low,'" according to a company statement.
More than 58,000 people in New Hampshire are employed in food preparation and serving-related occupations, according to state labor data. Many private-sector workers, particularly part-time employees, may not have access to paid time off or paid sick days, and that could put an additional strain on businesses already dealing with a tight job market.
Mike Somers, CEO and president of the NH Lodging & Restaurant Association, said businesses will each have to make their own decisions on what best suits their particular situation.
"We know businesses will monitor staff and hopefully be sent home and self-quarantine," Somers said. "Businesses will provide time off or do what needs to be done."
In its guidance to members, the association said, "As employers, emphasizing to our staff the importance of personal hygiene, proper handwashing, continuous sanitation of work areas, and excluding employees from operations if exhibiting flu-like symptoms. It is important to review your sick leave policies to ensure they are flexible, consistent with public health guidance, and that employees are aware of these policies."
In the meantime, Somers said the association is following the guidance of the National Restaurant Association as well as state health officials.
"We are certainly watching this closely, but there is no reason to panic," he said. "We have no special concern yet, but are monitoring it."
The CDC and DHHS are conducting aggressive containment efforts, including ongoing use of isolation and quarantine measures to decrease introductions and spread of the virus.
People are encouraged to take the same precautions as those recommended to prevent the spread of influenza because Covid-19, like all respiratory illnesses, is commonly spread through respiratory droplets. CDC guidance for businesses says employers should be flexible and prepare to refine their response plans as needed.
For more detailed information, visit cdc.gov for the interim guidance it has developed for businesses and employers.