ARMI promises biotech bonanza
Regenerative medicine opportunity knocks at the state's door, but will it answer?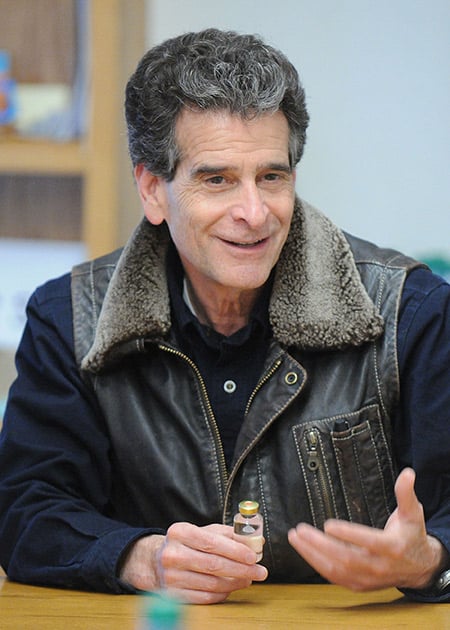 Inventor and entrepreneur Dean Kamen knew he faced insurmountable odds when he wrote a grant proposal to the U.S. Department of Defense, arguing that the Manchester Millyard was the best location for the Advanced Regenerative Manufacturing Institute.
New York, California, North Carolina, Georgia and other much larger states were committing hundreds of millions of dollars to attract the bid, said Kamen. When then-Gov. Maggie Hassan wrote a letter of support, Kamen asked her not to list funds the state could commit — the paltry amount would only hurt New Hampshire's chances, he said.
But Kamen also felt New Hampshire's manufacturing infrastructure would help him win the $80 million, five-year contract. The Defense Department was not looking for proposals focused on biotech research — that work was already being done — it was looking for a proposal that could scale up the industry to meet the department's demand for skin tissue and organs for soldiers with extensive injuries.
In fact, it was DOD's focus on creating a regenerative medicine industry that led to Kamen learning about the ARMI proposal. DOD reached out to him.
After the first round, according to Kamen, "they frankly said to us, 'Your proposal wasn't written as well as some of those professionally written proposals, but we really like your vision of bringing industry to the table, bringing universities to the table and basically telling academics, scientists and researchers, "We want you as the front-end source material, but we're going to build this program around creating an industry."'"
A biotech workforce
When Kamen was preparing the final proposal, DOD told him he would have to prove that he had the available workforce to scale the regenerative medicine industry.
That's when Kamen called Mark Huddleston, the president of the University of New Hampshire.
Above: Dean Kamen (far right), founder of DEKA Research and Development Corp., discusses the Advanced Regenerative Manufacturing Institute coming to the Manchester Millyard. To the far left is Mike Decelle, dean of UNH Manchester, and Mark Huddleston, president of the University of New Hampshire.
"I asked him, 'Can I put into my proposal to the Department of Defense that one component of what we're going to do will be workforce development for this industry?'" Kamen recounted. He thought it would make a compelling story: UNH working on a high-tech curriculum to support and feed graduates into ARMI, which would conveniently be located at 400 Commercial St., in the same Millyard as UNH Manchester.
"With the support of the president and dean, we put that into our proposal and our proposal won," said Kamen.
UNH had already spent several years building its biotechnology program, said Mike Decelle, dean of UNH Manchester. Some 25 percent of students enrolled at the Manchester campus are studying biology or biotechnology, he said. And since the announcement of the ARMI program, UNH has seen a 300 percent increase in applications to the biotech program.
"With ARMI, the picture we're going to paint is one of a whole new industry where you can come here as an undergraduate student from anywhere in the country. You can have an internship at the institute, you can have an internship at the companies that start to come to Manchester because they want to be associated with the institute. So we think it's a force for net migration into the state, and a place where those students will stay because of the opportunities presented," he says.
News of ARMI is also attracting candidates for faculty positions.
"We attract good candidates, but we've seen an increase in the caliber of institutions that want to be here in Manchester," said Decelle.
Workforce pipeline
The first "big catch" for ARMI is a former U.S. Food and Drug Administration official Kamen met when he accepted the grant award at the White House.
With this new industry comes a lot of regulatory headaches for all parties involved.
There is no one-size-fits-all product, such as a specific drug, for the FDA to examine and test when it comes to regenerative organs, explained Kamen. With regenerative medicine, a new organ — a kidney, for example — will be made specifically from the recipient's cells.
Dr. Richard McFarland, then the director of research with the FDA's Office of Biostatistics and Epidemiology, has been examining this question of how the FDA would regulate regenerative organs for the last 17 years.
"He basically said, 'Dean, this opportunity is so exciting to me. You had said you thought the only way to move quickly is the FDA should be at the table. I agree with you. I'd like to be that somebody.' And he sent in his resignation to the FDA and he agreed to come work as part of ARMI,'" said Kamen.
Kamen expects McFarland to also serve as a guest lecturer at UNH.
"I think Dr. McFarland is not only going to be of great value to ARMI, he's going to be a great value to the University of New Hampshire because he may be the most useful guy to put in front of a whole bunch of students," said Kamen. "Just think about the issues and opportunities being created by being able to regenerate human organs."
Integral to ARMI's success is its support from partnerships with 26 academic and medical research institutions and 46 companies around the country, including Rockwell Automation, Autodesk and Lonza Biologics.
Lonza, a custom biomanufacturing facility in Portsmouth with 900 employees and multinational clients, is aware of how difficult it is to attract high-tech workers.
According to NH Employment Security, Portsmouth's non-seasonally adjusted unemployment rate in February was 2.4 percent, lower than the state's seasonally adjusted 2.7 percent unemployment rate, which ranked as the lowest in the country, according to the U.S. Bureau of Labor Statistics.
Mark Caswell, head of engineering and facilities at Lonza, said he hopes ARMI will help attract workers.
"It's very exciting for us and our industry. Oftentimes, we compete with the local Boston market, so anything we can do to level that playing field, to have more opportunities for employment in New Hampshire, certainly works better for everyone," he says.
About 25 percent of Lonza's workforce is made up of UNH graduates, and Lonza is working with Great Bay Community College to train workers for entry-level positions, but that's still not enough, said Caswell.
"We're having to recruit from beyond the state and sometimes beyond the country to get the talent we need in place to be successful. As we continue to grow as an organization and as a site, it's even more critical for us to find key talent to grow our business forward," said Caswell.
$0 in capital budget
Ahead of this biennium budget session, USNH's board met with Gov. Chris Sununu to discuss a $77 million project to create 11 new and renovated instructional labs fitted with modern equipment in Spaulding Hall, on the Durham campus. For the first phase of the project, UNH requested $30 million in the capital budget, which provides funding for the state's major long-term capital investments, including office buildings and prisons. UNH would cover an additional $15 million, said Huddleston.
Sununu told Huddleston $30 million was too large of a portion of the capital budget, so UNH lowered its ambitions and asked for $10 million, with UNH contributing $5 million to renovate up to four teaching labs and upgrade utilities.
When Sununu released his proposed budget in February, it awarded no capital funding dollars to UNH and kept operational funding flat.
According to a report on public research universities by the American Academy of Arts and Sciences in Cambridge, state support for public higher education in 2013 ranged from a high of more than $18,000 per full-time student in Alaska to a low of about $3,000 per full-time student in New Hampshire, a sixfold difference. Besides Colorado, which had recently made drastic cuts to higher education appropriations after the recession, New Hampshire provides the smallest appropriation.
"We were surprised and disappointed the governor proposed $0 [of capital appropriations] to the university system," said Mica Stark, assistant vice president for public affairs at UNH. "If [University System of New Hampshire] were to receive $0 in capital funding, we believe it will be the first time in 53 years the state will have provided $0 in capital funding."
Other nearby universities are investing in their biology buildings. Vermont ranks nearly as low as New Hampshire in terms of state appropriations per student, but the University of Vermont is following through with a $104 million project for its biotechnology program to be completed in 2019. The University of Massachusetts-Amherst has a $160 million project underway to be completed in 2018. And the University of Connecticut has a $1.5 billion project that will be completed sometime this year.
Huddleston said this budget cycle will not make or break the university's ability to fuel ARMI's workforce, though, if similar decisions continue, it will delay the buildout of a long-term biotech workforce.
'Single biggest fear'
In addition to Defense Department's $80 million allocation, Kamen's company, DEKA Research and Development Corp., is investing $10 million, and his public-private partnerships total nearly $300 million invested in ARMI.
Mike Decelle, dean of UNH Manchester; Dean Kamen, founder of DEKA Research and Development Corp.; and Mark Huddleston, president of the Unviversity of New Hampshire stand in Kamen's office in the Manchester Millyard.
Kamen has not yet met with the governor or members of the Legislature, but he does hope the state will also become involved.
"If the state doesn't see this as an opportunity to make the best investment they ever made, I don't know what I'll say," said Kamen. "This doesn't happen very often."
But Kamen, who moved to New Hampshire over 30 years ago, said he worries about the culture of Granite State politics that could threaten ARMI's future.
"If you ask me my biggest single fear about this program, it's that it won't get the serious attention and investment in the local community and in the state it takes to create an industry. There's only so much I can do."
New Hampshire lawmakers are not inclined to make long-term investments, said Kamen.
"When you go to other states for a fundraiser, there is just a fundamental, social, cultural connectedness you see in most other states that doesn't exist here," he argued.
Caswell expresses the same perspective.
"I came from a company based out of Boston-Cambridge called Genzyme. Massachusetts made significant investments in the biotech field. I lived in Connecticut, they also had significant investment in the education sector, specifically around college education in those high-tech fields related to science and math and biotechnology," said Caswell.
In Connecticut, every high school student who finishes first or second in their class is awarded a free scholarship to attend the University of Connecticut, he said.
"It absolutely blows my mind," said Caswell. "What better way to get your key talent involved and educated in the state, which will encourage them to stay in the state by providing them a full scholarship? I truly don't see that level of support from the Legislature. I know Massachusetts is very public about that, I know Connecticut's public about that, but I don't see that publicly here. And beyond that, I don't know that it exists."
"You can have small government and make smart investments, or your government's going to get a lot smaller, and it won't be able to meet the needs of the people," argued Kamen.
Texas A&M University, a cornerstone partner of ARMI, has invested billions of dollars in its biotech program. With 2,000 acres of space, the dean has already asked Kamen what it would take to move the institute there.
"Every other one of these partners would kill to host this thing," said Kamen "I know [New Hampshire] can't go toe-to-toe because we're small, but we're efficient. We have other advantages. But if this state either takes this thing for granted or says it's too good to be true, and they don't seize the opportunity to make New Hampshire the ultimate state for this, I am quite convinced this industry will grow, but it won't grow here."
Editor's note: NH Business Review made repeated attempts to contact Gov. Chris Sununu's office, which provided no comment.
Liisa Rajala can be reached at lrajala@nhbr.com.