Are regulations necessary for e-cigarettes?
Critics of vaping are demanding regulatory action that would go far beyond current efforts to ban e-cig sales to minors under 18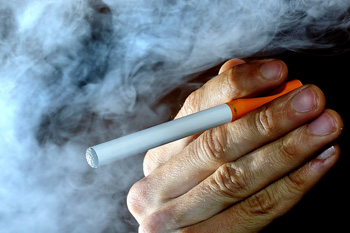 One of the more eye-opening national television commercials of late shows a man using an e-cigarette in public and proclaiming his right to exercise his "free will."
It's stunning because by law there has been no cigarette advertising on television for more than four decades. But electronic cigarettes reside in a proverbial Wild West of no regulation and no special taxation because they aren't cigarettes. They are nicotine delivery devices and they exude water vapor instead of tobacco smoke.
There was more controversy during the recent Golden Globe award ceremonies when television cameras focused on celebrities Leonardo DiCaprio and Julia Louis-Dreyfus as they took drags from their e-cigarettes.
Critics of vaping are demanding regulatory action that would go far beyond current efforts to ban e-cig sales to minors under 18, the type of law the New Hampshire Legislature passed in 2010. In other words, the e-cigarette activity known as "vaping" has become increasingly popular. And e-cigarette makers have ramped up marketing and lobbying efforts as the Food and Drug Administration considers imposing e-cig regulations.
As tobacco smoking and sales continue to decline, the e-cig version of the gold rush has emerged. According to UBS Research, retail sales of e-cigs doubled from 2011 to 2012 to $500 million and may have reached $1 billion nationally in 2013.
'Set the record straight'
Vendors such as Federal Cigar, with locations in Portsmouth, Dover, Plaistow and Epping, have seen a dramatic increase in sales of vaping devices and different types of flavored and unflavored nicotine choices.
Brian Swaine of Federal Cigar said his company is trying to educate the public that vaping is a safe and less intrusive alternative to smoking.
He explained that e-cigs provide a boost of nicotine similar to a traditional cigarette, but without the harmful chemicals associated with cigarettes, particularly tar and other cancer-causing carcinogens.
Late last year, Swaine launched an educational program to "set the record straight" when it comes to e-cigs.
Federal Cigar supports the ban on sales to minors, but believes the policy should flow from accurate scientific information and not fearful comparisons to tobacco.
A group of 40 state attorneys general, including New Hampshire Attorney General Joseph Foster, signed a letter in 2013 urging the FDA to begin regulating e-cigs like tobacco products.
"There is a great deal of misinformation being spread about e-cigarettes by those looking to mislead the public into believing e-cigarettes are dangerous," said Swaine, who uses a rechargeable vaping device himself that he says helped him stop smoking cigarettes. "There are a number of myths circulating – myths that have been refuted through scientific research. We're looking to make sure New Hampshire business owners and other stakeholders understand the truth about e-cigarettes."
Brian Swaine of Federal Cigar with a nicotine vaping device. (Michael McCord photo)
The truth may be hard to define.
"We are at a place where the legislation has not caught up yet," said Tricia Tilley of the state Department of Health and Human Services. "It's a little complicated right now, and we are waiting for FDA guidance. The message we want to relate is that there are too many unknowns to make any blanket claims."
In the e-cigarette information battle, retailers like Federal Cigar are taking unprecedented steps. Swaine said that his educational program includes mailings to area bars and restaurants, links and safety information on social media outlets and a special e-cigarette information section on Cloud9VaporNH.com.
Federal Cigar also has an e-cigarette hotline that Swaine said assists smokers, non-smokers, business owners and others in obtaining accurate information on e-cigarettes.
'The same playbook'
Swaine said he hasn't gotten much response from the New Hampshire restaurant community, but that's not surprising to Mike Somers, president of the New Hampshire Lodging and Restaurant Association.
Somers said that during the recent annual meeting of more than 200 members he heard no mention or talk about e-cigs. If confronted by the vapor from an e-cig, Somers said, "my guess is that most properties and consumers will treat them the same (as cigarettes)."
But Swaine said many smokers have turned to e-cigs as another tool to help them quit smoking, particularly for smokers who feel shamed and ostracized whenever they need to take a cigarette break. He claims that early studies, many funded by the e-cig industry, have shown e-cigs can be extremely effective for smokers looking to quit, or reduce how much they smoke, and there is little to no secondhand vapor impact, which cannot be said about regular cigarettes.
The American Lung Association, however, said such claims are fanciful and dangerous.
"It's the same playbook," said Erika Sward, assistant vice president of national advocacy with the American Lung Association. "We are seeing the same claims that the tobacco industry made decades ago. We are also seeing a return to the glamorous portrayal of smoking with the e-cig commercials."
Sward said her organization doesn't understand why the Obama administration and the FDA have taken so long to set regulatory guidelines for e-cigs.
"We want the FDA to have basic oversight," she said. "We want to prevent (e-cig manufacturers) from making any health or reduced health claims. They must have the facts to back them up."
"We welcome reasonable FDA regulation on e-cigarettes, but feel strongly that regulatory policy should not stifle what may be the most promising tobacco harm reduction product ever."
At Federal Cigar, Swaine said the market has become quite competitive, and the shops are focused on a specific type of vaping device that users can fill with varying liquid amounts of nicotine strength and flavor.
Swaine said the business has even changed the nicotine supplier to one that has medical-grade nicotine. Major cigarette manufacturers have jumped into the marketplace with their own brands or through acquisitions (such as the one by Lorillard, which bought Blu e-cigs in April 2012 for $125 million). They also are throwing their lobbying weight around in Washington, calling for the FDA to treat e-cigs very differently from tobacco cigarettes.
"We believe that regulatory and tax policies should encourage smokers of combustible cigarettes to switch to e-cigarettes," Michael Shannon, vice president of Lorillard, recently told Politico. "We welcome reasonable FDA regulation on e-cigarettes, but feel strongly that regulatory policy should not stifle what may be the most promising tobacco harm reduction product ever."
Those bold claims are not taken at face value by health advocates, such as Tilley at HHS.
"We don't know about the quality control of the ingredients," she said. "We know that the manufacturers have funded studies, but there's been very little research outside of the FDA. We are waiting for the science."