Antioch system announces plans to affiliate with university in Ohio
Keene campus could benefit from Ohio-based university resources when affiliation begins in fall 2023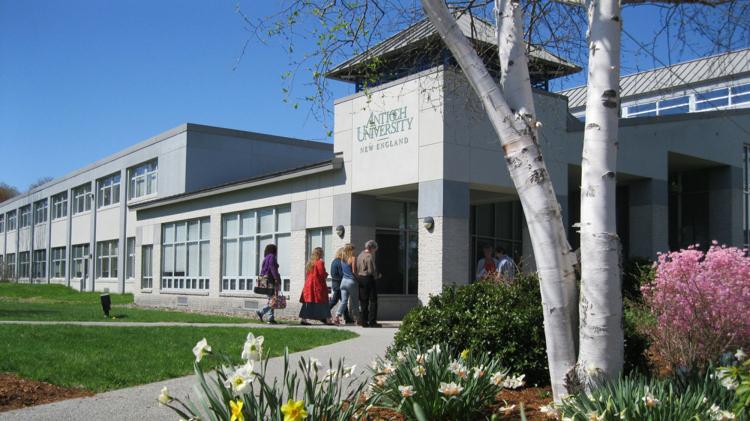 Antioch University, the parent system for Keene's Antioch University New England, announced last Thursday it intends to create a combined university system with Otterbein University of Westerville, Ohio. John Comerford, president of Otterbein, said the affiliation would mean the two private institutions might transfer degree programs between each other and could allow students from one to move their studies to the other.
William Groves, Antioch University's chancellor, said Tuesday that Antioch's New England campus in Keene is likely to remain a graduate school as the full Antioch system focuses on graduate programs in the affiliation, while Otterbein will focus on undergraduate education.
"Our campuses in other locations do include an undergraduate degree completion, but those are for students who are adults — not the 18-22-year-old demographic — and they are students who have already completed two years of their undergraduate degree somewhere else," Groves said.
Antioch University New England offers master's and doctorate degree programs in counseling and therapy, education, environmental studies and psychology. Groves noted the New England campus could be a school for Otterbein students to transfer into if they decide to pursue graduate studies, with Comerford suggesting the same.
"I am convinced incoming undergraduate students will value the idea of applying once for admission as a first-year student at Otterbein knowing they are already accepted to and on track for a graduate or professional degree from Antioch," Comerford said.
Groves likened the process to a partnership and said it's not a merger of the two universities, as a holding company will be formed to develop the affiliation.
"A merger would be one party absorbing the other and one party loses its identity, while the successor by merger goes along as a single entity by its own name," he said. "But that's not what's happening here; (the universities) both still have their boards of governors, their boards of directors and both keep their accreditation." 
Groves said Antioch sought to affiliate with a university after observing private higher education institutions financially impacted by the pandemic.
"Institutions that have billion-dollar endowments will probably be fine going forward, but it's hard to compete with those if you don't have a billion-dollar endowment, and more importantly, if you're not a public institution," he said.
The Antioch system began a search to affiliate with another university around the start of last year, sending responses to more than 60 institutions across the nation that might be interested and ultimately finding Otterbein to be the best fit.
Through the affiliation, Antioch hopes to introduce programs from Otterbein like nursing, Groves said, which could be paired with existing Antioch programs.
"(Otterbein has) programs in nursing including a bachelor's degree and master's degree and a nurse practitioner degree," he said. "We don't have any of that and it's an area we've wanted to get into, but it's hard to start up those programs. We will benefit from that because we can bring those programs to our campuses, including Keene."
Plans are early at this point, as Antioch and Otterbein must receive approval from the U.S. Department of Education and accreditors from the Higher Learning Commission, according to Groves. However, he said there's been discussion about new studies that could be formed from affiliating, with collaboration between faculty of both universities.
"We've already thought of creating a new concentration for their nurse practitioner degree in being a psychiatric nurse practitioner," Groves said. "That's a big demand area, and (Antioch) has the expertise in teaching psychology while (Otterbein) has the expertise in teaching nursing."
Antioch University New England opened in 1964 in Putney, Vt., known then as Antioch Putney Graduate School, according to Antioch's website. It was Antioch University's first out-of-state campus, with the main campus located in Yellow Springs, Ohio. The Vermont graduate school moved to Harrisville and adopted its current name, and later moved to Keene in 1994 into its current space on Avon Street.
Groves said the main campus in Yellow Springs became Antioch College, an independent institution, in 2009, though the Antioch University system is still headquartered in Yellow Springs. The university system's other campuses are Antioch University Los Angeles and Antioch University Santa Barbara in California, as well as Antioch University Seattle in Washington.
Groves said the Antioch University system recently sold its Keene building, which was historically the Sprague & Carleton Furniture factory, though it will remain there, leasing part of the building as a tenant for now.
"We're going to stay put for a while as we transition to a new location, but we're not yet in a position to announce anything along those lines," Groves said. "It has nothing to do with the affiliation with Otterbein University; it just happens to be going on at the same time." 
The Sentinel reported in October 2021 that Monadnock Family Services had entered an option-to-purchase agreement for the building, and MFS CEO Phil Wyzik confirmed Tuesday that the nonprofit bought the building for $4.2 million in a sale that closed June 30.
Wyzik said MFS anticipates moving in during spring 2023 after completing some renovations and will share the building with Antioch University New England for at least two years.
"The university will be on the second floor of the building, and we will start renovations and move our programs into the first floor," he said. "There's some collaboration between the university and MFS regarding students, employees and trainees so we're looking forward to deepening that relationship."
Tim Nail can be reached at 603-352-1234 ext. 1436, or tnail@keenesentinel.com. Follow him on Twitter at @timmnail.
This article is being shared by partners in The Granite State News Collaborative. For more information, visit collaborativenh.org.