An artist's illuminating entrepreneurial career
How Mary Boone Wellington's LightBlocks became an architectural rage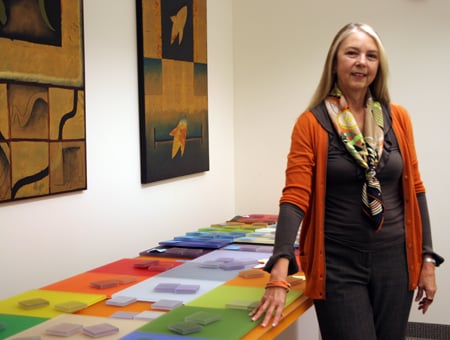 Mary Boone Wellington started her business both accidentally and reluctantly.
A sculptor by education and trade, she was working on an art installation for a private home when she found herself frustrated by not being able to find a material that she could imagine so clearly in her head: vivid and colorful, but also translucent to show the stone wall hidden behind it.
So she decided to make it herself. The year was 1999, and through much trial and error, she developed a process for producing a durable plastic resin that could take on virtually any transparency or color, from tangerine peel to daisy yellow to cornflower blue.
"I wasn't really thinking about inventing an industrial product or an architectural product," said Wellington, who lives on 22 acres in Whitefield. "I was just trying to get the thing I saw in my mind's eye built."
Once she was pleased with the result, she began using it in other sculptures, and it wasn't long before an architect friend of hers — who just so happened to be designing the Discovery Channel flagship stores — saw the material and asked to use it.
Wellington agreed, perhaps a little quickly, because she soon realized that she needed to completely reinvent her techniques for large-scale applications. That was "only a little scary, read: terrifying," said Wellington, a Virginia native with a bachelor in fine arts from Philadelphia College of Art.
But she figured it out, and, after completing the installation pieces for the Discovery Channel, Gensler — one of the world's largest architecture firms — came calling and asked to spec her material. For someone accustomed to receiving art commissions, not architectural queries, the request was somewhat foreign. She shipped off the samples anyway, and when other architects saw them at Gensler, they started calling too.
"I'm thinking, 'Geez, is this a road I want to go down?' And I decided no, I don't want to go down that road, because my mission is to make art and to be inspired and uplift people," said Wellington.
That might have been it, had her assistant not pointed out that she could use the money from the material to make more art. That was a compelling argument for Wellington, who had a successful career as a sculptor (she created "Taking Off," the colorful aluminum sculpted wings that dangle from the ceiling of Manchester Airport.) While she often made good money from sculpting, she joked that making art is like throwing money in a hole, always plowing funds from one commission into the next.
Thus was born LightBlocks. To help promote it, Wellington designed custom cases to send out samples to 100 top architects, though she could only afford to send out five boxes per week. In almost no time, a full third of the architects had not just responded, but had actually ordered the material, she said.
"So that's when we knew, 'OK, this is something. This is something.' Nobody had seen anything quite like this material."
Pushing boundaries
The patented material is notable not just for its luminosity, but because it's practically impossible to scratch, making it ideal for use in high-traffic consumer spaces.
Wellington established the company in Nashua, and in the more than a decade since, it has grown and learned the limitations of its material with each new project that has come down the pipeline.
"Every project pushed the boundaries," said Wellington.
LightBlocks have been used in major architectural projects around the world, as lights, walls, dividers, tables, doors, ceilings and more. The oval counters at Starbucks? Those are LightBlocks, as are the counters at Citibank branches. The can be found adorning many of the terminal walls in Logan Airport, in Bank of America branches, the AOL corporate headquarters, and in corporate offices worldwide.
LightBlocks has a manufacturing partner that makes the base acrylic, but all the fabrication and coloration are done by the company's 30-odd employees at its Burke Road headquarters, which overlooks the Merrimack River.
The Nashua office is itself an ode to LightBlocks, which are in use from the conference tables to the whiteboards. The company works directly with architects who wish to use the material in their projects.
"Architects are artists whose parents told them to be practical," said Wellington. "So if we can resonate with their creative inspiration, then we'll not only fulfill our mission, but we'll help them fulfill theirs."
Wellington is "very sensitive and creative and passionate about things and that was transferred into the product we make," said Brad Yount, LightBlocks' CEO. "People that spec our stuff are passionate about it because they're creating emotion or they're creating an image, because it's not normal building material. You're trying to create an a-ha! or wow factor with our stuff. The artist realized it could be done that way, that a product could evolve that way."
New ventures
Despite her success in growing LightBlocks, Wellington began feeling restless. In the early days of the company, there was excitement and electricity in saying "yes" to projects that were beyond the scope of anything they'd done before. But as the company grew more established, the pace slowed and "wasn't as exciting for me," she said. The company needed a businessperson and a manufacturing person who understood all these processes to acquire solid foundations, rather than "tilting at all the windmills in the land," she said.
Or, as she put it, "I like the beginning of things."
So about four years ago, Wellington brought in Yount as CEO, an experienced executive and one of her board members, whom she had met through a Boston-based professional networking group called CEO Roundtable.
In his career, Yount has bought and sold close to 30 companies. He said that Wellington is an unusual breed of entrepreneur — a founder who is willing to hand over the reins of a company when the tasks of running it eclipse their personal business experience.
"For an owner of a company, that's really hard to do, to say, 'Look, I want to do other things, I realize that my skill sets at this point lie elsewhere, and I actually might be doing more harm than good,'" said Yount. "It's a rare person that's that introspective and in touch with themselves to be able to pull that off. I have a tremendous amount of respect for her."
Don't expect the mother of three and grandmother of three boys — who paddleboards, hikes and snowboards in her free time — to slow down anytime soon. As she said, "there's always something new to do."
But Wellington doesn't plan to go back into sculpture. This time around, she has literary ambitions and has just published her first book, which she wrote with longtime friend Tracey Bowman, a midwife with offices in Milford and Peterborough.
The pair met about 22 years ago, when they were neighbors and their children became friends.
The book — "Hope I Don't Die Before I Get Old: How to Survive Old Age, Your Own or Someone You Love" (beforeigetold.com) — chronicles the women's experiences dealing with their aging parents.
"My mother died about four years ago. Then Mary's mother started having heath problems. My father had some health problems, and we commiserated a lot," said Bowman. "We decided there was so much unknown and misinformation, what might we have done better if we had known more?"
They had learned so much dealing with their own parents that they had more than enough material to write a book about it. In alternating chapters, the writers chronicle their own experiences, which are interspersed with practical advice on topics from financial planning for seniors, clearing clutter and managing medications.
"We really want for people to open the door for conversations about the issues we're all going to face, to come up with a plan before it's a crisis situation," said Bowman. While the book was written mainly for baby boomers, an unintended consequence has been that their aged parents are reading and enjoying it as well, said Wellington.
"Our overwhelming idea was this cannot be another stinking depressing book," said Wellington. "We read a lot of books, many were very impossible to read — too depressing. So we made our book not depressing. We tell the truth, but it's slightly amusing. Bad stuff happens, but then good stuff happens."
To publish the book, Wellington started her own publishing company, Rose Cottage Press. She already has other projects in the pipeline, including several children's books.
"I guess I might be publishing children's books — I don't know," said Wellington. "There seems to be energy in that direction."
If Wellington's LightBlocks track record is anything to go on, it may well turn out that Rose Cottage Press — while started to advance one of her own projects — becomes a bigger undertaking that serves the creative needs of many others.
According to Bowman, Wellington is "full of ideas and solutions to problems, creative ideas, and I think that's why she has been able to create things that are a little different and very successful because they are different. She's willing to take risks."