AgaMatrix's technology now part of Choice's diabetes line
Salem company strikes deal to sell consumer glucose monitoring devices via Amazon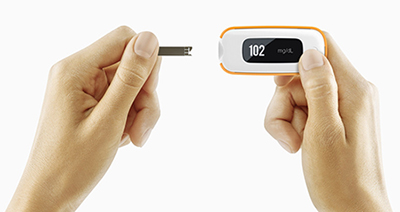 Arcadia Group, the British multinational seller of Choice brand consumer-use medical devices for diabetes, has partnered with Salem-based AgaMatrix to incorporate its blood glucose monitoring technology products into Choice's diabetes line.
AgaMatrix's innovative technology and manufacturing expertise has established them as a preferred manufacturer of diabetes devices for top retailers and pharmaceutical partners, according to a press release from the company. AgaMatrix's core technology, WaveSense, enables accuracy by utilizing electrochemistry to detect and correct for common sources of interference.
Arcadia Group has designed a traditional and wireless blood glucose monitoring offering under the Choice brand, which will be sold exclusively through Amazon. The Choice blood glucose monitor will offer wireless transfer of blood glucose data to the AgaMatrix Diabetes Manager App, delivering a simplified data management experience across AgaMatrix's mobile and HIPAA-compliant cloud platform. The AgaMatrix Diabetes Manager App is compatible with Apple and Android devices, and also works with Apple Health for consolidated viewing of health and activity data.
"The opportunity with Arcadia to bring our accurate blood glucose monitoring technology and connected health platform to a unique player in the ecommerce market at a competitive cost and feature profile is very promising," said John Alberico, CEO of AgaMatrix. "This combination is sorely needed in a health care market increasingly filled with rising deductibles and unaffordable therapies. We are proud to offer people with diabetes a way to safely test in an affordable, convenient manner."
"The Choice brand is all about accessible wellness," said Bob Guest, CEO of Arcadia Group. "Partnering with Amazon means consumers no longer need to drive to a store to stand in line and purchase their medical devices and supplies. Now, in the privacy of their home, consumers can review, compare and purchase products of their choice. No prescriptions or insurance is required; therefore, customers have the freedom of choice. Gone are the days when insurance companies dictate what product you have to purchase. Choice is freedom."