Adjusting to a new reality
How employers and employees can adapt to the remote working environment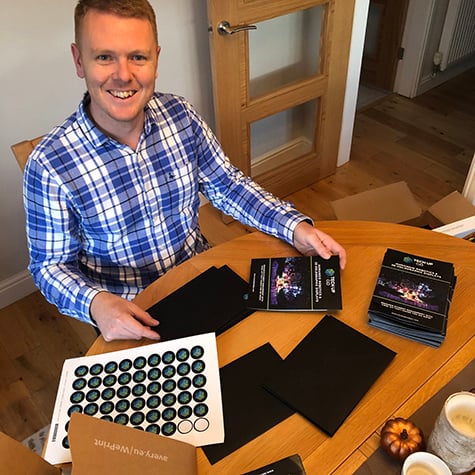 We're living in unprecedented, game-changing times.
The luxuries we take for granted and our seemingly important complaints are all insignificant compared to the current climate that has suddenly overtaken us all and are now slowly becoming accustomed to. It is a trait of human nature that people will feel the full range of emotions now and in the foreseeable future, and that minds will become bewildered and troubled as this crisis unfolds. Everyone holds the responsibility to protect others, by taking the necessary restrictions seriously, delivering acts of kindness and allowing people the time to share their feelings without judgment.
Nevertheless, within this new reality we must support each other to develop a resilience that enables us to thrive, not only for the sake of our professional and business lives, but also to protect our general wellbeing, mental health and to support our community and family life.
Having worked at home, in an office, on the road, in hotel rooms and at a distance from the team I directly managed, here are a few simple suggestions on how both employees and leaders can build a proactive approach in the current climate.
Build trust
We've all heard it in some form – the general tongue-in-cheek mockery on the productivity of working from home. There's no doubt, working from home has challenges but it also provides a great degree of flexibility. To maintain productivity and avoid distractions, here are a few tips to build trust which will long outlast this current crisis and afford you future flexibility:
Establish a routine to your day and agree this with your family members at home. Communicate this with your manager and agree solutions to any conflicts.
Re-evaluate your goals and objectives on a regular basis – key performance indicators may need to change, given the circumstances, in order to shift focus onto areas that deliver impact. Agree to a set of flexible deliverables with your manager. At the start of every day spend 10 minutes to write a task list and cross things off as you go. Communicate your progress against this on a weekly basis with your manager.
As leaders, listen and discuss routines and tasks with team members and adjust calls to parts of the day which align to as many as possible.
Take the opportunity to cut some meetings. It's so easy to just convert every meeting to online but evaluate the specific purpose and who is really needed. This will serve well in raising productivity long into the future.
Encourage community and family support activities and share these – it will make everyone feel more positive and involved.
It is important that people feel that they are adding value to the business, being valued by the business and of course, able to feel happy in the business.
Learn something
Despite being a significant part of HR reviews and employee feedback, time for personal development often slips away in the day-to-day office environment and becomes just a form on the system. Once your routines are in place, dedicate some time each week to learn something new that is of particular interest. A few ways to do that are:
Read (an obvious one) – pick a topic and ask colleagues and friends for advice on titles if you're unsure. Use online networks to get suggestions too. If the weather allows, sit outside, otherwise sit close to a window to grab any vitamin D on offer!
Identify something that has traditionally drained your time. Find a solution and bring that as a suggestion to your wider team call. It's pretty likely others will feel the same way and your changes will impact business in the long term.
Find an online course – it's great to see so many companies converting activities to free online opportunities covering a wide variety of topics. YouTube is also a great resource to pick a topic and learn from the experts.
Pick the brains of colleagues – have short, regular, mutually beneficial sessions with a colleague who has a different skill set where you each share your expertise. It'll be great to talk to someone and will also enhance your collaboration in the long-term.
Believe in partnerships
There are two ways for business to respond in the current climate.
One is to look inward and purely look after your own business interest, essentially cutting off from things that don't necessarily add quantifiable value.
The other is to build partnerships, and this is the approach we believe in. Not necessarily the traditional commercial partnerships, but partnerships where your expertise helps a business in need. Some thoughts on how to do this are:
Offer your expertise for free – this can be as simple as an online meeting, tutorial or course material to support learning or advise those in need.
Develop referral schemes to enable your free activities to reach as many people as possible and test new relationships that could be commercially beneficial at a later date.
Lend out your demonstration equipment – identify how your products could help someone at this time and put them to good use. With so many events cancelled, having your product put to good use is much better than leaving it sat in storage gathering dust.
Have an open mind – while there may be little short-term commercial reward, the support you provide now will be remembered and outlast this challenge, helping to build your brand credibility.
Discover a new technology
While it's hard to see beyond the immediate future, restrictions will lift and business will adapt to find new ways to connect with customers and build confidence again. There now lies an opportunity to discover new, innovative technologies to stand out and ultimately reap the reward in the future business environment. Some tips on doing so are:
Do your research – identify products and services which you believe will innovate your business to meet your long-term objectives.
Form your business case – internal processes can take a significant amount of time in order to implement something new. Use this time to form your proposal, gather your evidence, work with suppliers and prove your return on investment.
Gain stakeholder buy-in – introduce your business case to your team and the appropriate leadership to demonstrate your innovative thinking and positive approach in driving business forward.
Ensure your proposals are integrated into all future planning meetings as restrictions lift so decisions can be taken quickly.
Simon Davenport is founder of United Kingdom-based Tech Up & Go Ltd, can be reached through LinkedIn or by email at  simon@techupandgo.com.