Additional air services provider weighed at Pease
Potential competition and environmental concerns take center stage in debate over FBO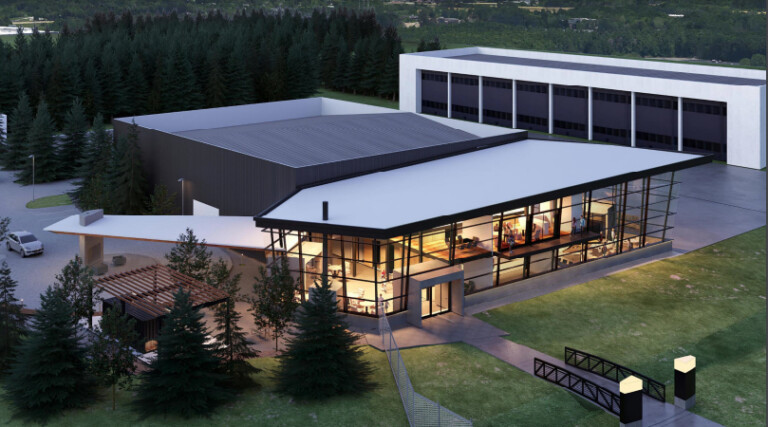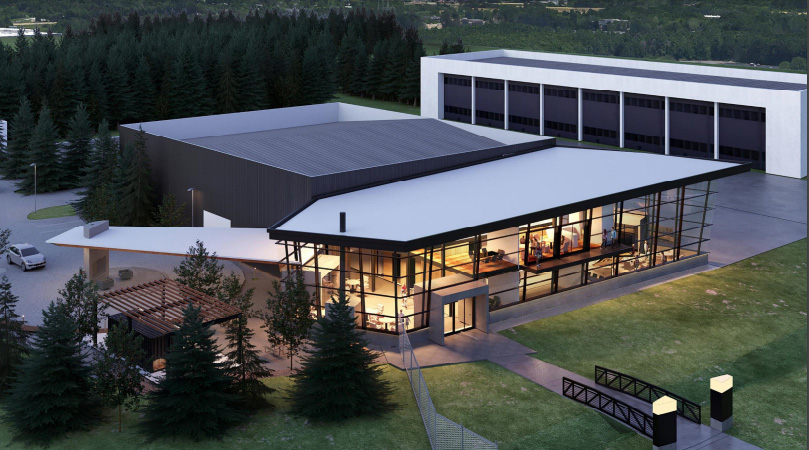 This rendering shows the fixed-base operator facility that Million Air — doing business as Pease Aviation Partners — wants to build at the Portsmouth International Airport at Pease. (Courtesy photo)
"Fixed-base operator" is the term given to a company that provides aeronauticalrelated services — fuel, hangars, de-icing and luggage handling as examples — at an airport.
The Portsmouth International Airport at Pease currently has one FBO: Port City Air. But a new entity, Million Air, an international FBO provider based in Houston, Texas, and doing business as Pease Aviation Partners, has proposed building an FBO facility at the airport that straddles Portsmouth and Newington.
Port City Air opposes it
Several issues have been raised over whether or not a second FBO should be added at Pease. One involves a concern that a new fuel farm adds potential environmental harm to an area already filled with high-risk pollutants. The other is that a Port City Air monopoly threatens future Federal Aviation Administration grants for Pease airport improvements.
The Million Air proposal at 53 Exeter St. — next door to the Port City Air facility — is on 2.65 acres that it would lease from the Pease Development Authority, over seer of the Pease International Tradeport.
For Port City Air, any argument that it opposes Million Air as a way to keep its current status as the only FBO at Pease is "disjointed," according to Jacob Marvelley, the Portsmouth lawyer who's been representing Port City Air.
"It's not about the competition, it's about the location," he said. "I think what we're seeing is that the towns, the environmental people who deal with environmental concerns in the area, people who drink the water are all increasingly scared about what's going to happen, and we don't understand why it needs to be at this location," he added.
In his documentation to the PDA, Marvelley argues, "There are other areas at the airport where Million Air could build its facility that do not pose the same environmental risks."
It has been a lengthy and detailed review process for Million Air's application, having started in April 2021. So far, it has received terrain alteration and wetlands approvals from the State and approval from a Pease Technical Review Committee that is chaired by the PDA's chief engineer and is made up of several Portsmouth city officials, including the city engineer, a representative from the water and sewer department, and the police and fire chiefs.
There will be a third-party review and recommendation before the proposal comes to the PDA board of directors for approval or denial, possibly at the May or June board meeting.
"From the original April 2021 minimum standards application, the PDA made it very clear to the applicant that there is an expectation of a very detailed design to be put forward to the PDA," said PDA Executive Director Paul Brean. "The applicant has listened to that, and they have put forward a quality design."
"Any issues that came to (the Technical Review Committee) have been addressed by the applicant," he added. "The Technical Review Committee felt confident that all the questions they had were answered. It took two meetings to get some of that detailed information answered. I think the committee felt that this is a very good design."
Environmental debate
The proposed building is 26,000 square feet on a site that "provides parking for 28 passenger vehicles with interconnected sidewalks from the building all the way back to the Exeter Street sidewalk system. Adjacent to the turnaround is a seasonal coffee kiosk with outdoor seating for clientele to enjoy during the warmer months," according to the proposal.
A new concrete apron would be constructed from a proposed hangar to the existing concrete taxiway. A fuel farm, located to the northeast of the hangar, would have two 30,000-gallon Jet-A tanks (60,000 gallons total), space for a future 30,000-gallon Jet-A tank, a 15,000-gallon avgas tank, a split tank with 1,500 gallons for diesel and 1,500 gallons for unleaded, and a 3,000-gallon glycol tank.
Million Air provides FBO services around the world for civilian, military and corporate aircraft in such locations as Albany, N.Y.; Austin, Texas; Burbank, Calif.; Indianapolis, Ind.; Orlando, Fla.; and Rome, N.Y., to name but a few.
Much like Pease, Rome is the site of a former Strategic Air Command base, Griffiss Air Force Base, that closed in 1995.
George Bald, a former Pease executive director, believes worries about potential environmental impacts are unfounded because of safeguards required by the PDA and other entities.
"Pease has worked very hard to be very conscious of environmental issues," said Bald, who also has served at the state level in various economic development capacities. "And they're very strict on any of the fueling situations."
Bald and Tom Sedoric, who has served as chair of the Economic Development Advisory Commission under four New Hampshire governors, penned an opinion piece that appeared in the March 10-23 issue of NH Business Review, saying Port City Air "is no protector and is simply opportunistically seeking to retain its monopoly at Pease."
"And interestingly," they added, "if PCA is allowed to maintain its monopoly, the significant federal funding that supports jobs and environmental compliance at a small airport like Pease could evaporate on short notice. That would not be good for Pease, the PDA, our environment or our community."
PCA's legal team has addressed this issue by seeking the opinion of David Bennett, formerly the FAA's assistant chief counsel for airports and environmental law. He now operates Bennett Aviation Consulting out of Maryland.
As part of the documentation presented to the PDA board, Bennett said, the PDA "is not required to accept a request by a particular operator on the operator's proposed terms, or even to accept the request at all if the request is not consistent with PDA plans and standards."
Marvelley underscored Bennett's opinion, writing to the board: "To the extent you are being told you cannot act in the airport's best interests due to grant funding, that advice runs contrary to Mr. Bennett's opinion — and he decided these issues for the FAA."
The majority of the PDA board has shown over the years that as long as proposals meet local, state and authority regulations and criteria it generally approves them.
Besides Port City Air, among other opponents is Dudley Dudley, renowned in New Hampshire for her leadership in the fight against the Aristotle Onassis oil refinery here in the 1970s.
"The PDA's concern for water quality and preserving the environment around Pease is certainly not evident from the proceedings in the matter thus far. The PDA has NOT earned our trust," Dudley said in a recent letter to the editor she co-signed with four others, which also appeared in the March 10-23 NH Business Review.
They worry that, given the fuel farm's proximity to wetlands, any spill would make its way into Hodgson's Brook, which flows through the Tradeport to North Mill Pond then, ultimately, to the Piscataqua River.
Because the Million Air site is located next door to where Port City Air conducts its business, one of PCA's concerns is about its indemnity in the event of a fuel leak; it says it is concerned that a Million Air leak could be mistakenly blamed on PCA.