Acting on biz savvy, teen opens toy store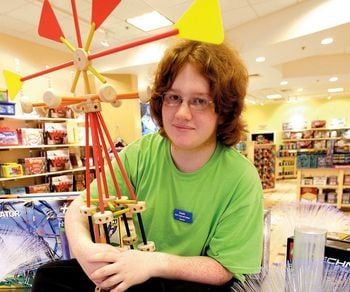 Josh Heinzl answered the phone with an enthusiastic "Hi, Josh's Toys and Games! This is Josh." The smile on Heinzl's face and the welcome in his voice were quickly replaced with a blank stare and frustrated tone.
"Listen," he spoke politely but pointedly into the phone, "are you guys going to offer me free processing? Otherwise I'm not that interested. You never offer a better rate."
Heinzl hung up the phone and let out an agitated sigh.
"Credit-card processors," he explained. "They call at least three times a day."
This is the life of a new businessman. But Heinzl isn't your typical entrepreneur; he's 15 years old. And while he isn't old enough to drive, the Windham native is buckled in and ready for a ride to the top, in a car made of Legos.
Josh's Toys and Games opened last Friday in the Pheasant Lane Mall. The store, which is located on the ground level near the Sears entrance, offers a variety of Lego products as well as puzzles and games.
The grand opening of his store is just part of the vision that started when Heinzl, then 12, approached his parents with a business plan for an online Lego product store. His parents agreed to front Josh a five-figure investment on a shipment of Lego products that he would sell online and ship from his house.
Heinzl became a licensed Lego distributor and his site boomed with business. In fact, according to Heinzl, the business brought in $250,000 in its first three years.
In 2007 Heinzl started researching retail venues. He looked at a handful of strip malls as well as two Simon-affiliated malls in Massachusetts and three in New Hampshire before settling on the Pheasant Lane Mall.
"(Starting up the store) was one of those things where you're walking around the mall saying 'hey I could do this' and I did," Josh said.
So far, Heinzl said that "hundreds of customers" have visited the store in its first week.
For his mom, Mary Heinzl, investing in her son was never an issue.
"We have confidence that it's going to work," Heinzl said. "As grandiose as (Josh's) ideas may be, they have merit to them."
Josh's parents have a history of following their son's instincts. When Heinzl was four he decided that he wanted to attend kindergarten.
Heinzl was only thirteen years old when he entered Salem High School as a freshman. Although Josh ultimately opted to leave Salem High in his first year, he said that the two-year gap between himself and his colleagues wasn't really a factor.
"I had a group of friends just like anyone else," he recalled. "It's hard to say that it was anything different. Obviously I got teased and made fun of a little bit, but that's going to happen."
Heinzl reasoned that he chose home schooling to better his education.
"It let me dedicate my efforts a little better," Heinzl said. "I didn't like the environment; it just wasn't as conducive to learning as I'd have liked."
Heinzl has a seven-person staff, four of which are family members. Carl Roberts, the store manager, is 37 years old. And while Roberts admits that it is "interesting" to work for someone that younger than him, he doesn't see it as a problem.
"I'm 22 years older than the owner but I think it's great he has such the business skills to make this work," Roberts said. "I have to respect him because he has the business skills that I wish I had when I was 15 years old; heck I wish I had them now."
Roberts has worked in merchandising for 19 years and he hopes that his merchandising skills will supplement Heinzl's business skills. Roberts added that Heinzl's management approach helps because he involves everyone in the decision-making process.
"We have an owner who, yes, is 15, but he listens to us," Roberts said. "(Josh) is very open to what we all have to say about doing stuff here in the store. We keep an open line of communication."
The boss does have his picky moments. But Heinzl claims that it's all about the juju.
Heinzl explained that "juju" is a western African term that alludes to something magical or supernatural. He has adapted this definition to make juju a word that describes a perfect balance in the store's set up.
"When you do things, it's got to feel right," he said while eyeing a set of super balls that needed rearranging. "It's like when an artist is working on something and it looks fine to someone else, but the artist knows that something just isn't right."
Mary Heinzl noted that customers have complimented the store's meticulous, clutter-free setup.
"People say that they like the 'feel' of the store," she said.
Mary, who teaches at a local school of nursing, described the store's slow but steady development as "incredible."
"It's just incredible to think about what it was like when we first walked in here and what it's like now," she said. "You just kept stepping back after each section (was set up) and saying 'wow, this is something special.' "
And the Heinzls certainly aren't short stocked on support.
"Good for you," said Dave Motuzas while pushing his daughter's carriage through the store. "Keep up the good work."
Josh Heinzl nodded in appreciation, saying, "so far the reception has been great."
Motuzas, a Nashua resident who works in merchandising at Sam's Club, was impressed with the store's professionalism.
"I would've never though that a fifteen-year-old would open up a store in the mall, but this is top quality," he said.
Josh Heinzl will enjoy the early success of his store for now, but this isn't the end of the Lego line. Heinzl plans on opening up a few more stores over the next couple years while also returning to the online store that initiated success.
"I want to keep riding this to the top," he said. "The isn't it for me."