A way to stop the bleeding
How NH companies can reduce their energy bills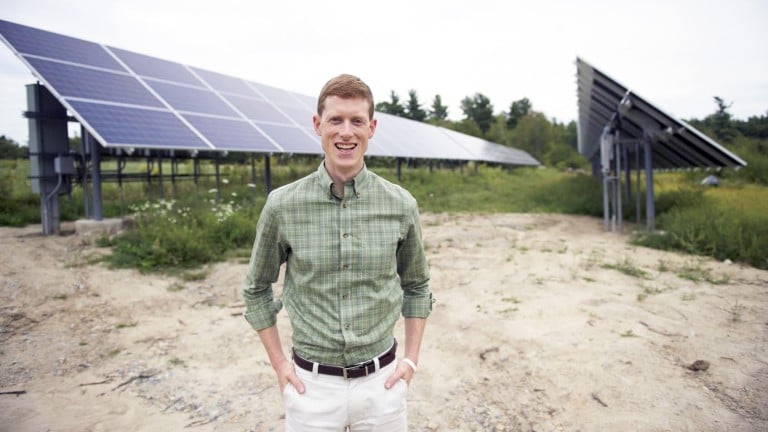 With energy costs rising, what are New Hampshire businesses doing? A lot.
Be it switching providers, switching sources or simply finding out a way to conserve, companies are maneuvering in an effort to ride out the current energy price wave — or should we say tsunami.
"They are looking for a way to stop the bleeding," said Carol Anne Watts, director of sales for Freedom Energy Logistics, an aggregator for commercial and industrial electrical users based in Auburn. "We are seeing those who ignored our calls in the past returning them seven months later."
"This is our time to shine," said Chase Pennoyer, vice president of operations at Resilient Buildings Group, a Concord firm that helps businesses take advantage of the NHSaves energy-efficiency program. "We have seen a significant uptick in interest. People are drinking the Kool-Aid of energy efficiency."
"We have never been so busy, and that's saying a lot, because we were already growing rapidly," said Dan Weeks of ReVision Energy in Brentwood, one of the state's major solar installers. "Last month we had double the leads we ever received."
Every business knows the extent of the problem. Electric rates are going up for everyone, but even more so for businesses whose rates are based on a utility's monthly power supply solicitation.
According to Eversource, by far the state's largest utility, the default energy service charge for small businesses more than doubled, from 10.67 cents to 22.56 cents per kilowatt-hour. For large businesses it nearly tripled, from 11.3 cents to 29 cents. In January it is expected to climb to 48.6 cents.
Most larger businesses, however, attempt to lock in lower rates via a contract with a competitive supplier.
According to the latest migration figures from the NH Public Utilities Commission, 89 percent of companies paying the large commercial and industrial rate have left Eversource. For medium commercial and industrial users, the migration rate was 82 percent. When it comes to small businesses, 30 percent have left the utility for other suppliers.
'Not enough energy'
Thus the sudden interest among businesses in aggregators like Freedom as well as directly contracting with other providers themselves. But it is tricky to predict the future. Most businesses know that the prices will jump over the next two winters. The question is whether to spread those "18 months of more extensive pain" out over a three- or five-year contract, or swallow it all at once, and hope for prices to go down by the time the next contract rolls around, said Watt.
Such long-term contracts helped the Engineered Extrusions division of Momentum Manufacturing Group (formerly Vitex Extrusion) when it came to electricity, but "our hedge on gas ran out in November," said the company's president, Andrew Curland, adding, "All hell is going to break loose with gas."
But like most businesses, the company isn't just looking at the source of energy, but how to best use it. That's why it invested in increased productivity to help its 140 employees fabricate over 50 million pounds a year of aluminum into extrusions used by manufacturers in a wide range of industries, from electronics and automotive to sporting goods and construction.
"We are pumping out a lot of metal here," Curland said, so "the more product per hour, the less energy you are going to use."
Still, he said, the larger problem is "there is simply not enough energy in the state," which he compared to Massachusetts and Vermont, which provide more incentives for non-fossil fuel generation.
"I applaud Sununu for giving rebates to consumers," said Curland of Gov. Chris Sununu's proposal, approved by the Legislature, to provide energy assistance relief payments of up to $650 for middle-income consumers who qualify. "He is a great governor, but that's not how you keep industry going. We still have among the highest rates in the country. What is the energy plan?"
The state approved a comprehensive energy plan over the summer, but when asked to respond to concerns and frustrations of executives like Curland, Deputy Energy Commissioner Chris Ellms issued the following statement:
"New Hampshire is focused on cost-effective resources and market-based outcomes. The Department encourages innovative technologies to meet our energy needs, and is exploring diverse sources of electricity. Although many of the costs of energy are outside the control of the State, we can continue to prioritize policy decisions that lower costs for businesses and all utility ratepayers."
Perhaps the state's biggest energy program for businesses is the NHSaves program.
Despite mainly being known generally for supporting weatherization of residential homes, "the commercial program is really robust," said Sam Evans-Brown, executive director of Clean Energy NH, a clean energy advocacy group.
"We keep on hearing (from businesses), 'We do everything we can.' But I yet have heard of a walk-through where they could not find significant energy savings."
NHSaves, run by the very same utilities that are raising electric and gas rates, has grown despite roadblocks thrown in its way, often by the Legislature and lately by the PUC, which cut the system benefits charge, which provides about $61.3 million of the $69.7 million funding for NHSaves next year. The rest comes from grid operator ISO-New England and the Regional Greenhouse Gas Initiative.
Nearly $49 million of the funds are paid by commercial and industrial users, which get a good chunk of the benefits as well: some $32 million annually, half of which goes to small businesses and half to large businesses.
"The quickest way to take advantage is our instant rebate program," said William Hinkley, an Eversource spokesperson.
The rebate is all paid via distributors approved by utilities at the point of purchase. There are three main categories: lighting, HVAC and food service. A business can get as much as $115 for each exterior LED light, $250 for a heat pump or $3,000 off a conveyer gas broiler.
All this adds up. Take Great NH Restaurants. At its new T-Bones restaurant in Concord, it received $21,271 in rebates for installing just over $50,000 worth of energy-efficiency equipment, according to Resilient Buildings Group, which helped with the project. Add in an estimated $11,000 annual savings in electric bills (before the recent rate hikes) and the payback period is estimated to be 2.6 years.
Resilient also helps companies take advantage of other NHSaves programs, like the new equipment and construction program, and a separate retrofit program. The savings are greater, but the projects take time, involving audits and, according to Resilient's Pennoyer, "right now, it's hard to find installers and equipment. A lot of times it (the equipment) is on a container ship somewhere. That's the biggest holdup."
Other options
Such delays make businesses hesitant to put a lot of money up front for that payback. But utilities are offering zero-interest loans for the NHSaves program with the payments tacked on to utility bills.
There are other energy financing options. The Community Development Finance Authority has a $10 million fund providing from $30,000 to $500,000 for up to 10 years at 3 to 4.5 percent interest for projects. The projects have to save 15 percent in energy, whether it be through efficiency, renewables or storage. The agency provides about a dozen loans a year, or about $600,000 worth.
"We'd like to see more uptick," said Scott Maslansky, director of clean energy finance. "I'm surprised we haven't seen more." He thinks he might in the near future, not just because of the rising cost of energy, but also the rise in borrowing costs, "while our rates remain the same, at least for now."
The NH Business Finance Authority has a $4 million revolving loan fund with $1.3 million in the kitty at present. The funds are dispersed at market rates, but the terms are flexible and the amounts offered — $100,000 to $1 million — are a bit larger than the CDFA's.
There is a way to save money without investing money. Large companies can set up agreements with utilities to refrain from using electricity during peak demand in return for incentive payments. And those with enough storage capacity can get such payments by providing power to the grid when needed.
Associated Grocers of New England Inc. in Pembroke used this and other state programs. It rebulbed twice — a double-whammy since LED lighting produces no heat to offset — and it used more energy-efficient compressors. Then it added one of the biggest rooftop solar installations in the state — a 3,400-panel array that will generate about 1.45 million kilowatt-hours annually, according to ReVision Energy, which installed it.
"It was the right thing to do, but boy is it the right thing to do now," said AGNE's CEO Mike Violette, who estimated that the array will save $180,000 annually, about a quarter of the company's electric bill. The project would have even been bigger, he said, had the state lifted its one-megawatt cap on net metering to five megawatts, which has long been opposed by the governor.
The new federal Inflation Reduction Act should encourage more such projects as well.
A tax credit for commercial energy investments has not only been brought back but has been expanded to include a subsidy for nonprofits. And there are now added bonuses for renewable projects — a 20 percent additional tax break for those built for affordable housing developments and 10 percent for those in low-income areas, on a brownfield or if the materials used are primarily made in the U.S.
"And they are stackable," said Weeks of ReVision. "So theoretically you could go much higher." The tax breaks combined could amount to much more than half the cost of a project.
Other energy sources
Of course, the rising price of energy isn't limited to electricity.
Filtrine Manufacturing Company in Keene produces water purification and drinking systems, among other things. It already had enough solar power on its roof to generate electricity for its reduced power needs (thanks to LED lighting and other improvements). It has also installed a wood chip boiler to take care of heating needs, replacing 25,000 gallons of oil with 256 tons of dry wood chips — which, if you count the thermal renewable energy certificates the company receives, means it is paying the equivalent of $1 a gallon for its heat, according to Froling Energy, the Keene company that supplies the system and the fuel.
"You are paying double on oil, and we are going up by 20 percent," said Jim VanValkenburgh, Froling's vice president of marketing and sales.
And then there is diesel and gasoline. Gasoline has come down by about 50 cents from a month ago, when it averaged $3.92 a gallon. But the price of diesel remains stubbornly high: $4.80 a gallon on September 30, not too far off the $5.12 it was a month ago.
While consumers appear to be gobbling up electric vehicles, commercial customers, increased interest among commercial customers is slower, said Hari Nayar, vice president of fleet electrification and sustainability at Hooksett-based Merchants Fleet, one of the largest fleet management companies in the nation. "Businesses are looking long term how much they can save over five years."
Still, electric vehicles account for 2.1 percent of the fleet, mostly cars, even though cars account for only a quarter of their fleet portfolio, which is mainly vans and trucks.
There is a state program for trucks: the NH State Clean Diesel Program at the Department of Environmental Services, and its funding is increasing. This year, it has $1.4 million available, and it is about to get a lot more: $6.2 million through the $31 million Volkswagen settlement fund. Much of that fund is currently being used to set up EV charging stations, a process that is agonizingly slow, and the new funding for diesel will have to wait because "we can only concentrate on one solicitation at a time due to our manpower," said Tim White, mobile sources supervisor for the state Air Resources Division. "It will happen sometime in the future," he added.
Still, business can apply now for the existing funds. The deadline for the current round is Nov. 1. The program doesn't just provide grants for new electric, hydrogen or compressed natural gas-powered vehicles, but also for more efficient engines, low rolling resistance tires, idle reduction technology, or using batteries to run air conditioning or power when a truck isn't moving.
Those are just some resources businesses can use to offset energy costs. To energy advocates, it isn't nearly enough. But there is one good thing about rising energy costs, says Evans-Brown of Clean Energy NH.
"This wakes people up. We are now living in a world where natural gas is no longer cheap. Now that they know that, it's possible they will snap out of their reverie," he said.