A restaurant where you can dine like a president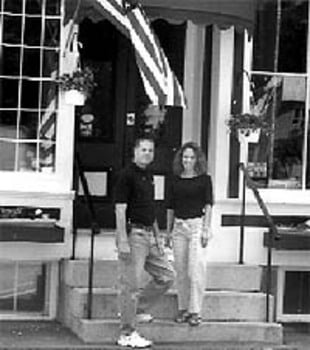 Virtually all of those who were old enough at the time remember where they were and what they were doing when they heard that President Kennedy had been shot, or the Japanese had bombed Pearl Harbor, or the Red Sox had won the World Series. (OK, nobody's that old.) Michael McGrath will always remember where he was and what he was doing when the president of the United States threw up at a state dinner in Tokyo.
"It wasn't the food," McGrath says, quietly but emphatically, whenever the subject comes up. If he sounds a little defensive on that point, it's understandable. McGrath is a former chief of the White House mess. He was in the kitchen that night in Tokyo in December 1991, supervising the preparation of the food that was being served to President George Herbert Walker Bush and other dignitaries at the black tie affair.
"He was not feeling well that morning in Korea," McGrath recalled, though the president did manage to complete a few tennis matches with the prime minister of South Korea. Bush had apparently contracted some sort of stomach flu and was feeling ill again in the limousine on the way to the Tokyo dinner, the former mess chief added. "But at a state dinner with the prime minister of Japan you don't just 'not show,'" he said.
McGrath, a master chief in the U.S. Navy, recalls someone saying to him during the dinner, "Y'know, the President looks a little white." He shrugged it off. "Oh, he'll be all right," he replied. Suddenly, Bush was vomiting as he slid off his chair and partially under the table.
"Secret Service men were leaping across the table and talking into their walkie-talkies and immediately the news went around the world," McGrath recalled. "The next thing I know, my lieutenant back in Washington is on the phone wanting to know what the heck is going on."
It may not be his favorite story, but it's one of many that come to mind when McGrath discusses his years of tending to the culinary tastes and nutritional needs of three U.S. presidents (Reagan, Bush and Clinton). Chances are he'll be asked about it a few more times at the new Presidential Grille and West Wing Lounge that he has opened in his hometown of Bristol, a small town sitting slightly off the beaten trail in New Hampshire's Lakes Region.
It's also a story he can share someday with his grandchildren, though it's possible future generations will not be sufficiently aware of the event to ask: "Grampa, where were you when the president collapsed in Tokyo?"
In fact, McGrath was there when his trio of presidents did all sorts of things. When they delivered speeches, McGrath would ensure there was an adequate supply of water at the right location on the podium. He also would take care of food and beverages in the "holding area" when the president was waiting to go on stage. When the chief executive traveled overseas to meet other heads of state, McGrath and other White House mess staff would travel with him either to prepare or supervise the preparation of the meals. Even the president's limousine travels presented duties to the kitchen staff (food and beverages again). McGrath has seen the Queen of England eat a hot dog while watching the Baltimore Orioles. He has seen the likes of Yassir Arafat and Yitzhak Rabin at the White House and has spent "quality time" with the first President Bush and his family at Kennebunkport.
"I played horseshoes with him, played with the kids, fed the kids," said McGrath, who also has visited the former Maine White House since the former president left office.
The Bristol native stayed at his White House post until the final year of Bill Clinton's first term. He recalls seeing the now-famous intern of the Clinton years at the White House mess.
"Monica would come to the take-out window to pick up things for the staff," he recalled. Sometimes the president himself would come in to have lunch with a guest.
"Whenever Reagan came in the staff and guests would stand and clap," McGrath said. "He just had that ability to relate to people." So, too, did Clinton, he said, observing that the 42nd president was both highly intelligent and extremely affable. But his favorite was President Bush. "I served him the longest," he said.
Family business
Many presidential hopefuls might envy McGrath's longevity in the executive mansion. He was there for the final 10 years of his 22-year Navy career. Leaving the White House in 1996, he returned home to Bristol and went to work for Republic Management Corp. in Rochester, a company that provides food and cafeteria management services for area businesses. He decided to go into business for himself when the three-story building he now partially occupies went up for sale in May of this year. The building, a historic structure in the town's center, started out as a hotel in 1847 and is rumored to have been a brothel at one time. For the past few decades, it has housed a series of restaurants and residential apartments.
The building is now home to a new family enterprise. McGrath, his brother Peter and Peter's wife Lauren bought the property for $165,000 and have invested, so far, approximately $50,000 in fix-up costs, with renovations ongoing. Mike has turned the first floor into his Presidential Grille and has put his West Wing Lounge in the basement, where the windows offer a refreshing view of Newfound River, flowing just a few feet away.
The establishment has its own distinctive "presidential seal" and the walls of both restaurant and lounge are amply decorated with photos and mementos of Presidents Reagan, Bush, Clinton and other world leaders. The White House theme even extends to the rest rooms, which are labeled "President" and "First Lady" at the restaurant level and "Bill" and "Monica" in the "West Wing" below.
"We may have to change that," smiled Lauren, who obviously wants the restaurant and its clientele to be bipartisan. Her husband Peter is a Concord lawyer who will maintain a "satellite" office on the second floor. The remaining space on the second and third floors will be leased for office use.
Kurt Hildbrand is chef at the Presidential Grille, serving up some White House favorites, along with a variety of casual dining fare. A native of Switzerland, Hildbrand has been executive chef for a number of prestigious dining rooms, including the Barbizon Plaza Hotel on Central Park South. He has worked at the United Nations, the Museum of Natural History, the Metropolitan Opera at Lincoln Center, Paramount Communications and Rockefeller University. For the past eight years, he owned and operated the Lincoln Inn at the Covered Bridge in Woodstock, Vt.
Presidential favorites
Many of the entrees and desserts at the Presidential Grille are named for former presidents, including some who preceded McGrath's time in the White House by a considerable span. Hoover Chicken Pot Pie, for example, is so called because of a Republican campaign promise in 1928 (when Herbert Hoover defeated Al Smith) of "a chicken in every pot." The peach cobbler has been named after Jimmy Carter, our only president from Georgia. A seafood platter is named in honor of George Herbert Walker Bush, who has indulged his fondness for seafood for many summers at his home on the Maine coast. Porterhouse and rib eye steaks are named for the current President Bush, who appears to spend more time than his father did in the beef-loving Lone Star State.
President Reagan, said McGrath, was fond of Navy bean soup and salads served with a homemade dressing the kitchen staff named Omar. Bill Clinton, despite his much-publicized fondness for McDonald's fare, liked veggie burgers and French fries, oven baked with egg whites, an Oprah Winfrey recipe. McGrath said he doesn't know if the diet stemmed from doctor's orders.
"I just think everybody was trying to eat healthier," he said.
Patrons of the Presidential Grille have the opportunity to eat healthy in a healthy environment. Both restaurant and lounge have been designated smoke-free areas by executive order of President McGrath. Any lighting of Gerald Ford's pipe or Clinton's cigars are considered impeachable offenses.
Before his White House assignment, McGrath was at the Pentagon for five years, preparing food for the Joint Chiefs of Staff. After 22 years of working for Uncle Sam, he has reconnected with his roots in the hometown he left when he joined the Navy as an 18-year-old in 1975. He believes his new enterprise adds something of value to the rural community, through the preservation of a historic building as well as the addition of a quality restaurant. From a marketing point of view, Bristol, with its year-round population of just over 3,000, might not be the optimum location for a new restaurant, he acknowledged.
"Probably not," he said. But he notes the little town has quite an influx of people during the summer when folks come to visit and vacation at Newfound Lake, just two miles from his restaurant. His catering business will help augment the restaurant traffic during the winter months. At any time of year, he said, people will be drawn to the Presidential Grille — and not just to hear about mishaps at state dinners or how the fire was put out in the kitchen when Ronald Reagan was dining at the Waldorf with Margaret Thatcher.
"I think they'll drive here for the food," said McGrath.