A mixed bag for GTAT in Apple's big announcement
Apple Watch will have a sapphire screen, but new iPhone won't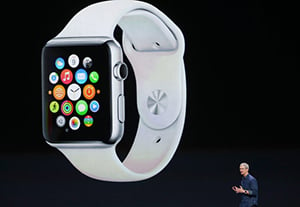 Tuesday's launch of Apple's iPhone 6 and its new Apple Watch was good news and bad news for Merrimack-based GT Advanced Technologies.
The good news: Apple's new Watch will contain sapphire. GTAT has built a huge plant in Arizona, using more than $500 million, mostly advanced by Apple, to produce sapphire that can be used in making scratch-resistant mobile touchscreens. The 1.4 million-square-foot facility should be ready to begin production next month.
The GTAT sapphire will be used to make the screens of the nifty new Watch, which can track the wearer's heartbeat and their mileage, find their car, pay their bills and be used to swipe them into their hotel room, not to mention locate them in the solar system.
Now the bad news: There was no mention of sapphire in the announcement of the new, larger iPhone 6.
Tthe iPhone's screen, ranging from 4.7 to 5.5 inches, will be at least three times larger that the Watch's screens (which will be 1.5 to 1.65 inches). And Apple will sell more iPhones, especially since an iPhone is needed to operate the Watch (though the old iPhone 5 will do). Plus, the Apple Watch price starts at $349, some $150 more than an iPhone, and won't be shipped until early next year. The new iPhone's release date is Sept. 19.
The launch ended months of speculation about Apple's sapphire intentions, with every rumor or piece of news affecting GTAT's stock price. The latest announcement was no exception. GTAT's stock price plunged $3 from Tuesday's $17.72 high before the 1 p.m. launch, closing at $14.94.
GTAT has not and will not comment on Apple products or strategy, due its confidentially agreement.
But the company is more than an Apple supplier. Indeed, while it can't sell sapphire to Apple's competitors, it can sell its sapphire-making equipment, and those sales are going better than expected, the company reported in its last earnings call.
Meanwhile the company's developing a new solar technology that it hopes will help it ride an industry rebound, and another technology involving shooting particles designed to make a super thin wafer of sapphire or silicon that can be used in electric car batteries. The method could even be used to treat cancer.