A billion-dollar business?
Liquor Commission's 'ambitious' growth plans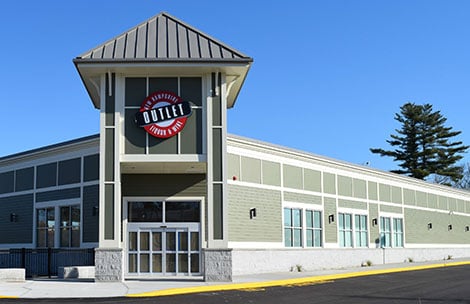 Can the NH Liquor Commission become a $1 billion business?
That ambitious and publicly stated goal is driving NHLC Chairman Joseph Mollica and his team. According to state figures, total annual sales at the 79 statewide NH Liquor & Wine Outlets have increased by 20 percent since 2012 — from $564.6 million to $678.4 million in the 2016 fiscal year.
Mollica, a restaurant entrepreneur who has been commission chair since 2011, said the multifaceted growth formula was a combination of extensive store renovations and relocations, investments in customer service, warehousing and information technology, and by strengthening relationships with brokers, suppliers and licensees.
"NHLC has a team of 1,400 full- and part-time staff members who work tirelessly to make sure we not only meet but exceed our ambitious goals," Mollica said. He added that the integrated planning includes developing innovative marketing schemes that maximize beneficial relationships with liquor industry partners while adding greatly to its product lines.
"I think overall as an organization we are constantly pushing the envelope," said Nicole Brassard-Jordan, NHLC's director of marketing, sales, warehousing and merchandising. "We want to grow the business, enhance shopping experience and really give our customers what they want because we've learned they are always looking for special things."
New stores
New Hampshire residents don't have to look far to see the physical transformation of the agency. Since 2012, NHLC has relocated or renovated almost one-third of its stores at 24 NH Liquor & Wine Outlets throughout the state, including Bedford, Concord, Epping, Gilford, Hooksett, Hampstead, Lebanon, Lincoln, Londonderry, Manchester, Merrimack, Milford, Nashua, New Hampton, North Hampton, Peterborough, Plaistow, Plymouth, Portsmouth, Salem, Seabrook and West Chesterfield.
Londonderry NH Liquor & Wine Outlet located off Interstate 93 at Exit 4 on Nashua Road, opened in April 2016.
The NHLC says new stores in Warner and Rochester are scheduled to open this year, and plans are in the works for new locations in Portsmouth, Dover, West Lebanon, Colebrook and others yet to be publicly named.
New Hampshire is one of 17 so-called control states, which means a state agency controls the distribution and sale of wines and spirits. The NHLC was created in 1934, the year after the repeal of prohibition. During those more than eight decades, it has returned $3 billion to the state's revenue fund (a record $155.6 million in 2016), according to the commission.
"Our [economic] model is unique, there's no doubt about that," he said. He mentions a 20,000-square-foot wine and liquor store that recently opened in Massachusetts near the New Hampshire state line. "They have 54 employees, and we believe that 75 percent are full-time. One of our stores of the same size will have six full-time employees," he said. "Including our enforcement division and headquarters, we only have 400 full-time employees. This works because of the dedication of our staff. We simply could not do it without everyone's contribution."
The formula also works because of cross-border sales, which account for as much as 50 percent of revenues. But the status quo is being challenged. Mollica is aware that increased competition from Massachusetts, which has changed liquor store licensing laws in the past few years to allow more chain outlets, will become more intense. In addition to Maine and Vermont, two neighboring control states looking to claw back sales, large big-box alcohol retailers have set up shop in Massachusetts, aiming to erode NHLC's market share.
Mollica said NHLC is aware that these huge retailers could enact "loss-leader" pricing to hurt market share but he says New Hampshire already has an advantage.
After opening in August 2016, the new 33,000-square-foot Nashua store on Daniel Webster Highway has become one of the top performing locations generating more than $18.5 million in sales during FY 2016. No wonder with more than 7,000 sizes and varieties of wines and spirits.
"They have to play catch up and we don't. We just have to continue to keep doing what we are and that's a huge advantage," Mollica said. "Everybody knows about our competitive prices but we don't always have the lowest. What we have is a good mix of the lowest and competitive prices."
Checking trends
The key to long-term stability with a market-driven approach also depends on understanding and even anticipating consumer tastes. Brassard-Jordan said the NHLC prides itself on listening to and even anticipating market changes.
"We are constantly looking at trends. We check daily the sales in our stores to see what wines and spirits are selling," she said. "We are reinvigorating and determining what we need to change, to expand and retract sections."
Part of that strategy includes the addition of an award-winning mobile ordering application, installation of iPad information kiosks in stores and the introduction of a Fine Wine Tasting series at stores in all corners the state (in August 2014, a Washington Post writer cited New Hampshire as the best state in the country for wine drinkers based on selection, price and regulatory structure).
The NHLC is also not taking a cookie-cutter approach to its stores. The new 12,000-square-foot outlet in New Hampton has special sections for premium and ultra-premium spirits, high-end wine and temperature- and humidity-controlled wine vaults. The renovated 33,000-square-foot store in Nashua is the largest liquor venue in northern New England and is expected to generate $21.5 million in annual revenues.
In addition, product innovation is constant, Brassard-Jordan said, in order to reach consumers who demand a more sophisticated product selection.
NH Liquor & Wine Outlets in Hooksett off I-93 North & South generated more than $38.7 million in sales during Fiscal Year 2016.
In 2016, NHLC traveled to Kentucky and Tennessee to hand-select a record 16 barrels of the renowned Jack Daniel's Single Barrel Tennessee Whiskey and eight barrels of the coveted Knob Creek Single Barrel Reserve, to offer exclusively to New Hampshire customers.
In fact, it may come as a surprise to many, but according to BreakingBourbon.com, New Hampshire is the third best state for buying bourbon.
"With interest in premium spirits on the rise, barrel buys like Jack Daniel's Single Barrel and Knob Creek Single Barrel Reserve offer consumers a unique opportunity to experience the nuances of expertly crafted whiskey and bourbon," Mollica said.
The NHLC says it has also made displaying and selling state-produced wines and spirits a priority while also adding more.
Wine sales of New Hampshire producers approached $1 million in 2016 (a 7.7 percent increase) while state-produced spirit sales jumped 39 percent, to $1.22 million. "It's an important piece of what we do," Mollica said. "One of the advantages of being a controlled state is that we have no red tape to bring products to market."
In 2016, total spirits sales were approximately $384.3 million, an increase of 7.6 percent over the prior year, and total wine sales were approximately $292.4 million, an increase of 3 percent.
Another tactic of reaching out to consumers is the use of social media to keep them informed of more specialty buys or insider recommendations.
There's also NH Wine Week, which has grown dramatically and has solidified the NHLC brand. There are more than 7,000 wines offered at NHLC outlets, which can be overwhelming, and Brassard-Jordan said New Hampshire Wine Week offers casual wine drinkers or aficionados the opportunity to meet and learn from dozens of industry leaders, boutique vineyard owners and local producers.
What's amazing, she said, is that, despite the "crazy" dead-of-winter timing of the event, it is extremely popular, "and brings people from around the world in January."