2021 Business Excellence Winner: Christine Miska of BAE Systems
Christine Miska, CEMA Business Area Engineering Director of BAE Systems, is the Business Excellence recipient in the Technology category for a large organization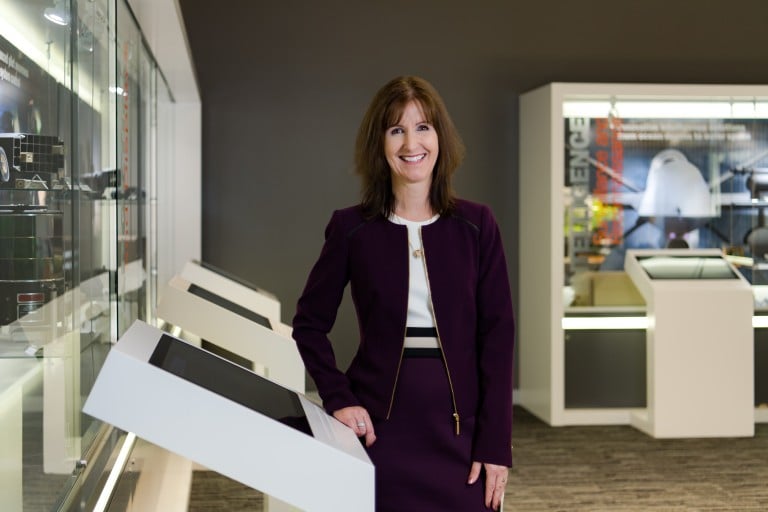 Christine Miska is a force to be reckoned with in the world of defense. For nearly 30 years she has focused her career on designing and developing products that protect the warfighter. As engineering director of the Countermeasure and Electromagnetic Attack Solutions business area within BAE Systems' Electronic Systems sector, Christine oversees the creation of technologies that protect military aircraft from being shot down. Christine says the best part of working as an engineer is solving problems that help make the world a better place. During her time at BAE Systems, Christine has contributed to a broad portfolio of mission-critical electronic systems. She has worked on radar systems, sonar systems, signal intelligence systems, electronic warfare systems and infrared imaging systems.
Outside of work, Christine is dedicated to a FIRST® Robotics Competition team that she founded. At the outset of the COVID-19 pandemic, Christine and her robotics team 3D-printed and assembled more than 300 masks for teachers. In addition, Christine has overseen the BAE Systems Women in Technology program teaching high school girls about careers in engineering.  She is also the co-founder of Tech Kids, a STEM program for 4th and 5th grade girls. Christine mentors high-potential women engineers and has hosted an engineering fellows' information session to encourage more women to pursue a career path and apply to receive the prestigious technical award.
Christine has taught at Worcester Polytechnic Institute and was a Rochester Institute of Technology Center for Imaging Science Advisory Board member. She is also a member of the Society of Women Engineers, the Institute of Electrical and Electronics Engineers, and Women in Engineering.
Christine is also a champion of diversity, equity and inclusion. She is an active member of three employee resource groups at BAE Systems: Women's Inclusive Network, African Americans Committed to Excellence and Outlink, a group formed in support of the LGBTQ community. Recently, Christine led a discussion on DEI at the UMass Lowell.
At BAE Systems, Christine's accomplishments have been recognized with several Chairman's Awards. Christine has been recognized as one of 10 "Women to Watch" by Mass High Tech: The Journal of New England Technology for outstanding dedication to technology, entrepreneurship, lifelong learning and civic responsibility.