2021 Business Excellence Winner: Cameron G. Shilling of McLane Middleton
Cameron G. Shilling, Director at McLane Middleton in Manchester, is the Business Excellence recipient in the Business & Professional Services category for a large organization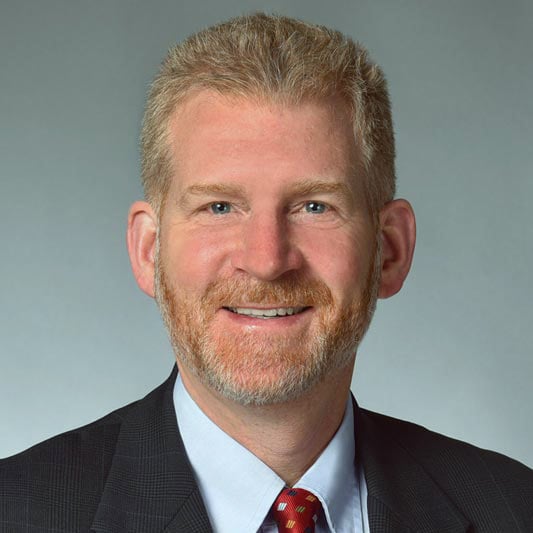 Cameron is a director in McLane Middleton's Litigation Department, and chair of the Privacy and Information Security Group.  In his 20 plus years as a lawyer, Cameron has managed, litigated and resolved numerous commercial matters involving data security, technology, business and employment issues in New Hampshire, Massachusetts, New England and around the country.  His education and depth of legal experience, as well as his professional interests and passions, are strengths that Cameron leverages to provide the highest quality counseling and litigation services to clients.
Combining his business, technology and employment interests, Cameron has developed a depth and breadth of experience in privacy and data security.  His resume includes managing numerous data security audits, preparing and implementing written security policies, training executives, managers, and employees in data security, auditing, preparing and implementing data security agreements with vendors and business associates, addressing a wide variety of day-to-day security issues, and investigating and remediating many security breaches.  Cameron has dealt with these issues under a range of state and federal laws, including the Gramm-Leach-Blilely Act (GLB), Health Insurance Portability and Accountability Act (HIPAA), Health Information Technology for Economic and Clinical Health Act (HITECH), Securities and Exchange Commission (SEC) regulations, Fair Credit Reporting Act (FCRA), Fair and Accurate Credit Transactions Act (FACTA), the Massachusetts and California data security regulations, and a number of other state data security and breach notification laws.
Data privacy is another focus of Cameron's practice, including creating and implementing privacy policies, terms of use agreements, information use and social media policies, advising clients about workplace privacy, social media, and consumer privacy, and handling data privacy claims asserted against companies.  He has dealt with these issues under numerous applicable laws, including the Child Online Privacy Protection Act (COPPA), United States and Canadian CAN-SPAM and anti-spam laws, Electronic Communications Privacy Act (ECPA), Stored Communications Act (SCA), Computer Fraud and Abuse Act (CFAA), Federal Trade Commission Act (FTC Act), Massachusetts privacy act, California Online Privacy Protection Art (CalOPPA), state wiretap laws, and a variety of other state and federal privacy laws.
Drawing on a career of deep experiences with complex commercial litigation, Cameron has particular expertise in certain business, technology and employment litigation.  He is adept at disputes concerning misappropriation of trade secrets, and breaches of non-competition and non-disclosure agreements.  Likewise, cases involving corporate and shareholder disputes, breaches of the duty of loyalty, and unfair competition are areas in which he excels.  Cameron's aptitudes with technology and commercial litigation also have enabled him to develop an extensive body of knowledge and skill with litigation technology, forensics, and electronic discovery.
Cameron received a J.D. from Cornell Law School in 1995, and a B.A. from Lewis & Clark College in Portland, Oregon in 1992, with honors in Business and in Psychology.  While in law school, he interned for United States District Court Judge Royce Lamberth in Washington, D.C.