2020 Business Excellence Winner: Nichole Raftopoulos of Nvest Financial Group
Nichole Raftopoulos, president and founder of Nvest Financial Group in Portsmouth, is the Business Excellence recipient in the financial services category for a small organization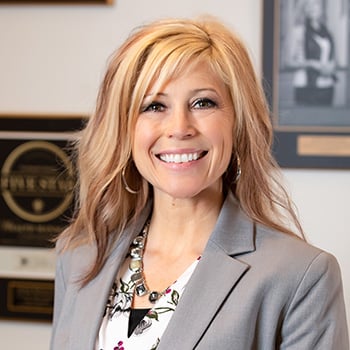 Nichole takes an investor-centric approach to developing financial plans and managing her clients' portfolios, ensuring her investors have access to a product mix and support services that are cutting edge.
When shutdown orders drove the market into a recession, Nichole and her team took steps to ensure their clients stayed calm and focused on their long-term goals. She and her team personally called their clients. And Nichole started a weekly webinar series for clients and their friends and family where she talks about Covid and updates regarding the market. These steps ensured clients felt supported, connected and informed, which is at the heart of how Nichole operates her firm.
Nichole is often tapped to speak at industry conferences because of her uncanny ability to take difficult subject matter and make it easily understandable.
One of her many drives is to educate and empower women of all ages to join the financial industry. She has mentored and led members of her staff to become fully licensed financial advisors.
Nominated by: Amanda Petersen of Nvest Financial Group