2016 BOB Awards winners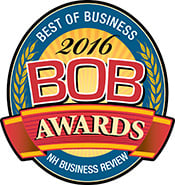 We at New Hampshire Business Review are delighted to welcome you to the results of our eighth annual BOB Awards, which honor the Best of Business in New Hampshire for 2016. The mission of the BOB Awards is to find the Granite State's most stand-out businesses: the ones that offer the best customer service, that pay attention to details, that are willing to go above and beyond to ensure an exceptional customer experience. In other words, BOB-winning businesses offer nothing less than outstanding products and services. Since BOB voters are other businesspeople, being named a BOB business really says something about the high caliber of the winners. But the BOB Awards truly celebrate all businesses in New Hampshire; a place that nurtures the Best of Business every day.
Best Advertising Agency:
​wedü
20 Market Street, Manchester
603-647-9338
www.wedu.com
The digital marketing agency provides fully integrated marketing campaigns that utilize all channels to reach the intended audience. Founded in 1998, wedü was a head of its time and stays in the know through bi-weekly digital roundtable sessions and its employee forum. With offices in Manchester and New York City, wedü provides strategic thinking, brand & message development, creative services, digital marketing & advertising, traditional marketing & advertising and public relations.
Best Video Production Company:
New Sky Productions
25 Front Street, Nashua
603-816-9500
www.newskyproductions.com
With additional offices in Portland, Ore. and Seattle, Wash., New Sky Productions utilizes outstanding cinematographers and editors and state-of-the-art equipment to deliver compelling storytelling pieces that connect businesses more directly with their client base, increasing both sales and consumer engagement.
Best Managed IT Service:
Mainstay Technologies
201 Daniel Webster Hwy, Belmont
603-524-4774
www.mstech.com
Since 2004, Mainstay Technologies has served the growing IT needs of small organizations in New Hampshire. Ranking among the top half of Inc. Magazine's 5,000 fastest-growing firms, Mainstay focuses on building trusted client relationships, providing free training seminars, IT security and best practice seminars and technology audits to decide if Mainstay is a good fit.
Best Public Relations Agency:
​wedü
20 Market Street, Manchester
603-647-9338
www.wedu.com
Gone are the days of sending a press release and following up with a call, wedü believes modern-day public relations have evolved into a multi-channel effort that combines the talents of a public relations team and digital marketing professionals to get your message out.
Best Accounting Firm:
Howe, Riley & Howe, CPA
660 Chestnut Street, Manchester
603-627-3838
www.hrhcpa.com
For more than 50 years, Howe Riley & Howe has offered tax, audit and litigation support and accounting consulting services through the use of the most up-to-date technologies. Whether a for-profit company or a charitable organization, Howe Riley & Howe has experienced staff to assist with your accounting needs.
Best New Media Agency:
​SilverTech
196 Bridge Street, Manchester
603-669-6600
www.silvertech.com
From award-winning digital marketing to website design and custom application development, SilverTech identifies opportunities to maximize revenue, performance, profit and results. Its full range of digital lifecycle services – including business intelligence and analytics, CMS and systems integration, content and social strategy, managed hosting, marketing automation, responsive design, SEO and more – deliver user experiences and digital marketing strategies that drive customers from lead to loyalty.
Best Corporate Moving Company:
Ray the Mover
1 Allard Drive, Manchester
603-669-7170
www.raythemover.net
Established in 1937 by Raymond Allard, Ray The Mover is a third-generation family-owned and -operated business. As a premium service mover, it utilizes a large fleet of modern vans and equipment, palletized warehousing and carefully selected van crews. The company has a network of over 300 destination agents throughout the United States to assist corporate clients. Additionally, Ray The Mover is one of the top-rated military carriers in New England, serving military personnel who are being relocated throughout the country.
Best Architectural Firm:
​DeStefano Architects
23 High Street, Portsmouth
603-431-8701
www.destefanoarchitects.com
Founded in 1995, D|A is a full service architectural firm with clients in both the private and public sectors and projects varying from one-of-a-kind custom residences to large-scale, multi-use developments. D|A designs buildings as a single integrated system — a key strategy in sustainable design. The collaboration of architect and owner with engineers and contractors results in a building that ages well and is energy efficient, healthy, safe, affordable and comfortable.
Best Engineering Firm:
​TFMoran Inc.
48 Constitution Drive, Bedford
603-472-4488
www.tfmoran.com
TFMoran Inc. is a regionally recognized land planning, civil engineering and landscape architectural firm that has provided continuous service to private and public clients since 1968. Committed to responsible, sustainable development, TFMoran is a leader in green technology and claims many of the region's "firsts," including the first commercial use of porous pavement, the first green roof, the first commercial use of bio-retention, the first commercial use of grass-pavers and xeriscape plantings, among many others.
Best General Contractor:
Harvey Construction
10 Harvey Road, Bedford
603-624-4600
www.harveyconstruction.com
Harvey Construction has built a solid reputation based upon trust, technical competence and the determination to serve clients with ingenuity and speed. Its expertise in the construction of sophisticated facilities includes educational facilities, hospitals, government buildings, office buildings and other structures.
Best Electrical Contractor:
​Longchamps Electric Inc.
700 Harvey Road, Manchester
603-625-5954
www.longchampselectric.com
Longchamps Electric Inc., now one of the largest electrical and communications systems contractors in New Hampshire and Massachusetts, was founded more than 30 years ago by master electrician Robert O. Longchamps. Longchamps is a full-service electrical contractor capable of handling projects of all sizes and scope. The firm also provides design-build services as well as project fast-tracking, on-call services, telecommunications and back-up generator installation.
Best Mechanical Contractor:
Granite State Plumbing & Heating
10 N. Riverdale Road, Weare
603-529-3322
www.granitestateplumbingandheating.com
Granite State Plumbing & Heating Inc. has been providing HVAC and mechanical systems installation and service since 1983. Today, as a wholly owned subsidiary of Comfort Systems USA, Granite State Plumbing and Heating focuses on the mid-market commercial industrial and institutional sectors, while caring for customers, employees and the environment.
Best Cell Phone Provider:
Verizon Wireless
Locations throughout New Hampshire
140 West Street, New York, NY
800-837-4966
www.verizonwireless.com
Verizon Wireless has the nation's largest and most reliable wireless network as well as coverage in more than 200 countries. With a variety of plans tailored to businesses, Verizon Wireless can keep your company connected to customers down the street or across the country. In the past several years, Verizon has expanded its "lightning-fast" 4G LTE network into many New Hampshire towns and cities.
Best Telecommunications Provider:
Comcast
One Comcast Center, Philadelphia, PA
800-COMCAST
www.comcast.com
Comcast Corp. is one of the nation's leading providers of cable, entertainment and communications products and services, with 21.7 million cable customers, 14.7 million high-speed Internet customers and 6.1 million Comcast Digital Voice customers. Backed by industry-leading, 24/7 business-class support, Comcast provides advanced communication solutions to small and mid-sized organizations to help them meet their business needs through its Comcast Business Services.
Best Commercial Real Estate Broker:
Keller Williams Realty
Offices throughout New Hampshire
512-327-3070
www.kw.com
Based in Austin, Texas, Keller Williams Realty Inc. is the largest residential real estate company in the United States by agent count, with eight offices in New Hampshire, in Bedford, Concord, Dover, Keene, Londonderry, Nashua, Portsmouth and Wolfeboro. Its commercial real estate arm, KW Commercial, delivers industry-leading education, top-of-the-line technology and unparalleled support to its agents and brokers, helping them to make your commercial transaction swift, efficient and, most importantly, profitable.
Best Waste Removal Company:
Waste Management Inc.
Offices in Londonderry, New Hampton, North Swanzey and Rochester
1001 Fannin St., Suite 4000, Houston, Texas
800-847-5303
www.wastemanagement.com
Waste Management provides solid waste collection services as well as transfer, recycling and resource recovery, and disposal services to New Hampshire and across the country. Waste Management also is a leader in waste-to-energy and landfill gas-to-energy practices in the United States.
Best Waste Removal Company (Local):
​Pinard Waste Systems
32 W. River Road, Hooksett
603-623-6937
www.pinardwaste.com
New Hampshire-based Pinard Waste Systems is the largest privately owned waste-handling company in the state. Headquartered in Hooksett, it is known for its customer service and proactive approach in fostering environmentally sound practices.
Best Art Gallery for Corporate Art:
Art 3 Gallery
44 W. Brook St., Manchester
603-668-6650
www.art3gallery.com
Art 3 Gallery is a premier New England retail fine art gallery offering custom framing and corporate and residential art consulting services. Located in a restored townhouse in the historic Millyard, the gallery includes one of the largest collections of art by New Hampshire, New England, national, and international artists.
Best Executive Search Firm:
KBW Financial Staffing & Recruiting
5 Bedford Farms Drive, Suite 304, Bedford
603-792-2345
www.kbwfinancial.com
KBW is the leading provider of finance and accounting staffing services for companies and job seekers in New Hampshire and Massachusetts, specializing in permanent, temporary and temporary-to-hire services. Since it was founded in 2005, KBW has grown rapidly throughout the region, being named to Inc. 5000's list of fastest-growing private companies for the past five consecutive years.
Best Staffing Service:
The Nagler Group
5 Bedford Farms Drive, Suite 304, Bedford
603-637-1492
www.naglergroup.com
The Nagler Group is a leading staffing firm focusing on administrative and human resource recruiting for employers and job seekers in New Hampshire and Massachusetts. It offers a full suite of temporary and direct-hire staffing services with a dedicated staff focusing exclusively on the local community.
Best Courier and Delivery Service:
Granite State Shuttle Service
760 Central Avenue, Dover
800-633-9222
www.granitestateshuttle.com
Established in 1987 with two couriers and two vehicles, Granite State Shuttle Service has grown to over 150 vehicles, ranging from small sedans to larger cube trucks, and over 150 employees who strive to ensure its customers are professionally served. It provides pickup and delivery service to virtually all of New England on a daily basis, covering the entire state of New Hampshire, the Interstate 95 corridor from Kittery to Portland, Maine, along with areas of Vermont and Massachusetts.
Best Private Golf Course:
Manchester Country Club
180 S. River Road, Bedford
603-624-4096
www.manchestercountryclub.com
Originally designed by Donald Ross and built in 1923, the 18-hole course at Manchester Country Club plays an average of 6,348 yards with wide tree-lined fairways, small undulating greens and water hazards that will test novice and experienced golfers alike. MCC's course has hosted several championship tournaments and has also been rated by Golf Digest as one of the best courses in the state.
Best Public Golf Course:
​Derryfield Country Club
625 Mammoth Road, Manchester
603-669-0235
www.derryfieldgolf.com
Derryfield Country Club is an 18-hole public golf course located in the heart of Manchester. Established in 1932, Derryfield is one of only three municipally owned golf courses in the state of New Hampshire. Located on the property at the Derryfield Country Club, you will find a fully stocked golf shop, as well as the Derryfield Restaurant & Lounge, a full-service restaurant and bar. The restaurant's Deck, a popular nightspot during the summer, features live music on Friday and Saturday nights.
Best Clothier for Women:
​Alapage
25 S. River Road, Suite 301, Bedford
603-622-0550
www.alapageboutique.com
Alapage, located at Bedford Square, has been offering the latest clothing designs as well as accessories, gifts and shoes since 1989. It's top-selling clothing lines are Eileen Fisher, Ecru, Velvet and Free People and popular denim lines AG, Citizens of Humanity, Paige and NYDJ.
Best Clothier for Men:
George's Apparel
675 Elm Street, Manchester
603-622-5441
www.georgesapparel.com
This full-service men's clothing store in Manchester has it all – from suits to ties, accessories and outerwear. All suits and sport coats come with free alterations for the entire life of the garment. A knowledgeable staff, professional fittings, a huge inventory and in-house alterations make shopping for a high-quality suit easy and painless.
Best Barber Shop for Men:
Dude's Barber Shop
1311 Hooksett Road, Hooksett
603-626-0533
www.dudesbarbershop.us
Founded in 2002, Dude's Barber Shop is the first barbershop to be recognized in Cut & Dry, the International Paul Mitchell magazine. Dude's services men of all ages and professions, in a traditional yet upscale barbershop setting.
Best Styling Salon for Women:
Not So Plain Jane's Salon & Spa
155 Dow Street, Suite 102, Manchester
603-622-5971
www.notsoplainjanes.com
Not So Plain Jane's is located in a beautifully renovated historical mill and offers state-of-the-art services for hair, skin, nails and body. All haircuts begin with a personal consultation and a cleansing massage, and are completed with a blow-dry style. Other treatments include customized body massages, facials, manicures and pedicures. Special packages are also available.
Best Hotel for Business Travel (Tie):
Hilton Garden Inn Portsmouth Downtown
100 High St., Portsmouth
603-431-1499
hiltongardeninn3.hilton.com
Located near the historic Portsmouth, the Hilton Garden Inn Portsmouth Downtown is perfectly situated at the corner of Hanover and High Streets. Area restaurants, shops and the Atlantic Ocean waterfront are a short walk from the hotel. Guests can always retreat to a spacious guest room or suite with the option of being production with complimentary WiFi while seated in a contemporary desk chair at the work desk. Start each morning with a cooked-to-order breakfast or begin your evening with a dinner in the Garden Grill & Bar.
Best Hotel for Business Travel (Tie):
Sheraton Portsmouth Harborside Hotel
250 Market Street, Portsmouth
603-431-2300
marriott.com/hotels/travel/psmsi-sheraton-portsmouth-harborside-hotel/
Conveniently located in the center of downtown Portsmouth, the Sheraton Portsmouth Harborside Hotel allows travelers to step out on the colonial reminiscent brick streets for a meal at one of Portsmouth's many fine restaurants, or if the weather is cold, sit down at the Two-Fifty Market restaurant inside the hotel. All guest rooms include complimentary Wi-Fi, or you can utilize the business center Link@Sheraton free-of charge to access high-speed Internet with printing capability or simply lounge while you read a magazine or newspaper.
Best Sporting Event to Take Clients to:
New Hampshire Fisher Cats
1 Line Drive, Manchester
603-641-2005
www.nhfishercats.com
The New Hampshire Fisher Cats were founded in October 2003 as the AA Eastern League Affiliate of the Toronto Blue Jays. In the first season, the Fisher Cats played at historic Gill Stadium, located on Manchester's east side, and won the 2004 Eastern League Championship. The team moved to its current home in 2005 at Northeast Delta Dental Stadium, formerly Merchantsauto.com Stadium, in downtown Manchester on the banks of the Merrimack River. The ballpark, which seats 6,500 people, regularly hosts theme nights to support local nonprofits.
Best MBA Program (Tie):
University of New Hampshire
105 Main Street, Durham
603-862-3000
www.gradschool.unh.edu
University of New Hampshire offers a full-time, fast-track MBA, an Executive MBA, as well as a flexible, part-time MBA (with classes offered on the Manchester and Durham campuses and online), which lets working professionals earn their degrees at their own pace in as little as 20 months or as long as six years. Instituted in 1996, the part-time MBA is the university's most popular MBA offering, and was recognized in 2012 as one of the best of its kind in the country by U.S. News & World Report. Its full-time MBA program boasted a 95 percent job placement rate in 2012.
Best MBA Program (Tie):
Southern New Hampshire University
2500 N. River Road, Hooksett
603-626-9100
www.snhu.edu
SNHU offers among the most affordable 50 specialized MBAs that can be completed in as few as 15 months. Programs are designed to be flexible, fitting in with students' schedule and budget while maintaining academic excellence. And the GMAT and GRE are not required for admission, making the program more accessible. Professionals can tailor their degree to their interests and career goals, with more than 20 career-oriented concentrations, and developing projects that serve their business needs.
Best Online Degree Program:
Southern New Hampshire University
2500 N. River Road, Manchester
800-668-1249
www.snhu.edu
Southern New Hampshire University offers more than 180 accredited online programs leading to undergraduate and graduate degrees and certificates. Programs are designed to be flexible, fitting in with students' schedules and budgets, while maintaining the school's tradition of academic excellence.
Best Local Bank for Small Business:
Bank of New Hampshire
Locations throughout New Hampshire
62 Pleasant Street, Laconia
603-524-1212
www.banknh.com
Formerly Laconia Savings Bank, Bank of New Hampshire changed its name in 2012 to better reflect its statewide focus. It is New Hampshire's largest independent bank and, since its inception in 1831, has grown to 21 offices statewide with more than $1 billion in assets. Because the bank is a mutual organization, it doesn't answer to stockholders and can focus on the success of its customers, communities and employees.
Best Regional Bank for Small Business:
Best Regional Commercial Lender:
TD Bank
Locations throughout New Hampshire
1701 Route 70 East, Cherry Hill, N.J.
888-751-9000
www.tdbank.com
One of the 10 largest banks in the U.S., TD Bank offers a broad array of retail, small business and commercial banking products and services to nearly eight million customers through its extensive network of 1,300 convenient locations. TD provides business solutions to companies of all sizes. Its small business banking division offers hassle-free accounts and personalized services, as well as a dedicated small business representative with every account. Its commercial banking division offers treasury management services, loans and lines of credit, leasing and equipment finance, and more.
Best Investment Firm:
Fidelity Investments
Locations throughout New Hampshire
1 Spartan Way, Merrimack
603-791-5000
www.fidelity.com
Fidelity Investments is one of the world's largest providers of financial services, with assets under administration of $4.9 billion, including managed assets of $1.9 billion. Founded in 1946, the firm is a leading provider of investment management, retirement planning, portfolio guidance, brokerage, benefits outsourcing and many other financial products and services to more than 20 million individuals and institutions, as well as through 5,000 financial intermediary firms.
Best Credit Union:
St. Mary's Bank
200 McGregor Street, Manchester
603-669-4600
www.stmarysbank.com
Founded in 1908 as the nation's first credit union, St. Mary's Bank has been offering an alternative to traditional banks ever since. As a credit union, St. Mary's members own the institution, meaning decisions are made based on the best interests of the members. St. Mary's offers a diverse array of financial products for businesses, including checking and savings accounts, commercial loans and SBA financing.
Best Electricity Provider:
​Eversource Energy
780 No. Commercial Street, Manchester
603-669-4000
www.eversource.com
Eversource Energy, formerly Public Service of New Hampshire, is the state's largest electric utility, providing service to more than 500,000 homes and businesses in 211 cities and towns in New Hampshire.
Best Florist:
Chalifour's Flowers, Gift & Gourmet
46 Elm Street, Manchester
603-623-8844
www.chalifours.com
Whether it be a magnificent vase arrangement of roses for someone special in your life, birthday flowers or a heartfelt note of appreciation to business clients, you can rely on Chalifour's decades of experience in bringing the very best that flowers can offer. Since 1940, Chalifour's has expertly arranged, packed and hand-delivered flowers, plant and gourmet gift baskets to your destination.
Best Networking Event:
Tri-City Expo
www.tricityexpo.com
Greater Concord Chamber of Commerce,603-224-2508
www.concordnhchamber.com
Greater Manchester Chamber of Commerce, 603-666-6600
www.manchester-chamber.org
Greater Nashua Chamber of Commerce, 603-881-8333
www.nashuachamber.com
The Tri-City Expo, an annual collaboration between the Manchester, Concord and Nashua Chambers of Commerce, features more than 200 exhibitors from all over the state, and welcomes more than 1,200 attendees.
Best Corporate Event Caterer:
Tidewater Catering Group
250 Commercial Street, Suite 2021, Manchester
603-668-6111
www.tidewatercatering.com
Tidewater Catering Group is a full-service, off-premise catering and event planning company located in Manchester's historic Millyard. Tidewater can cater large corporate events or the most intimate affair, paying close attention to every detail of your event. Its team of experienced professionals works with you to accommodate and adapt to all your requests in food and service, ensuring that every detail of the function is perfectly executed.
Best Small Venue for Meetings and Events:
Bedford Village Inn
2 Olde Bedford Way, Bedford
603-472-2001
www.bedfordvillageinn.com
The perfect setting for your corporate meeting, dinner or retreat in New Hampshire, the Bedford Village Inn works with you to cater and customize every aspect of your corporate meetings, whether it's a simple breakfast gathering or a private dinner featuring wine tastings with its certified sommelier. Its Great Hall accommodates meetings and conferences up to 225 people, and its function spaces are equipped with high-speed Internet, audio/visual equipment, video conferencing capabilities and more.
Best Medium Venue for Meetings and Events:
Grappone Conference Center
70 Constitution Avenue, Concord
603-225-0303
www.grapponeconferencecenter.com
With the largest ballroom and function space in the Concord area, the Grappone Conference Center is an ideal destination for your corporate event. All meeting rooms offer high-speed Internet access, individual lighting, sound, heat and air conditioning controls. Its dedicated team of event planners and culinary experts assist with every detail of your event, from technical audiovisual needs, complex floor plans to unlimited food and beverage possibilities. Its Granite Ballroom comfortably accommodates up to 500 guests.
Best Large Venue for Meetings and Events:
Omni Mount Washington Resort
310 Mount Washington Road, Bretton Woods
603-278-1000
www.omnihotels.com/MtWashington
As grand as the history behind it, Omni Mount Washington Resort is a favorite New England retreat and host to dozens of political, business and artistic gatherings. In January 2009, Omni Mount Washington Resort opened the Presidential Wing, one of the largest meeting spaces in northern New Hampshire, with a total of 30,000 square feet of meeting space, as well as a 25,000-square-foot spa and salon. The hotel's varied meeting rooms are perfect for a wide range of meetings, including training sessions, customer presentations, team-building seminars and strategic planning retreats. Its staff is ready to attend to every detail, from itinerary planning to audio/visual equipment to custom menus.
Best Payroll Service:
ADP Payroll Solutions
One ADP Blvd., Roseland, N.J.
800-225-5237
www.adp.com
ADP is one of the world's largest providers of business outsourcing solutions. Leveraging more than 55 years of experience, ADP offers a wide range of services including human resources, payroll, tax and benefits administration solutions. ADP's easy-to-use solutions for employers provide superior value to companies of all types and sizes.
Best Locally Owned Payroll Service:
Trivantus Inc.
582 Chestnut Street, Manchester
603-624-7788
www.trivantus.com
Trivantus is a locally owned and operated payroll processing company specializing in streamlining employers' outsourcing needs. Through advanced payroll technology and unsurpassed customer service, Trivantus allows employers to focus on what's most important – their businesses.
Best Office Supplies:
W.B. Mason
12 Murphy Drive, Nashua
888-926-2766
www.wbmason.com
Since 1898, the dedicated people at W.B. Mason have been passionate about bringing their amazingly low prices, superior delivery and outstanding personal service to businesses of all sizes for all of their office products needs. Headquartered in Brockton, Mass., W.B. Mason has grown to become the largest, privately owned office products dealer in the United States, with over 30 locations spanning 11 states, with everything you need for your office, from supplies and furniture, to break room and janitorial goods.
Best Office Furniture:
Staples
Locations throughout New Hampshire
500 Staples Drive, Framingham, MA
800-378-2753
www.staples.com
New England-based Staples Inc. opened its first office supply superstore in 1986 and today is the world's largest office products company with more than 1,800 stores in North America. From pens, paper, data CDs – and, yes, staples – Staples offers a wide range of office products and solutions.
Best Locally Owned Office Furniture:
Office Alternatives (Formerly Surplus Office Equipment)
186 Granite Street, Manchester
603-668-4432
www.office-alternatives.com
Since 1984, Office Equipment has carried everything you need for your office environment, from office chairs and seating, used filing cabinets and storage, used cubicle systems and panels, workstations and more.
Best Office Cleaning Service:
The Cleaning Guy
PO Box 115, Goffstown
603-487-2468
www.thecleaningguynh.com
For more than 30 years, The Cleaning Guy has been providing unmatched commercial cleaning services out of the greater Manchester area to residences and businesses across the state. Its mission is to clean for health – that is, cleaning to keep facilities healthier places to work. It provides services such as daily and weekly office cleaning, carpet, window and floor care with the very best, high-quality equipment.
Best Commercial Insurance Provider:
Best Employee Benefits:
Cross Insurance Agency
Locations throughout New Hampshire
800-999-7345
www.crossagency.com
Headquartered in Maine with nine offices in New Hampshire, Cross Insurance Agency offers experience in all facets of insurance protection – and more than 400 knowledgeable employees – so it can always assemble the team best suited to meet its clients' business and personal insurance needs. Its business products are tailored for a range of industries and include property, general liability, business interruption income, commercial auto, workers' compensation, cyber liability, professional liability and more. Its fully staffed employee benefits division represents more than 1,500 employee benefit clients throughout Maine, New Hampshire and Massachusetts, and each client is assigned a minimum of two Cross representatives: an account executive, whose principal responsibility is front line contact, and a benefits specialist, working in a day-to-day fashion with each client.
Best Hospital:
Elliot Hospital
1 Elliot Way, Manchester
603-669-5300
www.elliothospital.org
The cornerstone of the Elliot Health System – the largest provider of comprehensive health care services in southern New Hampshire – is Elliot Hospital, a 296-bed acute care facility in Manchester. Established in 1890, the hospital offers surrounding communities caring, compassionate and professional patient service regardless of race, religion, national origin, gender, age, disability, marital status, sexual preference, or ability to pay. The hospital is Greater Manchester's designated trauma center, and is also home to a cancer center, urology center, and has one of only three Level 3 Neonatal Intensive Care Units in the state.
Best Local Health Club:
Executive Health & Sports Center
1 Highlander Way, Manchester
603-668-4753
www.ehsc.com
The Executive Health and Sports Center has been inspiring, motivating and educating people to be healthy, active and well for life for more than 30 years. With a staff of 200 professionals and more than 100,000 square feet of space on two floors, the facility offers a state-of-the-art cardio theater, aquatics and fully equipped training areas to help you feel and look your best. Fitness classes run the full spectrum from aerobics to racquetball to yoga.
Best Health Insurance Provider:
Harvard Pilgrim Health Care of New England
650 Elm Street, Suite 700, Manchester
603-656-9500
www.harvardpilgrim.org
Harvard Pilgrim Health Care is a full-service health benefits company serving members throughout New Hampshire and Massachusetts. Harvard Pilgrim's extensive network includes over 135 hospitals and 28,000 doctors and clinicians. It has a wide variety of health insurance options for companies, families and individuals, with fully insured or self-insured PPO, POS and HMO plans available with multiple variations tailored to the needs of its members. Harvard Pilgrim has topped the list of America's Best Health Plans for the fourth year in a row.
Best Copy Services:
The Copy Shop
10 Northern Blvd., Suite 17, Amherst
603-882-9111
www.thecopyshop.com
Southern New Hampshire's leading printing, and business resource service, has offered clients top quality products since 1972. Starting out as a small, family-run operation, The Copy Shop balances high quality work and professionalism with their roots as a family establishment. Business owners and operators can expect cost-effective solutions to all of their graphic and printed business communication needs.
Best Long-Run Printer:
Spectrum Marketing
95 Eddy Road, Suite 101, Manchester
603-627-0042
www.spectrummarketing.com
The Spectrum Marketing Companies take full-service printing to the next level. Its commercial print division has a wide range of equipment specifically designed to fulfill a diverse range of requirements. From elaborate 4-color brochures and direct mail to basic stationery and business cards, Spectrum can manage your company's brand across all your needs. Locally delivered on Spectrum's private trucking fleet or nationally distributed to multiple locations, you can rest assured that your printing projects will arrive on time.
Best Short-Run Printer:
RAM Printing
5 Commerce Park Drive, East Hampstead
603-382-7045
www.ramprinting.com
RAM Printing, a family-owned and -operated, full-service offset printing company, has been in business for 35 years. Located in East Hampstead, RAM Printing is a part of RAM Companies, which also includes RAM Mailing Service, Hampstead Print & Copy and GuestMark International, which provides specialized print services and products for the hospitality industry.
Best Promotional Products Supplier:
Say it in Stitches
128 Hall Street, Suite B, Concord
603-224-6470
www.stitchesnh.com
Say it in Stitches is a promotional product distributor with a mission to help you create long-lasting relationships with your clients through the power of promotional products. Promotional products are used by virtually every business in America, and Say it in Stitches can supply your company with every possible promotional product – such as pens, mugs, t-shirts, wristbands or lanyards – from more than 3,000 suppliers.
Best Commercial Signage:
​Jutras Signs
30 Harvey Road, Bedford
603-622-2344
www.jutrassigns.com
Founded in 1940, Jutras specializes in illuminated signs, including neon, as well as non-illuminated signs, banners, awnings, flags and other signage. In addition to design services, Jutras also offers a complete repair shop with the ability to maintain and service virtually any sign.
Best Auto Dealership:
​AutoFair Automotive Group
Dealerships in Manchester, Nashua and Stratham
603-634-1000
www.autofair.com
For more than 20 years, AutoFair has served New Hampshire and surrounding areas as a new and used auto dealership. With services such as an online Car Finder, AutoFair's Ford, Honda, Hyundai, Nissan, Volkswagen and Pre-Owned dealerships work hard to make your vehicle shopping experience an enjoyable and memorable one. AutoFair also takes pride in serving the community, and is a founding member of the Manchester Charitable Foundation.
Best Auto Luxury Dealership:
​Tulley BMW
170 Auto Center Road, Manchester
888-453-4380
147 Daniel Webster Highway, Nashua
888-461-8281
www.tulleybmw.com
With locations in both Nashua and Manchester, Tulley BMW treats the needs of each individual customer with paramount concern. Its experienced sales staff is eager to share its knowledge and enthusiasm about its range of new and certified pre-owned BMWs. Both facilities also have BMW Service Centers, which are staffed with experienced, BMW-trained technicians who will quickly diagnose and remedy any areas of concern and get you back on the road quickly and safely.
Best Auto Fleet Dealership:
Grappone Automotive Group
Route 3A, Bow
800-528-8993
www.grappone.com
A fourth-generation, family owned automotive group specializing in commercial vehicle and fleet sales since 1924, Grappone Automotive Group's commercial trucks and fleet vehicle departments make sure that your vehicle or truck can handle the job.
Best Car Service:
Grace Limousine
PO Box 3510, Manchester
603-666-0203
www.gracelimo.com
Family-owned and -operated from Manchester since 1990, Grace Limousine is committed to providing the best in personal, special event and corporate transportation. More than just transportation, Grace's fleet includes Lincoln sedans, a stretch Navigator, a 1956 Rolls Royce Bentley and "green" vehicles such as the Lexus SUV hybrid, as well as stretch limousines equipped with LCD TV's and DVD players.
Best Business Startup Competition:
Paul J. Holloway Prize
Innovation-to-Market Competition
www.paulcollege.unh.edu/paul-j-holloway-innovation-market-prize
Named in honor of New Hampshire entrepreneur Paul J. Holloway, the Holloway competition is open to all students of the University System of New Hampshire. Established in 1988, the competition presents cash awards to winning teams and runners-up who demonstrate a solid plan for bringing an innovative product or service to market. The rigor of the competition maximizes educational value, prepares students for the realities of the business world, and helps to generate new business opportunities.
Best Young Professionals Network:
Manchester Young Professionals Network
www.mypn.org
Established in 2004, the Manchester Young Professionals Network is New Hampshire's first and largest young professionals' networking organization, supporting nearly 3,000 young professionals in the Queen City. Through monthly and sometimes weekly events, MYPN aims to create business and social opportunities, support professional development and welcome new and existing young professionals to the Manchester community. MYPN also hosts one of the start's largest business startup competitions, the New Hampshire Startup Challenge, which provides cash and in-kind services to winning business plans.
Best Bankruptcy Law Firm:
Devine Millimet
111 Amherst Street, Manchester
603-669-1000
www.devinemillimet.com
Devine Millimet advises secured and unsecured creditors in every aspect of formal bankruptcy cases. Over the past 25 years, its attorneys have had substantial roles in the major bankruptcy matters in the district including In re Public Service New Hampshire (representing the State of New Hampshire), In re Foss Manufacturing Inc. (representing major secured lender), In re Amherst Technologies, LLC et al (representing the Official Committee Of Unsecured Creditors), and In re GT Advanced Technologies Inc. et al (representing the Official Committee of Unsecured Creditors).
Best Corporate Law Firm:
Devine Millimet
111 Amherst Street, Manchester
603-669-1000
www.devinemillimet.com
Devine Millimet attorneys offer legal counsel to businesses and individuals throughout New Hampshire and New England, handling legal issues for businesses of all types – from small and emerging LLCs to large national corporations. U.S. News & World Report and Best Lawyers ranked the firm as one of the 2016 Best Law Firms in New Hampshire in 38 practice areas.
Best Employment Law Firm:
Shaheen & Gordon
80 Merrimack St., Manchester
603-369-4500
www.shaheengordon.com
The lawyers at Shaheen & Gordon represent both employees and employers in workplace disputes including claims of discrimination, harassment, unpaid wages, overtime disputes, medical leave issues, retaliation, whistleblower, and unfair competition. Shaheen & Gordon also provides guidance to constantly changing employment laws and regulations, assisting employers in eliminating problems before they occur, and defending them with tenacity and sound business judgment if litigation is necessary.
Best Intellectual Property Law Firm:
McLane Middleton
900 Elm St., Manchester
603-625-6464
www.mclane.com
McLane's Intellectual Property Group helps companies manage and execute their intellectual property strategies, advising clients on a sweeping range of issues – including intellectual property development, protection, licensing and litigation. McLane attorneys focus on U.S. and foreign trademark and copyright law, patent procurement, e-commerce and Internet law, domain name/cybersquatter disputes, technology development, and trade secret protection.
Best Real Estate Law Firm:
Devine Millimet
111 Amherst Street, Manchester
603-669-1000
www.devinemillimet.com
Devine Millimet's real estate attorneys represent a wide variety of developers, owners and lenders with complex legal needs in the acquisition, permitting and development of major real estate projects throughout New England. Whether clients are pursuing growth, redevelopment or diversification, Devine attorneys and staff bring to clients a practical approach to success in all manner of real estate development projects and transactions.
Best Tax Law Firm:
McLane Middleton
900 Elm St., Manchester
603-625-6464
www.mclane.com
McLane Middleton tax attorneys advise clients on a broad range tax planning issues including federal tax planning, retirement plans and employee benefits, employee stock ownership plays, executive compensation planning, state and local tax planning, tax controversy, tax-exempt entities, and international tax planning. McLane's tax attorneys also have the unique perspective of frequently participating in the drafting of New Hampshire's tax legislation.
Best After-Work Bars:
Greater Manchester:
Copper Door
15 Leavy Drive, Bedford
603-488-2677
www.copperdoorrestaurant.com
Monadnock Region:
Margaritas Mexican Restaurant
77 Main Street, Keene
603-357-4492
www.margs.com
Greater Concord:
The Common Man
25 Water Street, Concord
603-228-3463
www.thecman.com
Greater Nashua:
The Peddler's Daughter
48 Main Street, Nashua
603-821-7535
www.thepeddlersdaughter.com
Seacoast:
The Portsmouth Brewery
56 Market Street, Portsmouth
603-431-1115
www.portsmouthbrewery.com
North of Concord:
Woodstock Inn Station & Brewery
135 Main Street, North Woodstock
603-745-3951
www.woodstockinnnh.com
Best Business Dinner:
Greater Manchester:
Hanover Street Chophouse
149 Hanover Street, Manchester
603-644-2467
www.hanoverstreetchophouse.com
Greater Nashua:
The Common Man
304 Daniel Webster Highway, Merrimack
603-429-3463
www.thecman.com
Greater Concord:
The Common Man Concord
25 Water Street, Concord
603-228-3463
www.thecman.com
Greater Salem:
Tuscan Kitchen
67 Main Street, Salem
603-952-4875
www.tuscanbrands.com
Seacoast:
Portsmouth Gas Light Co.
64 Market Street, Portsmouth
603-430-8582
www.portsmouthgaslight.com
North of Concord:
O Steaks & Seafood
11 S. Main Street, Concord
603-856-7925
www.magicfoodrestaurantgroup.com/osteaks/
Monadnock Region:
Giorgio's Mediterranean & Italian Restaurant
524 Nashua Street, Milford
603-673-3939
www.giorgios.com
Best Business Lunch:
Greater Manchester:
Cotton
75 Arms Street, Manchester
603-622-5488
www.cottonfood.com
Greater Nashua:
The Common Man
304 Daniel Webster Highway, Merrimack
603-429-3463
www.thecman.com
Greater Concord:
The Common Man
25 Water Street, Concord
603-228-3463
www.thecman.com
Seacoast:
The Portsmouth Brewery
56 Market Street, Portsmouth
603-431-1115
www.portsmouthbrewery.com
North of Concord:
​Horsefeathers
2679 White Mountain Highway, No. Conway
603-356-2687
www.horsefeathers.com
Monadnock Region:
Margaritas Mexican Restaurant
77 Main Street, Keene
603-357-4492
www.margs.com
Best Cup of Coffee:
Greater Manchester:
The Bridge Café
1117 Elm Street, Manchester
603-647-9991
www.thebridgecafe.net
Greater Nashua:
​Riverwalk Café & Music Bar
35 Railroad Square, Nashua
603-578-0200
www.riverwalknashua.com
Monadnock Region:
Aroma Joe's
141 Winchester St., Keene
aromajoes.com
Seacoast:
Breaking New Grounds
14 Market Square, Portsmouth
603-436-9555
www.bngcoffee.com
Greater Concord:
True Brew Barista
3 Bicentennial Square, Concord
603-225-2776
www.truebrewbarista.com
North of Concord (tie):
Mad River Coffee House
18 Six Flags Road, Campton
603-726-7793
madrivercoffeeroasters.com
North of Concord (tie):
White Mountain Café
212 Main Street, Gorham
603-466-2511
www.whitemountaincafe.com
Greater Salem:
Village Bean
33 Indian Rock Road, Windham
603-434-2326
www.villagebean.com
Look below for photos from the 2016 BOBs