2012 BOB Award winners
View a list of the 2012 BOB Award winners.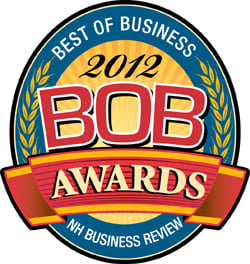 Best Accounting Firm: Howe, Riley & Howe, CPA
660 Chestnut St., Manchester
603-627-3838
www.hrhcpa.com
For more than 50 years, Howe Riley & Howe has offered tax, audit and litigation support and accounting consulting services through the use of the most up-to-date technologies. Whether a for-profit company or a charitable organization, Howe Riley & Howe has experienced staff to assist with your accounting needs.
Best Advertising Agency: Millennium Integrated Marketing
150 Dow St., Manchester
603-792-2200
www.mill-im.com
With offices in Manchester and Boston, Millenium Integrated Marketing is a full-service advertising agency, offering market research, corporate branding, creative design, interactive technology, search engine optimization, public relations, and more for clients across all industries. All of its work is completed in house, and as such is structured to provide the highest level of client service with expedient turnaround.
Best Architectural Firm: Lavallee Brensinger Architects
155 Dow St., Ste. 400, Manchester
603-622-5450
www.lbpa.com
The architecture firm Lavallee Brensinger has 30 years of innovative design experience. With a philosophy that states, "Your mission inspires us. Our creativity and knowledge empower you. Together we achieve excellence," the firm is dedicated to quality and client service. Among its award-winning projects are the IDEXX Laboratories in Maine and the Manchester Airport New Terminal Building.
Best Art Gallery: Currier Museum of Art
150 Ash St., Manchester
603-669-6144
www.currier.org
The Currier Museum of Art in Manchester is an internationally renowned art museum that features European and American paintings, decorative arts, photographs and sculpture, including works by Picasso, Monet, and O'Keeffe. The Currier also owns and offers tours of the Zimmerman House in Manchester, the only Frank Lloyd Wright-designed home open to the public in New England.
Career Coach: The Renegade Leader
One Tara Blvd., Suite 200, Nashua
603-589-4008
www.therenegadeleader.com
The Renegade Leader, formerly Open Door Coaching, specializes in igniting high-performance and impacting business results through influential leadership, aligning employees with organizational goals and creating work cultures steeped in collaboration and innovation. It works with corporations, executives, managers, business owners, and other professionals who strive to push the envelope for the best results.
Cell Phone Provider: Verizon Wireless
Locations throughout New Hampshire
140 West St., New York, NY
800-899-4249
www.verizonwireless.com
Verizon Wireless has the nation's largest and most reliable wireless network as well as coverage in more than 200 countries. With a variety of plans tailored to businesses, Verizon Wireless can keep your company connected to customers down the street or across the country. Late last year, Verizon expanded its "lightning-fast" 4G LTE network into several communities in southern New Hampshire.
Clothier for Men: George's Apparel
675 Elm St., Manchester
603-622-5441
www.georgesapparel.com
This full-service men's clothing store in Manchester has it all — from suits to ties, accessories and outerwear. All suits and sport coats come with free alterations for the entire life of the garment. A knowledgeable staff, professional fittings, a huge inventory and in-house alterations make shopping for a high-quality suit easy and painless.
Clothier for Women: Alapage Boutique
25 S. River Road, Ste. 301, Bedford
603-622-0550
www.alapageboutique.com
Alapage, located at Bedford Square, has been offering the latest clothing designs as well as accessories, gifts and shoes since 1989. Its Jean Bar offers a wide range of styles, fit and lengths to fit almost any woman from designers such as 7 for All Mankind, True Religion, Christopher Blue and Not Your Daughter's Jeans.
Commercial Photographer: Studio One Photography
50 Bridge St., Manchester
603-622-2738
www.studioonenh.com
For more than 30 years, the professional photographers at Studio One, located in Manchester, have been providing photography services. Shooting in a 100 percent digital format, Studio One photographs products, buildings, people, food and public relations, and is capable of shooting on location or in its own studio.
General Contractor: Harvey Construction
10 Harvey Road, Bedford
603-624-4600
www.harveyconstruction.com
Harvey Construction has built a solid reputation based upon trust, technical competence and the determination to serve clients with ingenuity and speed. Its expertise in the construction of sophisticated facilities includes educational facilities, hospitals, government buildings, office buildings and other structures.
Mechanical Contractor: Granite State Plumbing and Heating Inc.
10 N. Riverdale Road, Weare
603-529-3322
www.granitestateplumbingandheating.com
Granite State Plumbing & Heating Inc. has been providing HVAC and mechanical systems installation and service since 1983. Today, as a wholly owned subsidiary of Comfort Systems, GS Plumbing and Heating focuses on the mid-market commercial industrial and institutional sectors, while caring for customers, employees and the environment.
Electrical Contractor: Longchamps Electric Inc.
700 Harvey Road, Manchester
603-625-5954
www.longchampselectric.com
Longchamps Electric Inc., now one of the largest electrical contractors in southern New Hampshire and northern Massachusetts, was founded more than 30 years ago by master electrician Robert O. Longchamps. Longchamps is a full-service electrical contractor capable of handling projects of all sizes and scope. The firm also provides design-build serves as well as project fast-tracking, on-call services, telecommunications and back-up generator installation.
Corporate Moving Company: Ray The Mover
1 Allard Drive, Manchester
800-321-7170
www.raythemover.net
Established in 1937 by Raymond Allard, Ray The Mover is a third-generation family-owned and -operated business. As a premium service mover, it utilizes a large fleet of modern vans and equipment, palletized warehousing and carefully selected van crews. The company has a network of over 300 destination agents throughout the United States to assist corporate clients. Additionally, Ray The Mover is one of the top-rated military carriers in New England, serving military personnel who are being relocated throughout the country.
Courier Service: New England Courier Inc.
19 Martins Ferry Road, Hooksett
603-669-0407
www.necourier.com
Since 1974, New England Courier Inc. has operated with a simple goal: to guarantee on-time, same-day delivery for individuals and businesses with a commitment to service and value. To that end, New England Courier Inc. offers 24/7 route deliveries all over New Hampshire and the rest of New England, priding itself on fast, on-time delivery of your packages, legal forms, letters and other documents.
Dry Cleaner: E&R Laundry and Dry Cleaners
565 Gold St., Manchester
603-627-7661
www.eandrcleaners.com
E&R Cleaners strives to make sure that your orders are on time, meet the highest quality standards, and that its service is second to none. With store locations in Manchester and Bedford, item pick-up and delivery services as well as uniform rental and sales, and campus services, E&R prides itself on offering the ultimate service and convenience to its customers.
MBA Program: University of New Hampshire
105 Main St., Durham
603-862-3000
www.gradschool.unh.edu
University of New Hampshire offers a full-time, fast-track MBA, an Executive MBA, as well as a part-time MBA, which lets working professionals earn their degrees at their own pace in as little as 20 months or as long as six years. Instituted in 1996, the part-time MBA is the university's most popular MBA offering, and was recognized in 2012 as one of the best of its kind in the country by U.S. News & World Report.
Online Degree Program: Southern New Hampshire University
2500 N. River Road, Manchester
800-668-1249
www.snhu.edu
Southern New Hampshire University offers more than 50 online programs leading to undergraduate and graduate degrees and certificates. SNHU's educational philosophy challenges students' intellectual potential and prepares them for professional lives in an ever-changing and increasingly interconnected world.
Engineering Firm: Nobis Engineering Inc.

18 Chenell Drive, Concord
603-224-4182
www.nobisengineering.com
With proven expertise and established industry relationships, Nobis delivers a full range of environmental, geotechnical and civil engineering services. With additional locations in Massachusetts, New Jersey and Vermont, Nobis is an employee-owned company with a 23-year legacy of collaboration, responsiveness, and community involvement.
Environmentally Friendly/"Green" Business: Stonyfield Farm Inc.
10 Burton Drive, Londonderry
800-776-2697
www.stonyfield.com
Founded in 1983 with just seven cows, Stonyfield Farm Inc. was one of the first organic yogurt makers in the country. Today, Stonyfield earns $360 million in annual sales and has several organic product lines ranging from smoothies to Greek-style yogurt. Stonyfield has also taken its sustainable message to the world, running an environmentally friendly facility and hosting the annual Stonyfield Farm Entrepreneurship Institute in March, a "boot camp" for business startup owners.
Commercial Equipment Rental: Taylor Rental
Locations throughout New Hampshire
800-310-1931
www.taylorental.com
Whether you need tables and chairs for extra seating, projectors and screens for presentations or power tools and large construction equipment for a building site, Taylor Rental can provide the correct supplies for the job. Taylor Rental is a franchise division of True Value Company, a $2 billion, member-owned cooperative, one of the largest hardware co-ops in the country.
Executive Office Suites: Eastpoint Executive Centers, Bedford
264 S. River Road, Bedford
603-644-4554
www.nhofficespace.com
Eastpoint Executive Center's mission is to enhance businesses by providing them with the most professional office environment possible. Its accessible Bedford location, just minutes from the Manchester Airport, offers responsive staff, attractive office spaces and superior technology and support. Executive conference rooms are also available at hourly rates, providing sophisticated presentation technology, ample parking for guests and refreshment options. Eastpoint has an additional office in Nashua.
Executive Search Firm: KBW Financial Staffing & Recruiting
17 Commerce Drive, Ste. 7, Bedford
603-792-2345
www.kbwfinancial.com
Specializing in permanent, temporary and temporary-to-hire services for the financial and accounting industries, KBW has more than 30 years of experience in the staffing industry. KBW sees the value in face-to-face time with both candidates and clients as the relationship develops. When time is a factor, KBW is prepared to deliver its services in a timely and efficient manner.
Bank for Small Business, Local: Centrix Bank
Locations throughout Southern New Hampshire
1 Atwood Lane, Bedford
603-647-4446
www.centrixbank.com
Centrix Bank has been serving small businesses in New Hampshire since 1998. Today, it has more than $750 million in total assets. A state-chartered, FDIC-insured bank, Centrix has the diversity and experience necessary to serve its business banking customers. Centrix is headquartered in Bedford, and has full-service branches in Concord, Dover, Manchester, Milford and Portsmouth, with a loan production office in Nashua.
Bank for Small Business, Regional/National: TD Bank
Locations throughout New Hampshire
Two Portland Square, P.O. Box 9540, Portland, Maine
800-462-3666
www.tdbank.com
One of the 10 largest banks in the U.S., TD Bank offers a broad array of retail, small business and commercial banking products and services to more than 7.8 million customers through its extensive network of more than 1,280 convenient locations. Its small business banking division offers hassle-free accounts and personalized services, as well as a dedicated small business representative with every account.
Commercial Lender: Citizens Bank
Locations throughout New Hampshire
One Citizens Plaza, Providence, R.I.
877-220-0491
www.citizensbank.com
Since its founding as a small community bank in 1828, Citizens Financial Group has grown into one of the largest banks in the nation, with $132 billion in assets. Its commercial lending arm is skilled at tailoring creative financing arrangements to your specific short-term working capital needs or longer-term investments. It also offers a broad range of customized payment terms and relationship managers who offer local expertise and decision-making.
Credit Union: St. Mary's Bank
200 McGregor St., Manchester
603-669-4600
www.stmarysbank.com
St. Mary's Bank, founded in 1908 as the nation's first credit union, has been offering an alternative to traditional banks ever since. As a credit union, St. Mary's members own the institution, meaning decisions are made based on the best interests of the members. St. Mary's offers a diverse array of financial products for businesses, including checking and savings accounts, commercial loans and SBA financing.
Investment Firm: Fidelity Investments
Locations throughout New Hampshire
1 Spartan Way, Merrimack
603-791-5000
www.fidelity.com
Fidelity offers more than 300 mutual funds and over $1 trillion in covered assets from locations throughout New Hampshire and beyond. It also offers discount brokerage services, retirement services, estate planning, wealth management, securities execution and clearance, life insurance and more.
Florist: Chalifour's Flowers
46 Elm St., Manchester
603-623-8844
www.chalifours.com
Whether it be a magnificent vase arrangement of roses for someone special in your life, birthday flowers or a heartfelt note of appreciation to business clients, you can rely on Chalifour's decades of experience in bringing the very best that flowers can offer. Since 1940, Chalifour's has expertly arranged, packed and hand-delivered flowers, plant and gourmet gift baskets to your destination.
After-Work Bar: The Common Man
Locations throughout New Hampshire
P.O. Box 581, Ashland
603-968-9330
Since its founding in 1971, the Common Man Family of Restaurants — which includes two inns, a spa, a company store, a performance center and 18 restaurants in locations all over the state — has become a New Hampshire institution, known as much for its community involvement as it is for its comforting American fare with a New England flair. After-work guests to the Common Man are treated to an expansive wine, martini and draught beer list — including the Smuttynose-brewed Common Man Ale — not to mention complimentary cheese and crackers, parlor games and hearty apps like crab cakes and meatball sliders.
Bar to Entertain Clients: Cotton
75 Arms St., Manchester
603-622-5488
www.cottonfood.com
Cotton features the cooking of owner Chef Jeffrey Paige, whose seasonal menus star American comfort food. Robust plates are created with distinctive flavors and presented in a straightforward manner, allowing the ingredients to speak for themselves. Cotton has an extensive and always-expanding list of carefully selected domestic and imported wines, with over 40 by the glass, and an award-winning seasonal martini list.
Business Breakfast: The Red Arrow 24 Hour Diner
61 Lowell St., Manchester, 603-626-1118
63 Union Square, Milford, 603-249-9222
www.redarrowdiner.com
Red vinyl booths, chrome trim and a smiling coffee cup are just a few of the classic touches at Red Arrow Diner. The enormous menu is filled with comfort food classics, all made from scratch, such as meatloaf and mac and cheese. Hearty breakfasts like killer omelets are served all day. Real blue-plate specials are served on blue plates! And like any good diner, the Red Arrow is open 24 hours a day, every day, except Christmas.
Business Dinner: Hanover Street Chophouse
149 Hanover St., Manchester
603-644-2467
www.hanoverstreetchophouse.com
Hanover Street Chophouse makes for one of the most memorable and best fine dining experiences in Manchester. You'll find inspired cuisine in an exquisite salon-like setting framed by vivid murals of Manchester landmarks. The staff is committed to providing guests with creative food, impeccable service in an ambience that is elegant yet relaxed, all making for an extraordinary experience.
Business Lunch: T-Bones Great American Eatery
Locations in Bedford, Derry, Hudson and Salem
311 S. Broadway, Salem
603-893-3444
www.t-bones.com
T-Bones Great American Eatery opened in Salem in 1984, offering classic selections with imaginative twists. Today, locations in Bedford, Derry, Laconia and Hudson as well as the flagship Salem eatery offer diners homemade soups, salads and sandwiches as well as mouth-watering burgers, and get you back to the office in no time. Healthy choices and vegetarian selections are also available such as honey wasabi salmon salad and vegetarian fajita salad.
Corporate Event Caterer: Tidewater Catering Group
250 Commercial St., Ste. 2021, Manchester
800-827-1387
www.tidewatercatering.com
Tidewater Catering Group is a full-service, off-premise catering and event planning company located in Manchester's historic Millyard. Tidewater can cater large corporate events or the most intimate affair, paying close attention to every detail of your event. Accommodating and adapting to every request in food and service is just some of the reasons why Tidewater "looks at catering a little differently."
Lunch Delivery: In A Pinch Cafe & Bakery
146 Pleasant St., Concord
2 Pillsbury St., Concord
603-226-2272
www.inapinchcafe.com
Since 1992, In A Pinch Cafe & Bakery has satiated countless appetites with its menu of fresh-to-order gourmet sandwiches, homemade soups, stews, and chowders, fresh-baked bread, inventive salads and daily specials. Customers can order online, by fax or by phone, and the cafedelivers each weekday within three large delivery zones that encompass much of Concord, making In a Pinch a go-to lunch option for many who live and work in the capital city.
Lunch To Go: Nadeau's Subs
Locations throughout southern New Hampshire
603-623-9315
www.nadeaus.biz
With four Manchester locations and a fifth in Concord, Nadeau's Subs has been a southern New Hampshire institution since 1969, known all over for its signature sandwich, the famous steak tip and cheese sub. Grabbing lunch on the go is made easy by Nadeau's online ordering, which lets patrons choose from its extensive menu of hot and cold subs and wraps, salads, hamburgers, and more, all made with premium, fresh ingredients.
Place for a Quick Lunch: La Carreta Mexican Restaurant
Locations throughout southern New Hampshire
603-628-6899
www.lacarretamex.com
With restaurants in Manchester, Nashua, Derry and Framingham, Mass., La Carreta has made a name for itself by serving up authentic Mexican fare using only the finest ingredients, with all its food prepared fresh daily with sauces made in house from scratch. Its lunch menu includes specials on burritos, fajitas, tostadas, quesadillas and more — including vegetarian options — which are served up so quickly, you don't even have a chance to fill up on the complimentary homemade chips and salsa at each table.
Place to Pick Up Coffee, local: Bagel Works
120 Main Street, Keene
9 Congress St., Portsmouth
42 North Main St., Concord
603-357-9787
www.worksbakerycafe.com
Bagel Works prides itself on its commitment to sustainability and fresh, all-natural foods, a philosophy that carries over into its coffee offerings. All of its fresh-ground coffees, lattes, cappuccinos and espressos are custom blended and carefully roasted in small batches, to ensure every last cup is smooth, rich and delicious. Wherever possible, Bagel Works buys from co-ops directly supporting certified organic and fair-trade farmers around the world who practice environmentally sustainable farming.
Place to Pick Up Coffee, Regional/National: Dunkin' Donuts
Locations throughout New Hampshire
130 Royall St., Canton, MA
781-737-3000
www.dunkindonuts.com
Founded in 1950, Dunkin' Donuts opened its first shop in Quincy, Mass. Today Dunkin' Donuts is the world's largest coffee and baked goods chain, selling 52 varieties of donuts and more than a dozen coffee beverages as well as an array of bagels, breakfast sandwiches and other baked goods.
Fuel/Propane Provider: Fred Fuller Oil and Propane Co., Inc.
Locations throughout New Hampshire
603-889-0407
www.fullers.com
Started in 1969 with one truck, Fred Fuller Oil now has offices throughout the Granite State, where it has been saving customers money on their heating oil needs ever since. The full-service oil company has a fully insured staff of highly trained service and delivery technicians, who are on call 24/7 should you ever require emergency service. And last year, the family-owned and -operated business continued its tradition of customer-focused convenience and savings by expanding its offerings to include propane.
Private Golf Course: Manchester Country Club
180 S. River Road, Bedford
603-624-4096
www.manchestercountryclub.com
Originally designed by Donald Ross and built in 1923, the 18-hole course at Manchester Country Club plays an average of 6,348 yards with wide tree-lined fairways, small undulating greens and water hazards that will test novice and experienced golfers alike. MCC's course has hosted several championship tournaments and has also been rated by Golf Digest as one of the best courses in the state.
Public Golf Course: Derryfield Country Club
625 Mammoth Road, Manchester
603-669-0235
www.derryfieldgolf.com
Derryfield Country Club is an 18-hole public golf course located in the heart of Manchester. Established in 1932, Derryfield is one of only three municipally owned golf courses in the state of New Hampshire. Located on the property at the Derryfield Country Club, you will find a fully stocked golf shop, as well as the Derryfield Restaurant & Lounge, a full-service restaurant and bar. The restaurant's Deck, a popular nightspot during the summer, features live music on Friday and Saturday nights.
Health Club, Local: Executive Health & Sports Center
1 Highlander Way, Manchester
603-668-4753
www.executivehealthclub.com
The Executive Health and Sports Center has been inspiring, motivating and educating people to be healthy, active and well for life for more than 30 years. With a staff of 200 professionals and more than 100,000 square feet of space on two floors, the facility offers a wide variety of new cardiovascular equipment, aquatics and fully equipped training areas to help you feel and look your best. Fun and fresh fitness classes run the full spectrum from aerobics to racquetball to yoga.
Health Club, Regional/National: Planet Fitness
Locations throughout New Hampshire
898 Central Ave., Dover
603-743-4653
www.planetfitness.com
Founded in Dover in 1992, the Planet Fitness gym franchise has since spread to more than 500 locations in 46 states. Its promise to maintain a "judgment-free zone" creates a non-intimidating atmosphere for those looking for a more relaxed gym that still provides excellent equipment and fitness training. The no-frills model means there are no large exercise classes, pools or saunas, allowing for low membership fees.
Health Care Facility: Elliot Hospital
1 Elliot Way, Manchester
603-669-5300
www.elliothospital.org
The cornerstone of the Elliot Health System — the largest provider of comprehensive health care services in Southern New Hampshire — is Elliot Hospital, a 296-bed acute care facility in Manchester. Established in 1890, the hospital offers surrounding communities caring, compassionate and professional patient service regardless of race, religion, national origin, gender, age, disability, marital status, sexual preference, or ability to pay. The hospital is Greater Manchester's designated trauma center, and is also home to a cancer center, urology center, and has one of only three Level 3 Neonatal Intensive Care Units in the state.
Health Insurance Provider: Anthem Blue Cross & Blue Shield in New Hampshire
3000 Goffs Fall Road, Manchester
603-695-7000
www.anthem.com
Anthem Blue Cross and Blue Shield, New Hampshire's largest health benefits company, is a member company of WellPoint Inc., whose mission is to improve the lives and the health of the people and the communities it serves. The company delivers a number of health benefit solutions through a broad portfolio of integrated health care plans and related services, along with a wide range of specialty products, including pharmacy benefit management, dental, vision and flexible spending accounts.
Hotel for Business Travel: Hilton Garden Inn Manchester
101 S. Commercial St., Manchester, 603-669-2222
www.hiltongardeninn.com
Just minutes from the Manchester Airport, the Hilton Garden Inn Manchester overlooks the baseball stadium of the New Hampshire Fisher Cats, is within walking distance of the Verizon Wireless Arena, and is just steps away from some of Manchester's best restaurants. It offers amenity-filled guest rooms, including automated self check-in, complimentary high-speed Internet access, and a 24-hour business center with secure printing and an executive boardroom.
Insurance Broker-Commercial: The Rowley Agency
139 Loudon Road, Concord
800-238-3840
www.rowleyagency.com
Since 1966, The Rowley Agency has grown into one of the largest, independently owned insurance agencies in Northern New England. Based in Concord and with branches in Maine and Vermont, the Rowley Agency's portfolio contains a robust offering of products and services for any business, large or small, including commercial and personal insurance, surety bonds, employee and executive benefits, and risk and claims management.
Insurance Broker-Employee Benefits: The Sadler Insurance Agency Inc.
24 Railroad Square, Nashua
603-883-0511
www.sadlerinsurance.com
The Sadler Insurance Agency Inc., established in 1924, is an independent agency offering insurance, risk management and financial services to families, business and industry. In addition to representing regional and national insurance carriers, Sadler also acts as an agent and broker for many international insurance companies serving markets in more than 130 countries around the globe.
Bankruptcy Law Firm: Sheehan Phinney Bass + Green
1000 Elm St., 17th Floor, Manchester
603-668-0300
www.sheehan.com
Members of the Bankruptcy and Insolvency Group at Sheehan Phinney Bass + Green represent clients in every aspect of business bankruptcy and insolvency, including closely and publicly held debtors, post-petition lenders, other secured and unsecured creditors, and more. Both inside and outside of bankruptcy cases, its members advise those buying and selling troubled businesses' assets, including related real estate and intellectual property interests.
Corporate Law Firm: Devine Millimet
111 Amherst St., Manchester
603-669-1000
www.devinemillimet.com
Established in 1974, Devine Millimet became the first New Hampshire firm to establish a regional presence outside of the state when its Andover, Mass., office merged with the firm in 1996. The attorneys at Devine Millimet understand just how important it is to choose a lawyer you with whom you can work closely and one who is an expert in law in your particular area of concern. With practice groups spanning from attorney conduct and liability to workers' compensation, Devine Millimet has locations in Concord, Manchester, North Hampton and Andover, Mass., to serve clients throughout Northern New England.
Employment Law Firm: McLane, Graf, Raulerson & Middleton
City Hall Plaza, 900 Elm St., Manchester
603-625-6464
www.mclane.com
Attorneys in McLane's Labor & Employment Group understand that employment laws can raise some of the most troublesome issues for your business. Their proactive, risk management approach helps you to ensure compliance with state and federal laws and prevent personnel problems before they arise. And if and when a lawsuit does occur, its experienced employment litigators bring a wealth of knowledge and skills to defend your organization, and resolve disputes successfully and within your budget.
Intellectual Property Law Firm: Shaheen & Gordon, P.A.
107 Storrs St., Concord
603-225-7262
www.shaheengordon.com
Attorneys and staff in the Intellectual Property Group at Shaheen & Gordon know how important it is to get the best protection available for their clients– most important asset — their intellectual property. With offices in Concord, Dover and Manchester, they have extensive experience and expertise in all aspects of trademark, copyright and unfair competition law, representing clients in industries ranging from music to publishing, restaurants to fitness, and salons and spas. They also work closely with the Business & Corporate Groups to help startups and established corporations develop the best strategy for protecting their intellectual property.
Real Estate Law Firm: Devine Millimet
111 Amherst St., Manchester
603-669-1000
www.devinemillimet.com
Devine Millimet's real estate attorneys represent a wide variety of developers, owners and lenders with complex legal needs in the acquisition, permitting and development of major real estate projects throughout New England. Whether clients are pursuing growth, redevelopment or diversification, Devine attorneys and staff bring to clients a practical approach to success in all manner of real estate development projects and transactions.
Tax Law Firm: McLane, Graf, Raulerson & Middleton
City Hall Plaza, 900 Elm St., Manchester
603-625-6464
www.mclane.com
The attorneys at the McLane Law Firm understand that taxes directly affect the bottom line of every business. Its Tax Department, the largest in the state of New Hampshire, has a wide range of experience advising on business and tax planning matters, with clients ranging from individuals to small closely held businesses to large multinational conglomerates.
Management Consultant: Sojourn Partners
107 Camelot Drive, Bedford
603-472-8103
www.sojournpartners.com
Through an association with the best coaching professionals available, Sojourn Partners can not only help a company manage through its growth, but will assist the individual leaders in that firm to meet that growth with contemporary and professional leadership thinking and intervention.
Networking Event: Tri-City Expo
Greater Concord Chamber of Commerce, 603-224-2508
www.concordnhchamber.com
Greater Manchester Chamber of Commerce, 603-666-6600
www.manchester-chamber.org
Greater Nashua Chamber of Commerce, 603-881-8333
www.nashuachamber.com
The Tri-City Expo, an annual collaborative effort between the Manchester, Concord and Nashua Chambers of Commerce, features more than 200 exhibitors from all over the state, and welcomes more than 2,000 attendees.
Office Cleaning Service: Maids To Order
Locations in Hillsborough, Merrimack and Rockingham Counties
7100 East Pleasant Valley Road, Suite 300, Independence, Ohio
877-392-6278
www.mtoclean.com
Maids to Order gives you its personal touch, promising to treat your home or office as if it were their own. While some companies send large teams of cleaners and others force you on a rotation plan, the company's philosophy is simple: MTO will meet with you personally to discuss your cleaning needs and develop a custom service plan to fit your lifestyle, schedule or hours of operation. MTO believes cleaning services should simplify your life, give you more free time and deliver peace of mind.
Office Supply Retailer: W.B. Mason
12 Murphy Drive, Nashua
888-926-2766
www.wbmason.com
Since 1898, the dedicated people at W.B. Mason have been passionate about bringing their amazingly low prices, superior delivery and outstanding personal service to businesses of all sizes for all of their office products
needs. Headquartered in Brockton, Mass., W.B. Mason has grown to become the largest, privately owned office products dealer in the United States, with 30 locations spanning 11 states, with everything you need for your office, from supplies and furniture, to break room and janitorial goods.
Place to Buy Office Furniture, Regional/National: Staples
Locations throughout New Hampshire
500 Staples Drive, Framingham, MA
800-378-2753
www.staples.com
New England-based Staples Inc. opened its first office supply superstore in 1986 and today is the world's largest office products company with more than 2,000 stores. From pens, paper, data CDs — and, yes, staples — Staples offers a wide range of office products and solutions.
Place to Buy Office Furniture, Local: Surplus Office Equipment
100 Factory St., Nashua
603-881-8281
www.surplusofficeequipment.com
Since 1984, Surplus Office Equipment has provided its customers the best-possible office furniture, whether new or pre-owned, at the best-possible price. Surplus Office Equipment has more than 100,000 square feet of warehouse and showroom space at its facilities in Manchester and Nashua, with New Hampshire's largest selection of pre-owned office furniture at 50 percent to 80 percent off regular retail prices. The company also sells new furniture through its Office Furniture Solutions showrooms.
Payroll Service, Regional/National: ADP TotalSource
One ADP Blvd., Roseland, NJ
800-225-5237
www.adp.com
ADP is one of the world's largest providers of business outsourcing solutions. Leveraging more than 55 years of experience, ADP offers a wide range of services including human resources, payroll, tax and benefits administration solutions. ADP's easy-to-use solutions for employers provide superior value to companies of all types and sizes.
Payroll Service, Local: Checkmate Payroll
112 South State St., Concord
603-225-2004
www.checkmatepayroll.com
Checkmate is an independent provider of comprehensive payroll services and workforce management solutions with a strong focus on customer service, data security and innovative technology. Founded in 1994, Checkmate serves more than 500 clients in greater New Hampshire. Regardless of your industry and needs — from a simple, one-employee operation to a large business with a multi-state workforce — Checkmate will help create a customized solution that suits those needs.
Barber Shop for Men: Lucky's Barbershop & Shave Parlor
50 S. State St., Concord
603-715-5470
www.luckysbarbershop.biz
No stylists, no salon, this is a real traditional barbershop, just like the one your daddy went to — only better. Reconditioned antique barber chairs housed in a renovated tin-ceilinged shop, you can get a haircut and shave for a bit more, but not much, than two bits. And yes, it has the blue-and-red striped barber's pole outside.
Styling Salon for Women: Not So Plain Jane's Salon and Spa
155 Dow St., Ste. 102, Manchester
800-829-6775
www.notsoplainjanes.com
Not So Plain Jane's is located a beautifully renovated historical mill and offers state-of-the-art services for hair, skin, nails and body. All haircuts begin with a personal consultation and a cleansing massage, and are completed with a blow-dry style. Other treatments include customized body massages, facials, manicures and pedicures. Special packages are also available.
Copy Center: Printers Square
105 Faltin Drive, Manchester
603-623-0802
www.psquare.com
Printers Square has been providing commercial print and design services for 20 years. Since its inception, Printers Square has been dedicated to providing excellent service and print quality. Printers Square offers high-speed digital printing. Extensive pre-press analysis ensures your print job meets your specifications, while online job tracking informs you about your job every step of the way.
Commercial Printer, Long-Run: RAM Printing Inc.
5 Commerce Park Drive, Hampstead
603-382-7045
www.ramprinting.com
RAM Printing, a family-owned and -operated, full-service offset printing company, has been in business for over 30 years. Located in Hampstead, RAM Printing is a part of RAM Companies, which also includes RAM Mailing Service, Hampstead Print and Copy and Guestmark International, which provides specialized print services and products for the hospitality industry.
Commercial Printer, Short-Run: AlphaGraphics
8 Perimeter Road, Manchester
603-645-0002
97 Main St., Nashua
603-595-1444
www.alphagraphics.com
With two New Hampshire locations, AlphaGraphics offers custom, professional printing services and visual communication solutions for a wide range of industries, including everything from direct marketing supplies to high-quality banners and posters that fit the needs of your project. Its highly trained professionals work with you from the initial design all the way through to the printing and shipping of the final results, helping you craft the professional business image you want to project.
Promotional Products Supplier: Logo Loc Ltd.
540 N. Commercial St., Manchester
603-644-4800
www.logoloc.com
Established in 1992, Logo Loc Ltd. has more than 35,000 square feet of manufacturing and warehousing space in Manchester's historic Amoskeag Millyard, where it uses its proprietary process to embellish apparel for some of the most respected consumer names in apparel and related items. It has full capability to finish apparel and other items for resale, and can distribute product anywhere in the world, making it a one-stop shop for all your apparel and corporate marketing programs.
Public Relations Agency: Griffin York & Krause
121 River Front Drive, Manchester
603-625-5713
www.griffinyorkkrause.com
Never before has it been so difficult to get your message through the innumerable others vying for your customers' attention. Public relations agency Griffin York & Krause cuts through the chatter to make sure your voice is heard. For 30 years, GYK has seen to it that every creative execution starts with a well-defined, well-researched, comprehensive strategy. Only then does GYK craft attention-getting creative work that builds your brand and grabs market share.
Commercial Real Estate-Broker: Keller Williams Realty Inc.
Offices throughout New Hampshire
512.327.3070
www.kw.com
Based in Austin, Texas, Keller Williams Realty Inc. is the second-largest residential real estate company in the United States, with six offices in New Hampshire in Bedford, Concord, Dover, Keene, Portsmouth and Nashua. Its commercial real estate arm, KW Commercial, delivers industry-leading education, top-of-the-line technology and unparalleled support to its agents and brokers, helping them to make your commercial transaction swift, efficient, and most importantly, profitable.
Commercial Real Estate-Developer: Brady Sullivan Properties
670 N. Commercial St., Manchester
603-622-6223
www.bradysullivan.com
Specializing in the development, construction and conversion of condominium complexes throughout New England and in Naples, Fla., Brady Sullivan Properties offers holds a sizable share of both the commercial and residential real estate markets in southern New Hampshire and manages a diverse portfolio of over 3 million square feet of mill, office and industrial space.
Commercial Signage: Jutras Signs
Jutras Signs
711 Mast Road, Manchester
603-622-2344
www.jutrassigns.com
Founded in 1940, Jutras specializes in illuminated signs, including neon, as well as non-illuminated signs, banners, awnings, flags and other signage. In addition to design services, Jutras also offers a complete repair shop with the ability to maintain and service virtually any sign.
Sporting Event to Take Clients To: New Hampshire Fisher Cats
1 Line Drive, Manchester
603-641-2005
www.nhfishercats.com
The New Hampshire Fisher Cats were founded in October 2003 as the AA Eastern League Affiliate of the Toronto Blue Jays. In the first season, the Fisher Cats played at historic Gill Stadium, located on Manchester's east side, and won the 2004 Eastern League Championship. The team moved to its current home in 2005 at Northeast Delta Dental Stadium, formerly Merchantsauto.com Stadium, in downtown Manchester on the banks of the Merrimack River. The ballpark seats 6,500 people, and regularly sets attendance records.
Staffing Service: The Nagler Group
17 Commerce Drive, Ste. 6, Bedford
603-637-1492
www.naglergroup.com
The Nagler Group strives to be the foremost staffing firm in administrative and human resource recruiting. The Nagler Group's management is comprised of professionals that have built their careers on their passion for recruiting and staffing. The company's team members operate on the principle that they are here to provide the absolute best organization for employees and clients.
Telecommunications Provider: Comcast
One Comcast Center, Philadelphia, PA
800-COMCAST
www.comcast.com
Comcast Corp. is one of the nation's leading providers of cable, entertainment and communications products and services, with 24.4 million cable customers, 14.7 million high-speed Internet customers and 6.1 million Comcast Digital Voice customers. Backed by industry-leading, 24/7 business-class support, Comcast provides advanced communication solutions to small and mid-sized organizations to help them meet their business needs through its Comcast Business Services.
Airline for Business Travel: Southwest Airlines
2702 Love Field Drive, Dallas, Texas
800-435-9792
www.southwest.com
Southwest flies more than 100 million passengers a year to cities across the country. Priority seating for Business Select travelers, no fees for bags or changing flights, same-day air freight delivery service, ticketless travel and live updates on current airfare deals, all exemplify the airline's commitment to innovations designed to make air travel simpler and more accessible for its customers.
Auto Dealership: AutoFair Automotive Group
Dealerships on Willow and Keller Streets, Manchester
603-634-1000
www.autofair.com
For more than 20 years, AutoFair has served the New Hampshire and surrounding areas as a new and used auto dealership. With services such as an online Car Finder, AutoFair's Ford, Honda, Hyundai and Pre-Owned dealerships work hard to make your vehicle shopping experience an enjoyable and memorable one. AutoFair also takes pride in serving the community, and is a founding member of the Manchester Charitable Foundation.
Auto Fleet Dealership: Grappone Automotive Group
Route 3A, Bow
800-528-8993
www.grappone.com
Specializing in commercial vehicle and fleet sales for almost four decades, Grappone Automotive Group's commercial trucks and fleet vehicle departments make sure that your vehicle or truck can handle the job.
Auto Luxury Dealership: Tulley BMW
170 Auto Center Road, Manchester
888-453-4380
147 Daniel Webster Highway, Nashua
888-461-8281
www.tulleybmw.com
With locations in both Nashua and Manchester, Tulley BMW treats the needs of each individual customer with paramount concern. Its experienced sales staff is eager to share its knowledge and enthusiasm about its range of new and certified pre-owned BMWs. Both facilities also have BMW Service Centers, which are staffed with experienced, BMW-trained technicians who will quickly diagnose and remedy any areas of concern and get you back on the road quickly and safely.
Auto Rental: Enterprise Rent-A-Car
Locations throughout New Hampshire
600 Corporate Park Drive, St. Louis, MO
800-264-6350
www.enterprise.com
With over 700,000 available vehicles today, Enterprise provides rental car services in neighborhoods all across America. Whether you need a car while your vehicle is in the repair shop, visiting from out of town or to test drive the latest models, Enterprise can find the right car at the right price for you. Enterprise also offers fleet management services, pre-owned car sales and commercial truck rental.
Limousine Services: Grace Limousine
PO Box 3510, Manchester
603-666-0203
www.gracelimo.com
Family-owned and -operated from Manchester since 1990, Grace Limousine is committed to providing the best in personal, special event and corporate transportation. More than just transportation, Grace's fleet includes Lincoln sedans, a stretch Navigator and a 1956 Rolls Bentley as well as "green" vehicles such as the Lexus SUV hybrid.
Venue for Corporate Events (more than 150 people): Bedford Village Inn
2 Olde Bedford Way, Bedford
603-472-2001
www.bedfordvillageinn.com
The perfect setting for your corporate meeting, dinner or retreat in New Hampshire, the Bedford Village Inn works with you to cater and customize every aspect of your corporate meetings, whether it's a simple breakfast gathering or a private dinner featuring wine tastings with its certified sommelier. Its Great Hall accommodates meetings and conferences up to 225 people, and its function spaces are equipped with high-speed Internet, audio/visual equipment, video conferencing capabilities and more.
Venue for Corporate Events (fewer than 150 people): Manchester Country Club
180 South River Road, Bedford
603-624-4096
www.manchestercountryclub.com
Conveniently located at the intersection of Routes 3, 293 and 101, Manchester Country Club offers everything you need to make your corporate event a success, including function rooms that can be set up to suit your business needs, audio/visual equipment, flip charts, speaker podium, wireless Internet and more.
Video Production Company: Heartwood Media Inc.
83 Hanover St., Ste. 42, Manchester
603-665-9191
www.heartwoodmedia.com
Heartwood Media Inc. is an award-winning video and interactive production company creating TV commercials, videos, DVDs, CDs and interactive Flash programs on budget and on target. Heartwood works with you to focus your message and target your audience to make sure your message is compelling and gets results. More than just a video production company, Heartwood is invested in the community, where giving back is an important part of how it does business.
Waste Removal Company, National/Regional: Waste Management Inc.
Offices in Londonderry, New Hampton, North Swanzey and Rochester
1001 Fannin, Suite 4000, Houston, Texas
800-847-5303
www.wastemanagement.com
Waste Management provides solid waste collection services as well as transfer, recycling and resource recovery, and disposal services to New Hampshire and across the country. Waste Management also is a leader in waste-to-energy and landfill gas-to-energy practices in the United States.
Waste Removal Company, Local: Pinard Waste Systems
32 W. River Road, Hooksett
603-623-6937
www.pinardwaste.com
New Hampshire-based Pinard Waste Systems is the largest privately owned waste-handling company in the state. Headquartered in Hooksett, it is known for its customer service and proactive approach in fostering environmentally sound practices.
Website Developer: wedu
20 Market St., Manchester
603-647-WEDU
www.wedu.com
wedu, an award-winning, full-service advertising and marketing agency in Manchester, has been providing clients with excellent advertising and marketing, interactive Web design and development, public relations and experiential marketing since its founding in 1998. Whether a client is looking for online or offline marketing initiatives, wedu offers creative and effective solutions.
Workforce Development: Human Capital Solutions LLC
603-434-4042
www.humancapitalize.com
Human Capital Solutions LLC offers workforce development solutions for both individuals and organizations, including executive coaching, consulting, workshops and more. No matter which solution you choose, HCS will guide you through its client-centered and results-focused process, which includes four steps: identifying your goals, figuring out how to achieve them, implementing the solutions and measuring the outcomes.