2008 BOB Award Winners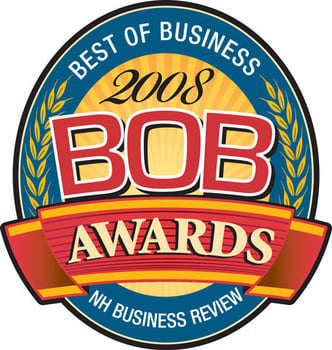 We at New Hampshire Business Review are delighted to welcome you to see the results of our first readers poll to select the Best of Business in New Hampshire for 2008. (As you may know by now, we just call the awards BOB.)
Over 1,000 ballots were cast online by our readers, who selected the best companies in the state with which to do business. They voted in some 60 categories, ranging from "Best Commercial Lender" to "Best Place for a Business Lunch" to "Best Web Site Developer."
The mission of the BOB Awards is to find the Granite State's exceptional businesses — the ones that offer the best service and pay attention to details, that have the most helpful and eager employees. In other words, BOB-winning businesses offer nothing less than outstanding products and services.
Remember, the BOB voters were other businesspeople. So if other business owners have named a business a BOB business, that really says something about the high caliber of the company.
But the BOB Awards truly celebrate all businesses in New Hampshire – a place that nurtures the Best of Business every day.
New Hampshire Business Review presents the BOB Awards in partnership with Quirk Automotive Group. Additional sponsors include Southern New Hampshire University, FairPoint Communications, Northeast Record Retention, Anthem Blue Cross and Blue Shield in New Hampshire, SFC Engineering Partnership Inc., PC Connection, Comcast Business Class and Southwest Airlines.
Runner-Up: Nathan Wechsler & Company
Best After Work Bar — Margaritas Mexican Restaurant and Watering Hole When you need a little relaxation after a hard day at work, Tio Juan's Margaritas Mexican Restaurant and Watering Hole is the perfect place to grab a drink and have a little fun. With eight New Hampshire locations (Concord, Manchester, Exeter, Nashua, Keene, Portsmouth, Lebanon and Salem), there's likely to be a Margaritas near your office, it's a great place to escape for a while, whether you're in the mood for Mexican food or one of many specialty margaritas.
Runner-Up (Tie): Strangebrew, Billy's Sports Bar
Best Airline for Business Travel — Southwest Airlines Southwest Airlines began more than 36 years ago as a small Texas airline. Today, Southwest flies nearly 100 million passengers a year to 63 cities across the country. Senior fares, same-day air freight delivery service, ticketless travel and the introduction of "DING!," a direct link to desktops that provides live updates on current airfare deals, all exemplify the airline's commitment to innovations designed to make air travel simpler and more accessible for its customers.
Runner-Up: US Air
Best Architectural Firm — Lavallee/Brensinger Architects The architectural firm Lavallee/Brensinger has 30 years of innovative design experience. With a mission statement that states, "Your mission inspires us. Our creativity and knowledge empower you. Together we achieve excellence," the firm is dedicated to quality and client service. Among its award-winning projects are the Holderness School Library and the Manchester Airport New Terminal Building.
Runner-Up: DeStefano Architects
Best Auto Dealership — Grappone Automotive Group Grappone Automotive Group of Bow is a new and used car dealership featuring Toyota, Mazda, Ford, Honda, Hyundai, Scion and commercial and fleet vehicles. The history of Grappone begins in 1924 when the Grappone family purchased a Gulf service station in Concord and began selling Pontiacs. Now, after over 80 in the business of selling cars, this locally and family-owned business offers a huge wealth of experience and excellent customer service.
Runner-Up (Tie): Autofair, Merchants Automotive Group
Best Auto Fleet Dealership — Grappone Automotive Group Specializing in commercial vehicle and fleet sales for almost four decades, Grappone Automotive Group's Ford commercial trucks and fleet vehicle departments make sure that your vehicle or truck can handle the job. It satisfied customers put all of those years of experience to work for them.
Runner-Up: Merchants Automotive Group
Best Bank for Small Business — Citizens Bank Founded in 1828 as a small community bank called the High Street Bank in Providence, R.I., Citizens Financial Group has $159 billion in assets, making it one of the 10 largest commercial bank holding companies in the United States. With a credo of "The Three C's," (customers, colleagues and community), Citizens is able to maintain the feel of a small bank while providing customers with the resources of a large financial group.
Runner-Up: TD Banknorth
Best Bar to Entertain Clients — TIE — Cotton, C.R. Sparks Cotton Restaurant, in Manchester's historic Millyard, is hip, has great gourmet style food, an impressive bar and extensive martini and wine list. You can dine on innovative American cuisine in an upscale yet comfortable and casual atmosphere, or sit at the long bar and enjoy creative and delicious martinis. Either way, Cotton is sure to impress any client. C.R. Sparks of Bedford is known for creative gourmet food served up in a casual but refined setting. With a dining room, event center and elegant private rooms, C.R. Sparks is a great place to entertain any size group, from just a few clients to a large party. Paired with the great food is a large wine, martini and cocktails list.
Runner-Up: Michael Timothy's Jazz Bar
Best Clothier for Men — George's Apparel This full-service men's clothing store in Manchester has it all, from suits to ties, accessories and outerwear. All the suits and sport coats come with free alterations for the entire life of the garment. If emergencies or unforeseen events crop up, alterations can be done while you wait. No appointments are necessary for the full tailor shop. A knowledgeable staff, professional fittings, a huge inventory and in-house alterations make shopping for a high-quality new suit easy and painless.
Runner-Up (Tie): Macy's, Men's Wearhouse
Best Clothier for Women — Talbots Talbot's has the look and feel of designer clothes while remaining affordable. From blouses and jackets to shoes, purses and belts, Talbot's has everything a businesswoman needs to look professional and stylish. With its sister brand J. Jill, the retailer has a total of 1,364 stores in 47 states serving a diversity of women in the rapidly growing 35-plus population with a large range of sizes and original styles.
Runner-Up: Macy's
Best Commercial Graphics Company — TIE — wedü, Papergraphics wedü, a nationally recognized and award-winning full-service advertising and marketing agency in Manchester, has been providing clients with excellent advertising and marketing, interactive Web design and development, public relations and experiential marketing since its founding in 1998. Whether a client is looking or online or offline marketing initiatives, wedü can supply creative and effective solutions. Founded in 1982, Papergraphics got its start as a print and copy shop, but the company has since evolved into a leader of New Hampshire's graphic arts business for full-service, award-winning offset printing, serving the corporate market. Located in Merrimack, the firm offers digital black-and-white printing, digital color, multi-color or process printing and more, all created with state-of-the-art equipment.
Runner-Up: Griffin York & Krause
Best Commercial Electrical Contractor — Longchamps Electric Inc. Longchamps Electric Inc., now one of the largest electrical contractors in southern New Hampshire and northern Massachusetts, was created over 30 years ago by Robert O. Longchamps, founder, president and master electrician. The Longchamps staff consists of 15 inside employees, 100 electrical technicians, 15 mobile electrical service technicians and 20 low-voltage communication technicians. Some of the company's projects range from grocery stores to hospitals and schools.
Runner-Up: Interstate Electrical
Best Commercial Equipment Rental — Taylor Rental Whether you need tables and chairs for extra seating, projectors and screens for presentations or power tools and large construction equipment for a building site, Taylor Rental can provide the correct supplies for the job. Taylor Rental and the related Grand Rental Station are a franchise division of True Value Company, a $2 billion, member-owned cooperative, one of the largest hardware co-ops in the country.
Runner-Up: United Rental
Best Commercial Event Caterer — White Apron Catering Company The White Apron, located in Dover, offers full-service catering under the direction of Executive Chef Jay Curcio.
Runner-Up: Event Center at C.R. Sparks
Best Commercial Lender — Citizens Bank The relationship managers at Citizens Bank have an average of more than 20 years of banking experience in a broad range of industries. Whether a company is in need of a long-term loan or revolving lines of credit, the managers can help create customized plans. Citizens, which currently has $159 billion in assets, is one of the 10 largest commercial bank holding companies in the United States.
Runner-Up: Merrimack County Savings Bank
Best Commercial Printer — RAM Printing Inc. RAM Printing, a family-owned and operated, full-service offset printing company, has been in business for over 30 years. Located in Hampstead, RAM Printing is a part of RAM Companies, which also includes RAM Mailing Service, Hampstead Print and Copy and Guestmark International, which provides specialized print services and products for the hospitality industry.
Runner-Up (Tie): Printers Square, Cummings Printing
Best Corporate Moving Company — TIE — Able Moving, College Bound Movers Family-owned and -operated since 1974, Able Moving and Storage has been planning and executing moves from the large corporate move to smaller residential move. A team of professional moving consultants and delivery personnel helps plan the move to make sure everything goes as smoothly as possible, from start to finish. For businesses that require storage between moves, Able Moving can provide storage in a fully containerized and climate controlled facility. College Bound Movers was founded 15 years ago, when college-bound 19-year-old Edward Smith started a company founded on the ideals of professionalism and customer service. College Bound, which was started with one rental truck, is now based in Amherst and has a fleet of 15 trucks and employs nearly 100 people, a group of highly trained college students and graduates helping to make all moves, small and large, as stress-free as possible.
Runner-Up: Starving Artists Movers
Best Credit Union — St. Mary's Bank St. Mary's Bank, founded in 1913, has been offering an alternative to traditional banks every since. As a credit union, St. Mary's members own the credit union, meaning decisions are made based on the best interests of the members. From its humble beginnings, the credit union is a full-service financial institution providing a large and diverse population with checking accounts, personal loans, real estate loans, business backing, financial planning and more.
Runner-Up: Granite State Credit Union
Best Dry Cleaner — E&R Cleaners Based in Manchester, E&R Cleaners was established in 1921 as a family-owned and -operated business and remains as such today. The company started as a single location in Manchester and has grown to include four principal business divisions, including retail stores, home and office delivery, uniform rental and sales and The Campus Laundry, which provides laundry and dry cleaning services to students at boarding and preparatory schools, colleges and universities throughout New England.
Runner-Up: Cleary Cleaners
Best Engineering Firm — SFC Engineering Partnership Inc. SFC Engineering Partnership Inc., a multi-disciplined engineering consulting firm based in Manchester, has for over 30 years been providing civil, structural, fire protection engineering and surveying services to private, commercial, industrial and municipal clients. Its staff includes more than 20 professionals — civil, structural and fire protection engineers who are licensed throughout New England. SFC also employs drafters, designers, survey crews, administrative, financial and marketing personnel.
Runner-Up: Hoyle, Tanner & Associates
Best Florist — Jacques Flower Shop Jacques Flower Shop, based in Manchester, also has a retail store and garden center in Goffstown. Jacques provides delivery services to some New Hampshire towns and utilizes FTD for all other areas.
Runner-Up: Chalifour's Flowers
Best General Contractor — North Branch Construction North Branch Construction Inc., established in 1958, has since developed into a full-service general contractor and construction manger serving New Hampshire and Northern Massachusetts. An in-house workforce made up of project managers, supervisors, foremen, carpenters and laborers has expertise in a wide range of fields, from commercial to high-end residential and historic renovation, giving North Branch the ability to handle every kind of building project.
Runner-Up: Cobb Hill Construction
Best Health Care Facility — Catholic Medical Center The mission of Catholic Medical Center, a 330-bed full service health-care facility located on the Manchester's West Side, is to provide health, healing and hope to all. CMC offers innovative, quality health care based on a dedication for compassionate care combining state-of-the-art technology with the medical expertise of staff and their professional support. CMC's New England Heart Institute, a comprehensive cardiac care center, gives patients access to the region's most highly trained, board-certified cardiologists and cardiac surgeons.
Runner-Up: Elliot Hospital
Best Health Club — Planet Fitness The Planet Fitness gym franchise, owned by Mike Grondahl and based in Dover, began 10 years ago and has since spread to 30 states with hundreds of locations. Its promise to maintain a "judgment-free zone" creates a non-intimidating atmosphere for those looking for a more relaxed gym that still provides excellent equipment and fitness training. The no frills model means there are no large exercise classes, pools or saunas, allowing for low membership fees.
Runner-Up: Gold's Gym
Best Health Insurance Provider — Anthem Blue Cross and Blue Shield Anthem Blue Cross and Blue Shield, New Hampshire's largest health benefits company, is an operating subsidiary of WellPoint Inc., whose mission it is to improve the lives of the people it serves and the health of its communities. The company delivers a number of leading health benefit solutions through a broad portfolio of integrated health care plans and related services, along with a wide range of specialty products, including pharmacy benefit management, dental, vision and flexible spending accounts.
Runner-Up: Harvard Pilgrim Health Care
Best Janitorial Service — A.M.-P.M. Janitorial Sales and Services Inc. A.M.-P.M. Janitorial in Hampton Falls, a family-run and-owned business founded over 30 years ago, is dedicated to its customers and its commitment to quality. AM-PM's full-service commercial cleaning and maintenance includes everything from carpet and upholstery cleaning and repairs to floor polishing and the ability to handle emergencies 24 hours a day. Its motto: "Big enough to serve you, small enough to care."
Runner-Up: New England Office Cleaning
Best Insurance Broker — Davis & Towle Group Concord-based Davis & Towle Group has an experienced insurance team that can analyze the various options available and suggest the best alternatives for clients needs. Based in Concord with locations across southern and central New Hampshire, independent insurance agency Davis & Towle offers comprehensive insurance services including personal, commercial and life coverage as well as group health insurance.
Runner-Up: The Rowley Agency
Best Law Firm — TIE — Devine Millimet & Branch P.A., Sheehan Phinney Bass + Green The attorneys at Devine Millimet understand just how important it is to choose a lawyer with which you can work closely and one who is an expert in law in your particular area of concern. With practice groups spanning specialties ranging from attorney conduct and liability to worker compensation, Devine Millimet has locations in Concord, Manchester, North Hampton and Andover, Mass. Shaheen Phinney Bass + Green, founded in 1937, has undertaken some of New Hampshire's most complex and well-known business matters, including in the areas of labor, taxation and zoning as well as affordable housing and immigration. The firm has strategically added top legal talent from across the United States to serve clients throughout New England from its four regional offices in Manchester, Concord, Lebanon and Boston.
Runner-Up: McLane, Graf, Raulerson and Middleton
Best Lunch — TIE — Milton's Millyard Grill, La Carreta Restorante Mexicano Located in Manchester's historic Millyard, the Millyard Grill serves lunch specials, salads and homemade cookies made daily on the premises. Freshly baked breads, such as honey wheat, oatmeal and rye, and soups made from scratch, including vegetable and turkey rice, are a specialty of this cafeteria-style lunch spot. An extensive catering menu makes the Millyard Grill a great choice for your next function. La Carreta serves up Mexican cuisine prepared fresh daily and with sauces made from scratch using its own special recipes. Specialties of the house include chicken enchiladas, chili rellenos and sopapillas. La Carreta has four locations — Manchester, Nashua, Derry and Keene.
Runner-Up: Panera Bread
Best Luxury Auto Dealership — Tulley BMW Tulley BMW offers a full line of BMW automobiles, including the 2008 BMW 3-Series 328i convertible and the 2008 BMW 7-Series 760Li four-door sedan. But Tulley's service goes beyond the showroom floor to include what's under the hood – its service department will get you back on the road, offering world-class service at a small-garage price. While you're waiting for your car, enjoy a cup of fresh coffee or get some work done in the wireless Internet café.
Runner-Up: Holloway Mercedes-Benz, Greenland/Holloway Motor Cars, Manchester
Best Networking Event — Tri-City Expo Each year, over 2,000 businesspeople visit the more than 225 exhibitors at the Tri-City Business-to-Business Exposition, a joint effort of the Greater Concord, Nashua and Manchester Chambers of Commerce. Visitors take the time to meet potential business partners, educate themselves about the latest marketing practices and reconnect with clients past and present.
Runner-Up: Manchester Young Professionals Network
Best MBA Program — Southern New Hampshire University Southern New Hampshire University's nationally accredited Global MBA, the only one of its kind in northern New England, incorporates a global focus to enhance the broad business management knowledge inherent in an MBA program. SNHU's faculty offers a wealth of international corporate and teaching experience to add a unique perspective to course material. Students come from all over the world, adding an additional global component to the classroom experience.
Runner-Up: University of New Hampshire
Best Sporting Event to Take Clients To — New Hampshire Fisher Cats Since their founding in 2003, fans have been flocking to see the exciting baseball played by the New Hampshire Fisher Cats, the Granite State's Double-A Eastern League affiliate of the Toronto Blue Jays. To celebrate their fifth anniversary, the Fisher Cats will host the July 16 Easter League all-star-game at Merchantsauto.com Stadium, a riverfront ballpark that seats 6,500 fans.
Runner-Up: Manchester Monarchs Game
Best Place to Buy Office Furniture — Staples Staples Inc. invented the office superstore, and it's a lot more than just paper clips and pens, as its substantial office furniture inventory attests. The company offers all kinds of furniture, ranging from armoires, bookcases and chairs and tables to cubicle systems and accessories, file and storage cabinets and a wide range of lamps and lighting.
Runner-Up: W.B. Mason
Best Office Supply Retailer — Staples New England-based Staples Inc. opened its first office supply superstore in 1986 and today is the world's largest office products company with more than 2,000 stores. Staples offers a wide range of office products, including supplies, technology, furniture and business services. With 2006 sales of $18.2 billion, Staples serves consumers and businesses ranging from home-based businesses to Fortune 500 companies in 22 countries throughout North and South America, Europe and Asia.
Runner-Up: Surplus Office Equipment
Best Online Degree Program — Southern New Hampshire University Southern New Hampshire University offers more than 50 online programs leading to undergraduate and graduate degrees and certificates. SNHU's educational philosophy challenges students' intellectual potential and prepares them for professional lives in an ever-changing and increasingly interconnected world. It provides a supportive and close-knit learning community where students can develop the knowledge to understand a complex world, the skills to act effectively within that world and the wisdom to make good choices.
Runner-Up: Granite State College
Best Payroll Service — ADP Small Business Services ADP, with nearly $8 billion in revenues and approximately 585,000 clients, is one of the world's largest providers of business outsourcing solutions. Leveraging more than 55 years of experience, ADP offers a wide range of services, including HR, payroll, tax and benefits administration solutions. ADP's easy-to-use solutions for employers provide superior value to companies of all types and sizes.
Runner-Up: Paychex
Best Place to Pick Up Coffee — Dunkin' Donuts Founded in 1950, Dunkin' Donuts opened its first shop in Quincy, Mass. It licensed the first of many franchises in 1955. Today Dunkin' Donuts is the world's largest coffee and baked goods chain, with sales of some $5 billion and serving 3 million customers a day. The company sells 52 varieties of donuts and more than a dozen coffee beverages as well as an array of bagels, breakfast sandwiches and other baked goods.
Runner-Up: Starbucks Coffee Company
Best Private Golf Course — Manchester Country Club Originally designed by Donald Ross and built in 1923, the 18-hole course at Manchester Country Club plays an average of 6,348 yards with wide, tree-lined fairways and small, undulating greens. Water hazards come into play on seven holes. MCC's course hosted the 2002 New England Amateur Championship, 2004 New Hampshire Women's Golf Association Amateur Championship, and 2005 New Hampshire Women's Golf Association Amateur Championship. It has been rated by Golf Digest as one of the best courses in the state.
Runner-Up: Sky Meadow Country Club
Best Promotional Products Supplier — Off The Wall When you're looking for that special promotion product, the place to go is Off The Wall Ideas, which provides a vast selection, from simple tchotchkes to exquisite corporate gifts, helping to ensure the success of your company's next event. More than just offering giveaways, Off The Wall specifically tailors products to the client, the event and, most importantly, the audience. T Off The Wall has clients throughout New Hampshire and beyond, including NBC's "Today Show."
Runner-Up: Logo Loc
Best Place for a Quick Lunch — Panera Bread Founded in 1981, Panera Bread is based in Richmond Heights, Mo. With the single goal of making great bread broadly available to consumers across America, trained bakers at every location handcraft and bake each loaf from scratch each day. Panera revenues for fiscal year 2007 were over $1 billion, and currently operates 1,168 bakery-cafes in 40 states.
Runner-Up: In A Pinch Café & Bakery (Concord)
Best Place for a Business Breakfast — Bedford Village Inn Bedford Village Inn was once the site of a farm built in 1810. Dining at Bedford Village Inn is known for its use of fresh seasonal ingredients. Breakfast specialties include Crunchy Oat Crusted Brioche French Toast with Peterson's Farm Maple Syrup and Honey Butter and Classic Eggs Benedict with Herb Roasted Red Bliss Potatoes and Chive Hollandaise. Bedford Village Inn has garnered numerous awards, including the AAA Four Diamond award and Award of Excellence from Wine Spectator for its extensive wine cellar.
Runner-Up (Tie): Red Arrow Diner, Airport Diner
Best Business Dinner — C.R. Sparks C.R. Sparks features a two-tiered mezzanine dining room appointed in warm woods, Italian slate and brick. An exhibition kitchen with a wood-fired oven serves up traditional favorites with a creative twist such as steak, fish, chicken as well as rotisserie-cooked meats, flame-grilled specialties and brick-oven pizzas. A winner of the Wine Spectator Award of Excellence, the wine list at C.R. Sparks features American vintages as well as those from around the world.
Runner-Up: Hanover Street Chophouse
Best Business Lunch — Cotton Cotton, in the heart of Manchester's Millyard, features the cooking of chef and owner Jeffrey Paige, whose seasonal menus offer primarily American comfort food. Robust plates are created with distinctive flavors and presented in a straightforward manner, allowing the quality of the ingredients to speak for themselves. Cotton has an extensive and always expanding list of carefully selected domestic and imported wines, with over 40 by the glass, and an award-winning seasonal martini list.
Runner-Up: Fratello's Ristorante Italiano (Manchester, Laconia and Lincoln)
Best Styling Salon for Women — Not So Plain Jane's Not So Plain Jane's, located in a beautifully renovated historical mill in Manchester, offers state-of-the-art services for hair, skin, nails and body. All haircuts begin with a personal consultation, and a cleansing massage and completed with a blow dry style. All barber cuts include a shampoo, neck shave with razor, and style. Other treatments include customized massages, facials, manicures and pedicures.
Runner-Up: Hair Excitement
Best Travel Agency for Business — AAA Travel Founded in 1902, AAA today has more than 50 million members, and its AAA Travel Services subsidiary provides complete travel solutions not only for members of the organization but the general traveling public as well. The AAA network of over 1,000 offices – including six in New Hampshire — and aaa.com offer a full range of travel services, including sale of worldwide air, cruise and rail tickets, escorted tours and independent package tour arrangements; hotel and car rental reservations and a variety of travel insurance programs.
Runner-Up: Milne Travel American Express
Best Venue for Events — Radisson Hotel Manchester, Center of New Hampshire With its unbeatable downtown Manchester location and over 65,000 square feet of flexible, well-appointed meeting, banquet and exhibit space, the Radisson Hotel Manchester is NHBR readers' ideal spot for conferences and meetings. And with the expertise of the hotel's staff, meetings there are sure to come off without a hitch.
Runner-Up: The Event Center at C.R. Sparks
Best Video Production Company — Edify Direct Edify Direct provides innovative, high-impact multimedia solutions that incorporate a wide variety of media applications. Its services range from multimedia production that incorporates a wide range of technical innovations, interactive media — such as online production and CD-ROM/DVD authoring – to traditional video services and graphic design.
Runner-Up: The Troupe
Best Waste Removal Company — Waste Management Waste Management provides solid waste collection services to millions of customers across North America, ranging in size from the single residential subscription to large national customers requiring waste programs to serve hundreds of locations. Besides collection, its subsidiaries provide transfer, recycling and resource recovery and disposal services. It also is a leading developer, operator and owner of waste-to-energy and landfill gas-to-energy facilities in the United States.
Runner-Up: Pinard Waste Systems
Best Web Site Developer — SilverTech Inc. SilverTech Inc. is a dynamic interactive agency that has a diverse range of capabilities, including consulting services, interactive solutions and digital marketing. The firm specializes in advanced customizable solutions for all online marketing and technology needs, with a corporate mission to provide unique, tailored solutions that can serve as the cornerstone to a client's growth objectives.
Runner-Up: Amplify Studios
Best Telecommunications Provider — Comcast Business Class With 24.1 million cable customers, 13.2 million high-speech Internet customers and 4.6 million voice customers, Comcast Corp. is the nation's leading provider of cable, entertainment and communications products and services. Through its newly announced Comcast Business Services, the company provides phone, Internet and video services to business customers.
Runner-Up: Verizon
Best Staffing Service — TIE — Manpower, Robert Half Finance & Accounting, Staffing Sense With a network of 4,500 offices in 78 countries, Manpower offers a range of services for the entire employment and business cycle, including permanent, temporary and contract recruitment, outplacement, outsourcing and consulting. Robert Half Finance & Accounting, a division of Robert Half International Inc., is the world's first and largest specialized financial recruiting service, helping clients locate highly skilled financial professionals. New Hampshire-based Staffing Sense provides a full range of staffing services to the Seacoast region and surrounding areas, specializing in temporary, temporary-to-hire and direct-hire positions in office administration, accounting, bookkeeping, clerical, customer service, medical billing and sales, among others. Best Mechanical Contractor — Jim Trombly Plumbing and Heating Serving Manchester and all of southern New Hampshire for over 30 years, Jim Trombly Plumbing and Heating can solve all related needs. The firm's areas of concentration and specialty include plumbing, heating, drain cleaning, design/build projects, bath and kitchen remodeling, water heater sales, installation, and repairs, and an affiliate company, Granite State Water Systems, for water purification.
Runner-Up: MSI Mechanical Systems Inc.
Best Executive Office Suites — Eastpoint Executive Office Center With locations in Bedford and Nashua, Eastpoint Executive Office Center offers elegant Class A executive office space — both single and multi-office – that includes all necessary business amenities, from an executive conference room to state-of-the-art presentation equipment. A dedicated staff is trained in an array of administrative services and day-to-day office duties that free up businesspeople to focus on enhancing their business.
Runner-Up: International Office Suites
Best Executive Search Firm — Robert Half Executive Search Robert Half Executive Search helps companies build superior leadership teams by partnering with them to recruit their most valuable asset: their executive talent. The firm helps companies build superior leadership teams with its focus on the recruitment of executive-level financial, information technology, legal and human resources professionals across all industry sectors. Best Commercial Real Estate Broker — Stebbins Commercial Properties Stebbins Commercial Properties has a staff of qualified brokers and a marketing coordinator who are equipped with the technical capability required to maximize clients' opportunities in the marketplace. The firm has a focused approach to specific commercial, industrial and investment real estate requirements that has resulted in a track record of successful transactions with many of the region's leading companies, institutions, organizations and property owners.
Runner-Up: Norton Asset Management
Best Commercial Real Estate Developer — Brady Sullivan Properties Specializing in the development, construction and conversion of condominium complexes throughout New England and in Naples, Fla., Brady Sullivan Properties offers holds a sizable share of both the commercial and residential real estate markets in southern New Hampshire and manages a diverse portfolio of over 3 million square feet of mill, office and industrial space.
Runner-Up: Stabile Construction Services
EDITOR'S PICKS
Best New New-Car Dealer
Quirk Automotive Group It just might be that the "new car smell" seems fresher when it comes from a new dealership, and Quirk Automotive Group is the new kid in town. At Quirk Automotive Group in Manchester, you might even find yourself behind the wheel of a new Hummer – just know you can kiss your "my road hasn't been plowed and I can't get to work" excuse good-bye.
Best Chamber Music
Tim Sink and the Jazz Dogs Tim Sink proves that even chamber of commerce executives aren't all business. By day, Tim serves as the president of the Greater Concord Chamber of Commerce. By night, however, he can be found playing a mean sax at gigs across the state with his jazz group.
Best Team-Building Activity
Alpine Adventures, Lincoln SkyVenture New Hampshire, Nashua Nothing will cure the office blues faster than a trip down 2,000 feet of zip-line. Alpine Adventures Zip-Line Treetop Adventures in Lincoln sends you soaring in the pines and hemlocks. For indoor team-building, get into silver jumpsuits and goggles together and fly inside the vertical wind tunnel at SkyVenture in Nashua.
Best in Show
Image 4 Image is everything, especially when your business is on display. Image 4 of Manchester has earned a reputation in visual marketing by designing trade show exhibits and custom banners that create a lasting impression.
Award-Winning Awards
Engraving Awards & Gifts, Laconia Crown Trophy, Hooksett Tired of looking at the "Most Improved" trophy from Little League in your co-worker's office? Engraving Awards & Gifts of Laconia and Crown Trophy of Hooksett both offer a wide variety of plaques and trophies along with customizing services. Everyone is good at something.
Best Small Venue for a Business Function
100 Club The One Hundred Club has a sophisticated atmosphere with a room-length glass wall that overlooks the Portsmouth harbor and cityscape. For a novel meeting location, make a reservation to dine in the wine vault or outdoor terrace.
Best Networking on Skis
NHLRA Spring Ski Jamboree at Loon Mountain The New Hampshire Lodging & Restaurant Association hosts a number of special events throughout the year, but one favorite is the Spring Ski Jamboree, which is scheduled this year for March 18. The Jamboree is a chance to meet-and-greet with the best in the hospitality industry and enjoy the last snow of the season.
Coolest Fund-Raiser
The Penguin Plunge for N.H. Special Olympics With water temperatures at 42 degrees and air temperatures at 41 degrees, even the penguins would think twice before getting into the water. But in 2008, 807 people didn't hesitate to plunge into the icy, February waters of Hampton Beach. The Penguin Plunge is SONH's largest (and coldest) annual fund-raiser and benefits Special Olympics athletes statewide.
Most Heartfelt Event
Go Red for Women, American Heart Association in N.H. February is American Heart Month, but concerns for heart disease in women are year-round. In a continuing effort to educate Granite State women about one of the greatest risks to their health, Catholic Medical Center and the American Heart Association have dedicated their time and efforts into the annual New Hampshire Goes Red for Women campaign. Go Red for Women hosted its second annual luncheon in November 2007, when supporters recognized men and women leading the way in heart disease awareness.
Most Impressive Commercial Printer
Cummings Printing Cummings Printing of Hooksett is the Miss Congeniality of full-service publication printing – friendly, punctual, professional and respected – but the people at Cummings doesn't rest on its looks alone. Their ability to be on the cutting edge of their industry means they can keep up with your changing business.
Best Small Agency with Big Ideas
Eastlantic Advertising Big ideas can come in small packages. With experience in both tried-and-true media and innovative advertising channels, Eastlantic Advertising in Manchester is dedicated to quality, creativity and integrity for their clients.
Best Big Agency with Big Ideas
Griffin York & Krause, Manchester Church & Main, Keene Glen Group, North Conway New Hampshire doesn't lack for big ideas. This category was too close to call – so we didn't. Griffin York & Krause of Manchester, Church & Main of Keene, and Glen Group of North Conway all boast impressive, loyal clientele and won us over with interesting and creative Web sites. These three advertising and communications firms always manage to stay one step ahead of ever-changing business trends.
Best Antidote to a Blank Wall
Art 3 Gallery, Manchester McGowan Fine Art, Concord Thinking of hanging that Dilbert poster in your conference room? Art 3 Gallery in Manchester is a retail fine art and framing gallery, offering a selection of local and international artwork. McGowan Fine Art Gallery of Concord specializes in emerging and established New England artists. Both of these leading galleries offer corporate consultation as well as artwork installation.
Tastiest Fund-Raising Event
Winter Wine Spectacular With hundreds of distinctive wines from around the world, and hundreds of wine-lovers eager to taste them – along with fabulous food from local restaurants – Easter Seals N.H.'s annual Winter Wine Spectacular has become what is by far the most popular wine event in the state and the biggest event of its kind north of Boston.