Wood pellet furnace rebates offered to N.H. businesses
Up to $50,000 for eligible equipment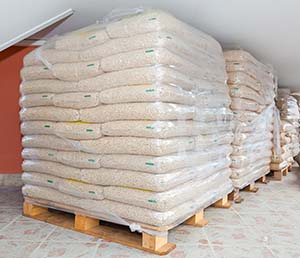 Businesses and institutions are now eligible for up to a $50,000 rebate if they install a wood pellet furnace, the Public Utilities Commission announced Thursday. But they have to act quickly to receive one – there's only $629,000 available under the program, and the rebates will be handed out on a first-come, first-served basis until June 30.
Indeed, the already existing residential rebate program, which maxes out at $6,000 a unit, had $575,000 in the pot, and is already more than half spent.
"The installers don't expect this to last long," said Jack Ruderman, director of the Sustainable Energy Division at the PUC.
Money for the programs both come from the state's Renewable Energy Fund, which receives its funding from utilities that don't meet state targets for renewable energy sources.
The rebate program will chip in 30 percent, or up to $50,000, for the purchase and installation of the equipment. It must be a bulk-fed furnaces, with 2.5 million BTU or less. It could also apply to 30 percent of the cost of thermal storage tanks, up to $5,000.
Eligible for the program are businesses, multi-family buildings, nonprofit organizations, municipalities, schools and colleges.
Applicants would have to provide a benchmark on the energy performance of the building that will house the system, so that the PUC can address opportunities for insulation, air sealing and other energy conservation measures.
For more information, call 603-271-6011, or e-mail Barbara.bernstein@puc.nh.gov.