Three Latino coffee entrepreneurs are brewing stories in NH's java scene
Their mission is to teach people how to tell the difference between an average cup of joe and a superb one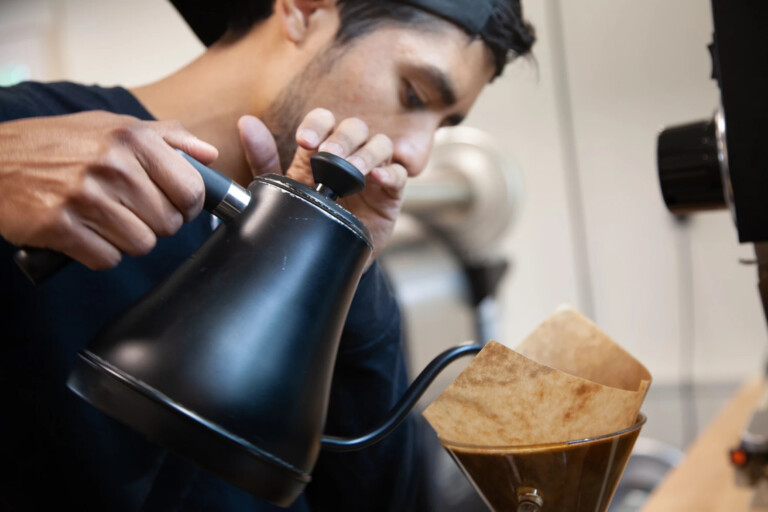 In a small shed in the town of Danville, Jonathan Caicedo carefully separates different varieties of beans into buckets and pours them into a small roasting machine he bought a year ago.
As he roasts, the coffee aroma permeates his clothes.
"[It's] like a sweet, smoky smell," he says. "My neighbors text me, 'Oh, I can smell it from here.'"
Caicedo is among a handful of Latino coffee entrepreneurs in New Hampshire who are on a mission to teach people how to tell the difference between an average cup of joe and a superb one.
Caicedo and the other two Latino roasters NHPR spoke with sell specialty coffee, a term for coffee that ranks 80 or more on the Specialty Coffee Association's quality scale. They say big chain coffee shops rarely reach that ranking. The roasters source their beans from small farmers in Latin America and sell them online, at local shops or farmers' markets, or in their own coffee shops.
Caicedo started his small business last year. He says roasting is a labor of love for him, a way to help people back in his village, El Carmen de Atrato, in a remote part of Colombia. As a teenager, he says he witnessed the devastation caused by paramilitary groups there.
They destroyed coffee crops and killed farmers, he says. "After that, the town changed. The violence was higher; they never left."
Caicedo joined the army. He left his town and eventually his country but promised to return and help. He says starting his small coffee business, Nativo Colombia, is a way of doing that.
"I am not trying to be another coffee guy who takes a picture with a farmer just to sell coffee," he says.
The coffee experience
More than an hour from Danville, in Bristol, Francisco Galeano and his family are also building a coffee dream. He roasts his Odysea Coffee in his in-laws' garage in a much larger operation than Caicedo's. Galeano says his family in Honduras owns several specialty coffee shops, and they've been roasting their own for 35 years.
Now, with his American wife, Gabrielle Duba, and their 2-year-old daughter, Galeano carries on the tradition.
The couple met in Honduras and moved to Bristol during the pandemic to be closer to her family. They expect to open their first coffee shop in Bristol in the late summer, and one of their coffee farmers plans to fly up for the opening.
Galeano says both sets of parents provided financial support. "The idea was to include both of our families to create something that lasts."
He says the secret to great coffee is to never roast to the point where it's dark; that way, you can taste the different notes: grapefruit, peach, chocolate, berries, and more.
"People ask me, how that can be possible? What did you put in your coffee?" he says. "But I explain coffee has flavors depending on the region and the micro-climate where it comes from."
And if you want to taste the real flavor of your coffee, he recommends drinking it cold — but not iced.
Galeano and Duba are so invested in bringing the Honduran coffee experience to New Hampshire that they also organize annual farm trips for customers. They visit Capucas Copán, Marcala, Montesinos and Santa Barbara, the regions where their coffee comes from.
"Being able to help educate people around why paying a little bit extra sometimes makes a huge difference in somebody else's life halfway across the world," Duba says.
The couple says the extra money they spend on their beans helps farmers struggling with the impacts of climate change. Galeano notes that coffee plants need cold nights to thrive, but those are becoming increasingly rare in Honduras. He says that pushes farmers to plant their coffee in higher and higher altitudes, making it more difficult to bring the coffee down from the mountains.
All the roasters NHPR spoke with say they are able to pay the farmers they work with more because they deal directly with them, cutting out middlemen.
When the Galeanos moved to Bristol in 2020, they planned to stay just one year, but they found a community to grow as a family and as entrepreneurs. Still, their dream is to retire to a coffee farm in Honduras.
'A revelation'
Another coffee entrepreneur, Max Pruna of Colombia, has already opened his coffee bar and roastery on the Seacoast. He's the owner of La Mulita, a haven for coffee lovers in Rye. It's named after the mule, the preferred animal for small farmers in Colombia to transport burlaps bags full of coffee from the mountains to the mills.
Born in Medellin, Pruna arrived in New Hampshire in 1999 with his wife. They came to do postgraduate work but fell in love with the state, so they decided to stay.
Pruna says he never thought about becoming a coffee entrepreneur until he attended a coffee tasting in Boston with George Hawl, a pioneer of the specialty-coffee movement in the U.S. in the early 1970s.
He says he had "a revelation."
"Colombia has a coffee culture that you won't see anywhere else," he says. "People will offer you coffee any time of the day, and we have one of the most advanced industries in the world."
He imports his coffee from Antioquia, Wila, Nariño, Caldas and Quindio, the five main regions that produce high-quality Colombian coffee. But he says he dreams of bringing beans from the Sierra Nevada, an indigenous area with limited contact with the rest of the world.
Pruna opened his coffee bar during the pandemic but had to close it for a few months and start selling coffee online.
"A lot of people got into the coffee during the pandemic, so I traveled an hour to deliver one bag of coffee," he says. "It was not profitable, but I wanted people to put my name out there."
When Pruna offers me a cup of coffee, I tell him the taste reminds me of my mom in Ecuador. He and the other Latino roasters say coffee evokes memories of their mothers too. It's unsurprising since, in Latin America, people drink coffee as kids. Pruna says he had his first cup, with milk and lots of sugar, when he was six.
"It tasted like heaven," he says. "I guess at that age, whatever your mom is doing with love tastes like the greatest of all."
These coffee roasters say that when it comes to the perfect cup, it's not important whether you drink your coffee black or with milk. What matters more is where the coffee comes from and the stories it tells.
This article is being shared by partners in The Granite State News Collaborative. For more information, visit collaborativenh.org.