The Circuit Court after 9 years
Born in a budget crisis, innovation and cost savings have resulted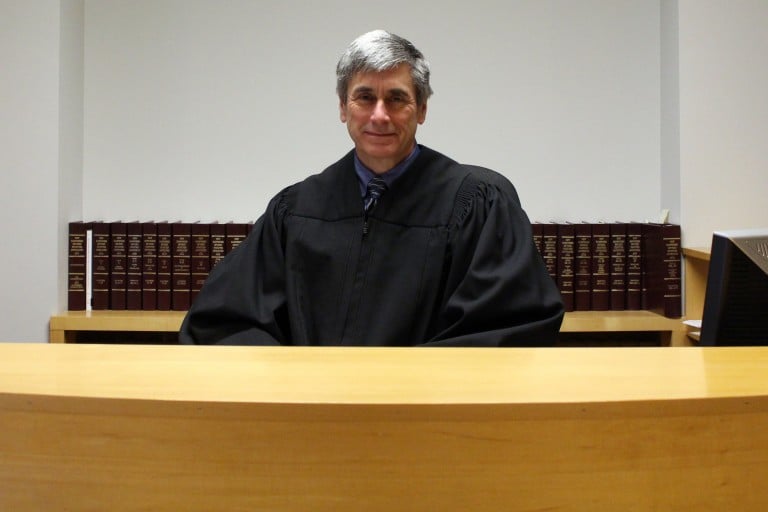 In 2010, the state was financially stressed and the governor prevailed on then-Chief Justice John Broderick to seek savings in the judicial branch. Justice Broderick created an Innovation Commission, from which the Circuit Court was born.
The concept was simple: combine three limited jurisdiction courts (District, Probate and Family), collapse management structures, and certify judges to hear all cases. House Bill 609 was introduced with bipartisan support in January 2011 and, with lightning speed, signed into law. The Circuit Court began operations July 1, 2011, and has since managed over 1.2 million new cases.
Background
When most New Hampshire citizens have a court-related matter, they come to a Circuit Court. In a typical month, the court receives more than 10,000 new cases as well as 1,000 reopened cases that involve citizens' most basic needs and rights: criminal, landlord/tenant, domestic violence, divorce/parenting, guardianship, abuse/neglect of children, delinquency, termination of parental rights, adoption, involuntary admissions to the State Hospital, and estates and trusts.
As many cases include requests for emergency relief, Circuit Court judges must be on call 24/7. Each month, on average, we manage in excess of 800 requests for emergency relief in parenting/divorce, domestic violence and involuntary admission cases.
Implementing HB 609
During the drafting of HB 609, the administrative judges asked the Legislature for 10 years to allow management to shrink by attrition. We were given three months. In March 2011, 118 clerks and deputy clerks were told they could apply for any of 52 new positions that would be posted, including 18 new clerk positions; anyone who didn't get a job would likely be laid off. In a few painful short weeks, we went from a structure of 52 clerks down to 18 who manage all Circuit Court divisions in 35 courthouses around the state.
The immediate savings in management payroll was nearly $2.1 million the first year and, unadjusted for increased salaries and benefits, is nearly $19 million over the first nine years.
We started fiscal year 2012 with 40 full-time judicial officers and 29 part-time judges. Currently, with retirements and unfilled vacancies, we have 34 full-time judges, two marital masters and eight part-time judges. With added flexibility in scheduling, the Circuit Court has managed with an average of 9 full-time vacancies, saving full time salary and benefits of $22,775,696.
In January 2012, we opened an Information Center to centralize incoming phone calls for all Circuit Court locations. In September 2013, the Superior Court contributed staff and we absorbed their calls.
Since then, the Information Center has answered over 3.7 million calls, freeing over 188,000 hours for local staff to focus on other duties and saving over $1 million in payroll costs.
In another major innovation, the Circuit Court pioneered e-filing in New Hampshire, starting with small claims cases in 2014. Since the vast majority of parties who appear in the Circuit Court do not have lawyers, we designed our e-filing system to meet the needs of self-represented litigants, and have received national recognition for this initiative.
We have processed more than 100,000 electronically filed cases and have eliminated more than 17 FTE positions, saving the state an additional $3.23 million in salary and benefits to date.
To reduce the high cost of benefits, there was pressure to convert positions from full-time to part-time. The Circuit Court went from fewer than 10 to more than 80 part-time positions. An analysis done in 2014, when the part-time count was at 54, demonstrated annual benefit savings of $1,25 million. Unfortunately, when the economy rebounded it became difficult to recruit and retain part-time employees.
Another early innovation was a second shift of case processing. While this proved to be too inefficient to manage, it led to a centralized records processing department that runs name checks through non-confidential court system records for a modest fee and provides results in one business day. From January 2015 to June 2020, this small department researched nearly 3 million names and returned more than $20.9 million to the state's general fund.
Efficiencies created by the Circuit Court have saved taxpayers more than $55 million over nine years and returned nearly $21 million in revenue by reorganizing the way we do business.
Change is painful. It takes hard work and creativity. It will never be perfect. However, managed well, change can birth value-adding innovation, improved service and cost savings. The Circuit Court is a model for others looking to innovate and streamline as our state once again struggles with a budget crisis.
Judge David King is an administrative judge of the New Hampshire Circuit Court.