Thanks to an old friend
NHBR says goodbye to longtime editor, plus summer entertainment for visitors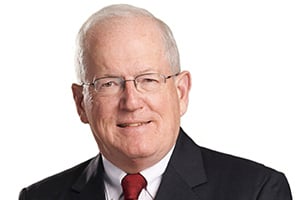 Jeff Feingold has been the editor of New Hampshire Business Review for most of the time I have been writing for it, if not all. This month, he retires, and already, Mike Cote has taken the reins of this publication.
Jeff's retirement must not go without notice in this column, however, since he has been responsible for improving its content continuously. An editor, after all, is like an architect. You tell an architect what you want a building or renovation to look like, and the architect tells you what you meant. A columnist submits a column, supposing it to be a gem, and the editor cuts and sets the stone, usually turning it into what the writer meant!
Coming to New Hampshire from New Jersey (he actually is a Brooklyn native), to NHBR from assignments with major publications, Jeff has helped to build and shape this publication and its credibility. In doing so, he has resisted identifying it with what people assume are positions and philosophies business people hold, and in fact has stuck to facts and accurate reporting on subjects of interest and relevant to business, and reporting on New Hampshire business trends and accomplishments.
It may have been culture shock to a Brooklyn native who came here from the Garden State, to end up living in rural New London, but Jeff and his family became important parts of that wonderful town, where they resided for decades.
Jeff also became an integral part of the state, getting a master's degree and then teaching at New England College and Granite State College, serving on the boards of CATCH and the NH Women's Foundation, and being honored for his contributions by many organizations.
Professionally, Jeff Feingold has been recognized repeatedly by his peers as a great writer and editor, earning the NH Press Association's Writer of the Year and many other awards.
This past May, Jeff Feingold became "Dr. Jeff Feingold," when Granite State College (now the UNH School of Professional Studies) honored him with an honorary degree and selected him as its commencement speaker. In his speech, Dr. Feingold stressed the importance of education and criticized the trend, especially in some political quarters, of de-emphasizing or criticizing public education and said, in so many words, that "those who try to marginalize education — especially public education — are wrong."
It is straightforward language like that, which are the measure of this principled journalist who has served New Hampshire so well. His training, at Hamilton College and then working for national publications, prepared him to be a major figure in this state, with NH Business Review now being one of the major statewide media sources still holding us together. Added to that have been the "Business Minute" on NHPR, and weekly podcasts, spreading the word through more modern media tools.
Jeff Feingold is a good family man, proud of his family and idolizing his grandchild.
Retirement will enable him to spend more time with them, which I am sure he looks forward to with glee.
Everyone should join in thanking Jeff Feingold for a job well done. Thanks, my friend and editor, for improving my stuff, and our state.
As the summer season comes to a soggy end, it is important to note some of the wonderful resources that exist to entertain visitors and residents alike as they have enjoyed vacations or other time off in our state and region. Looking at the world through the eyes of children experiencing these places for the first time demonstrates the opportunities available.
Recently, one of our sons and his wife and young child took two weeks and had daily excursions. Among the fun places to discover were Canobie Lake Park, Hampton Beach, New England Acquarium, Montshire Museum, Boston Children's Museum, Manchester's Livingston Park pool and urban hiking, and state park beaches.
At the same time, visitors from out of state, when asking what to do, have been pleased with the delightful cultural opportunities to visit Canterbury Shaker Village, a true gem that gets better every time you visit, the Currier Museum and its two Frank Lloyd Wright Houses which can be toured in Manchester, summer theater at the Barn Playhouse in New London or many other summer theaters across the state, the Palace and Rex Theaters in Manchester, and Music Hall in Portsmouth.
For the hearty, hiking in the White Mountains, visits to Franconia Notch, riding ski lifts at Sunapee, Cannon or Loon Mountains, or visits to the fascinating Squam Lake Science Center, Odiorne State Park and its Science Center, or hidden small gems like the Philbrick-Cricenti Bog in New London, have a lot to offer visitors interested in our natural beauty. Traditional favorites such as the Mount Washington boat tour of our largest lake, or the tour and dinner boats on Lake Sunapee, never fail to impress visitors with the natural beauty of our state.
While summer may be waning, most of these attractions are available through midfall and some all year around, and if you, as many, have taken them for granted, it is time to get reacquainted.
Brad Cook is a Manchester attorney. The views expressed in this column are his own. He can be reached at bradfordcook01@gmail.com.