AP course offerings, participation linked to district's fiscal capacity, demographics
Study finds students in property-poor districts have far limited access to courses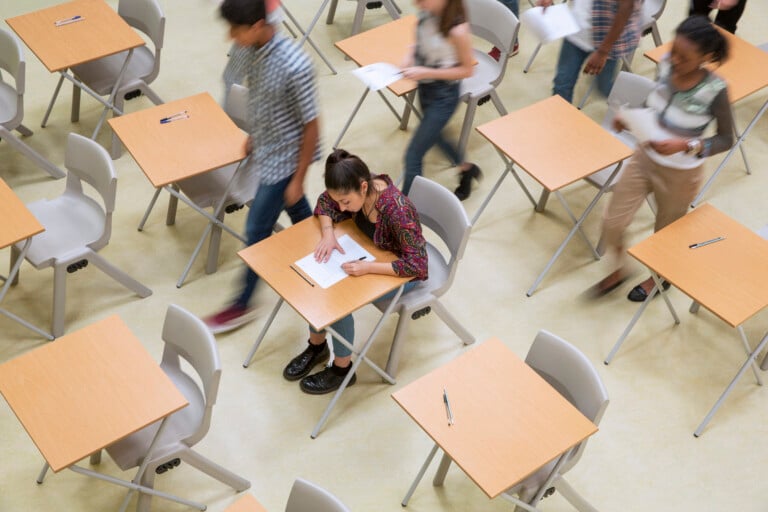 Advanced Placement courses and exams provide high school students seeking to pursue their education at college or university with an opportunity to shorten their odds on gaining admission while earning credit toward graduation.
But, according to a report from the NH School Funding Fairness Project, access to AP courses, along with levels of participation and performance, varies according to the size, demographic and fiscal capacity of high schools around the state.
The AP program is administered by the College Board, which authorizes the courses offered at each school as well as recommends the syllabuses and materials suitable for each course. Altogether, the program offers courses and exams in 38 subjects. The College Board – which also administers the Scholastic Aptitude Test – sets and grades AP exams, which are held in May.
Exams are graded on an ascending scale of 1 to 5. A 1 is "no recommendation"; 2 is "possibly qualified"; 3 is "qualified"; 4 is "well qualified"; and 5 is "extremely well qualified." Each college determines the score required to earn a credit.
For instance, Dartmouth requires scores of 4 and 5, which vary among departments in order for an incoming student to earn a course credit, while St. Anselm's College requires a score of 4 for all subjects, and the University of New Hampshire generally requires scores of 4, but accepts 3s for some courses in most disciplines.
Although New Hampshire high schools are not required to offer AP courses, all but a handful offer at least one. Nor are students required to take an AP course, but those that do are not required to take the exam.
Offerings vary widely
The School Funding Fairness report tracked participation and performance, as tallied by the College Board, between 2018 and 2021, when 10.6 percent took at least one AP exam and 69.1 percent of exams were scored 3 or better.
Participation varies widely. The percentage of students taking AP exams was under 5 percent at 16 schools, between 5 and 10 percent at 28 schools, between 10 and 15 percent at 23 schools, between 15 and 20 percent at 9 schools and between 20 and 29 percent at six schools.
The number of AP courses offered varies with the size of the school. Larger schools tend to provide a wider range of courses, including a greater share of AP courses. In the 2021-22 school year, 79 high schools listed a total of 741 AP courses, an average of 9.4 per school. Four schools — Lisbon, Nute (in Milton), Pittsburg and Pittsfield — listed no AP courses, while another 17 listed fewer than five. At the other end, Nashua North, Nashua South and Windham listed 23.
Schools with relatively larger shares of students whose household income qualifies them for free and reduced price lunch tend to have a smaller proportion of students enrolled in AP courses, taking the AP exams and achieving successful scores, the report found.
For instance, at Berlin, Pittsfield, Franklin, Spaulding, Stevens and Manchester West high schools, 30 percent or more of students qualify for free and reduced price lunch and less than 5 percent took at least one AP exam.
Likewise, the share of successful scores of 3, 4 and 5, which alone are reported, also varies widely as measured by the number of successful tests per 100 enrollments.
In the years 2018 to 2021, the state average was 11.6 successful scores per 100 students. Six schools reported no successful scores — the Bud Carlson Academy in Rochester, Franklin, Groveton, Lisbon, Pittsburg and Pittsfield — while 23 posted under five, 17 reported between five and 10 successful scores, 18 reported between 10 and 15, 11 report between 15 and 20 and seven reported between 21 and 38.
Finally, participation and performance varies with fiscal capacity, measured by the equalized property value per pupil (EVPP).
In 2020-21 the average EVPP statewide was $1,346. There were 15 high schools with EVPPs of under $850,000 — Berlin, Bud Carlson, Colebrook, Farmington, Franklin, Groveton, Hinsdale, Lisbon, Mascenic (in New Ipswich), Newport, Pembroke, Pittsfield, Spaulding (in Rochester) Stevens (in Claremont) and Woodsville. These schools averaged 4.57 percent participation and 3.07 successful tests per 100 students enrolled.
The 17 schools with EVPP between $850,000 and $1 million averaged 10.5 percent participation and 11.3 percent successful tests. The 26 schools with EVPP between $1 million and $1.35 million averaged 11.8 participation and 13.2 percent successful tests while the 20 schools with EVPP of more than $1.35 million averaged 12.8 percent participation and 13.95 successful tests.
"Students who attend smaller schools or reside in communities with lower-than-average property values are at a disadvantage when it comes to AP courses and exams," the report concludes. "Not only are these students underperforming compared to their counterparts, but many also do not have access to AP classes at all."