Rating the GOP debate field
Time remains to make sense of candidates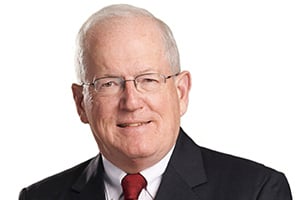 The Republican candidates for president who met the party's requirements for poll numbers and donors took the stage in Milwaukee for the first debate on Aug. 23. Former President Donald Trump — newly indicted for the fourth time — skipped the debate, while the others mentioned him in different ways.
Former Gov. Asa Hutchinson, not registering significantly in the polls, is a serious, traditional, statesmanlike gentleman. He takes offense at the offensive actions of others, calls things as he sees them and appears presidential. All that said, his performance on stage was not memorable, and probably did nothing to advance his chances. His reference to service decades ago showed his years of experience but also his age, as the oldest candidate — except for Trump — in the race.
New Jersey's former Gov. Chris Christie was his typical well spoken, blunt and intelligent self. Always good on his feet, Christie kept his theme of criticism of Trump going, gave good substantive answers on other policy issues, a funny response when asked the "UFO" question, and performed well. He undoubtedly scored with anti-Trump voters, and should have impressed undecideds, as well. Christie's problem is that, if there is a non-Trump candidate who will appeal to Trump voters, it probably is not he.
Former Vice President Mike Pence may have been the biggest surprise of the evening. Unlike his sometime stiff and unexciting image, he came out of the box swinging, and was assertive and substantive. He took aim at Trump while claiming accomplishments for the "Trump–Pence Administration," and was applauded by commentators and pundits for his performance. Whether this helps him with Trump supporters who believe the former president's claims about what Pence should have done on Jan. 6 remains to be seen, but he certainly stood to gain in the polls based on his performance.
Gov. Ron DeSantis must have been given a new script for the debate, since in his answers and prepared remarks, he never mentioned the word "woke," and tried instead to make points on policy. He appeared ill at ease on the stage, and he failed to reinforce the position he wants people to see him in, namely as the prime alternative to Trump, while appealing to the same group of people. The debate probably was not his best night, but, interestingly, a hurricane hitting Florida a week later gave him a lot of free publicity as he did his job as governor during a crisis, which may have more of a lasting effect than the debate.
Former Gov. and U.N. Ambassador Nicki Haley, the only woman on stage, came across as smart, poised, prepared and experienced. Her positions are somewhat contradictory — and some of her claims to have "fought the Chinese and won" and other accomplishments may overstate the facts — she continued a campaign that appears organized and planned, and she probably helped herself in the debate.
Sen. Tim Scott of South Carolina failed to capitalize on the opportunity the debate gave him to break out as the positive, "happy warrior" candidate. Largely, his answers and statements were repeats of his TV ads, and his performance was disappointing.
Gov. Doug Burgum of North Dakota injured himself playing basketball earlier in the day of the debate, obviously was in pain, but attended and participated anyway. He frankly came across as not quite up to the job of debating on a national stage, but whether this was because he is relatively new at national politics or the result of his injury, is hard to say. In any event, people probably gave him points for showing up, but not many for his performance.
Finally, Vivek Ramaswamy, the youngest candidate on the stage, was the target of several other candidates, for some reason, maybe because he had been rising marginally in recent polls. In any event, several of the others targeted him. In response, and in his policy statements, he came across as too inexperienced and, frankly, too much of a fringe candidate (which is saying a lot in GOP politics these days). He seems to want to "out-Trump" Trump with some of his wild claims and assertions and, to this observer, seemed to hurt himself by getting the exposure of the national broadcast.
Trump, by not being there, combined with the new indictments, could not have been helped by the debate — although how much he could be hurt with his core supporters is hard to tell. While polls still have him as the probable choice of more primary voters by far, many of those same people say they have not made up their minds.
Questions remain for the Republican field:
• When will the field start to shrink, so there aren't many alternatives to Trump, splitting the non-Trump vote?

• What are some of the candidates really running for: vice president, Cabinet, TV commentator position, corporate board seat?

• How can these candidates, no matter how talented, appeal to Trump supporters, which they will have to do if one of them is the candidate?
None of this is clear — but there is time to find out.
Brad Cook is a Manchester attorney. The views expressed in this column are his own. He can be reached at bradfordcook01@gmail.com.