NH manufactured home owners buy their communities in $48m megadeal
Three parks turned into cooperatives in largest such sale ever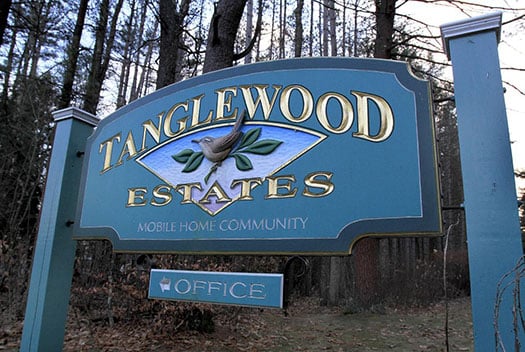 It was the day before Thanksgiving last year when Chris Villeneuve got a thick packet informing him that the land he lived on for the last 18 years at Tanglewood Estates, a manufactured home park in Keene, was being sold to one of the biggest corporations in the industry.
"I raised my daughters here, as a single dad," said Villeneuve, who had bought the 12-by-60-foot standard home for about $70,000. "It's a good place to live with good schools, but I couldn't have afforded to live anywhere else around here."
He and his neighbors could buy it themselves, along with the residents of two other New Hampshire parks, if they could all scrape together $48 million to match the offer. But that was a daunting figure to Villeneuve, who never organized anything like this in his life.
"It caused a great division," he said. "A lot of people said there was no way the 365 residents could run it as well as a big corporation."
But the residents, many elderly and disabled, narrowly voted to approve the purchase, and by July 15, the owners of 874 homes at Tanglewood, along with Holiday Acres in Allenstown and Black Bear Village in Conway, closed the megadeal.
Largest buyout
It was not the first-time residents have bought a manufactured home park. Since 1984, the New Hampshire Community Loan Fund's ROC-NH has helped residents purchase 128 others, and its national spinoff – ROC-USA – has organized another 113 MHPs in 15 other states since 2008.
But the most recent deal is by far the largest cooperative manufactured home park buyout in the state and in the nation. In New Hampshire, the previous top sale was Exeter River MHP Cooperative, with 392 lots, for $15.6 million. Nationwide, a Massachusetts sale of 400 homes had been the largest, though it was still half as large as this deal.
Exeter River is the state's largest manufactured home park, but Tanglewood, Holiday and Black Bear are the second, fourth and fifth 5th largest, respectively.
In addition, the lot purchase prices were also unprecedented, said Chris Clasby, ROC-NH's credit and portfolio analyst.
That's not surprising. Manufactured home parks are becoming a hot commodity. Private equity firms have discovered them, driving up prices. That's because they have captive tenants who only rent the land on which the manufactured homes – often misnamed mobile home parks – are planted, along with the rose bushes and the picket fences, since they are too expensive to move.
As Villeneuve put it: "It's like having a restaurant where the customers are chained to the booths."
Yet manufactured homes are among the few affordable housing options left. The homes involved in the most recent sale pay rent on the high side, in the $550 range, which is one of the reasons they fetched such a high lot price when Hynes Group put half of its dozen properties for sale to RHP Properties. RHP is the third-largest corporation in the industry, with more than 64,000 housing units and home sites spanning 27 states, with a combined value of approximately $4 billion, according to its own website.
New Hampshire law required Hynes to give residents 60 days to match that deal. That's why residents of the three properties were able to buy their parks. (A fourth New Hampshire deal fell through because of the lender's concerns over flooding.) The put up for sale by Hynes, located in Maine and South Carolina, didn't get that chance, since only three other states – Vermont, Massachusetts and Oregon – have similar legislation.
'Control their destiny'
New Hampshire is the center of the manufactured home park co-op movement. The state has far more such co-ops than (now 131) than any other. Massachusetts is second with 21. Co-ops constitute about a third of the manufactured home parks in the Granite State.
Part of the reason is philosophical.
"It really gives folks a chance to take control of their destiny," said the Community Loan Fund's chief operating officer.
It also gives them a chance to control their rents.
Residents in cooperatives set their own rents, and while their expenses generally go up right after the sale, on the whole they are slightly lower than non-co-ops, according to several studies, including one by the Carsey School of Public Policy at University of New Hampshire.
The discount is not greater because park owners often put the parks up for sale because they are not in good shape and they don't want to undertake expensive repairs, suggested the report.
In fact, the homes in co-ops usually sell more quickly and for more because buyers think they are more desirable to live in.
When RHP representatives spoke to residents at Tanglewood in Keene, they were told rents wouldn't go up more than $14 a month, "but they didn't guarantee that. They didn't put it in writing," said Villeneuve.
After the deal to buy the properties, Tanglewood's rents went up only by $6, he said, and at Holiday Acres they rose by $5.
That's partly due to ROC-NH. Program representatives were able to work out deals with two primary lenders, The Provident Bank and Northway Bank, and then fill the gap with Community Loan Fund financing and grant money. No one has ever defaulted on a MHP coop loan, said Flanders.
But it wasn't an easy task.
First there was the sheer size of the deal.
"It was a bit challenging," said Clasby. "There were three communities, and we had to meet multiple deadlines at the same time," he said.
Hynes had a deep debt on the properties to pay off and fees were steep. Residents themselves worked to keep the rents down, taking on some of the management functions rather than farming them out.
Russ Raymond, president of the Holiday Acres co-op in Allenstown, also said that sale wasn't exactly easy. First there was skepticism among the residents because an attempt to buy the property failed about 15 years ago.
"There were a lot of people who were negative. There was a lot of fear of change," he said.
About 60 people, representing only a fifth of the 300 lots in the park, showed up for the first meeting.
But Raymond, who had experience with some other nonprofit organizations, "really wanted to do it. I have the personality. If you are really trying, you can never fail, and slowly and surely they came on board."
By the time it came to the purchase, 136 people showed up, and only 31 voted against.
"I feel awesome that we were able to accomplish it, that we were able to pull off something this big," he said.