NH-ICC and abi Innovation Hub agree to merge
New organization will remain focused on growing startups, entrepreneurs and entrepreneurship in the state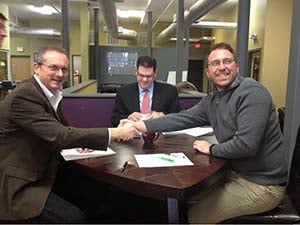 The New Hampshire Innovation Commercialization Center of Portsmouth and Durham and the abi Innovation Hub in Manchester – two organizations that focus on the development of early-stage high-tech companies – will be merging their operations effective Jan. 31.
The nonprofits share the same goal: aiding the development of early-stage, scalable businesses and entrepreneurs.
"If you think about it, New Hampshire is a small state that operates like a much larger one. These two organizations, who have a very similar mission and vision, just so happened to be operating in separate pockets of the state, and given the fact that business is space- and location-based, being able to join with the ICC just made sense," abi's board chair, Kyle York, chief revenue officer at Dyn said.
The new organization will be called abi HUB, focused on growing startups, entrepreneurs and entrepreneurship in the state.
NH-ICC CEO Mark Kaplan will take the reins of both organizations.
"This has sort of been a long time coming, the state has always been a small business state. We think that this is going to be a centralized location for small businesses to grow and possibly become the next Dyn," said York.
Added Kaplan: "Taking advantage of the momentum built by the abi over the past three years, and the significant commitment by the NH-ICC, the University of New Hampshire, Dyn, Community Development Finance Authority, among others, this merger provides an exceptional opportunity to enhance the network of resources available to entrepreneurs through more programs, mentorships and events."
The staff of the newly merged abi HUB will be current abi staffers Chief Operating Officer Michele Petersen, CEO Mark Kaplan, and Kristin Lane, manager.
The abi HUB also intends to draw mentors, advisers, speakers and educators – people who wish to aid starting entrepreneurs and are willing to take on roles in their programs and events.
The abi had been in the midst of change for the last three years under the leadership of former CEO Jamie Coughlin, current chief operating officer Michele Petersen and York.
In that time, the organization relocated to a new downtown space on Elm Street and rebranded itself as the abi Innovation Hub.
Founded in 2010, the NH-ICC was created to accelerate job growth and the development of early-stage high-tech companies. It was also designed to further enhance the commercialization capabilities of entrepreneurial ventures fostered through the University of New Hampshire's Office for Research Partnerships & Commercialization.
The new abi HUB plans to build on that partnership, and other pre-existing ones, through its three combined existing locations in Manchester, Durham, and Portsmouth.
The partnership with UNH will continue to play a significant role, according to York, as the merged organizations will further enhance the commercialization of intellectual property and research coming out of the university as well as support student and faculty entrepreneurship.