Newington manufacturer hires retired NASA astronaut
'Shep' Shepherd commanded International Space Station, flew three Space Shuttle missions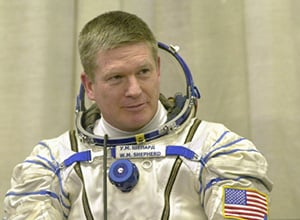 A Newington manufacturer of defense material has hired a NASA astronaut who was the commander of the first-ever long-duration stay on the International Space Station.
Wilcox Industries Corp., which makes tactical equipment for special operators and first responders in the defense and law enforcement sectors, has hired William "Shep" Shepherd as its vice president of Advanced Development and Restricted Programs.
Shepherd will work out of Wilcox's corporate headquarters in Newington. A graduate of the U.S. Naval Academy and the Massachusetts Institute of Technology, Shepherd served as a Navy SEAL before NASA selected him in 1984 for its astronaut program.
In his career with NASA, Shepherd logged more than 159 days in space. He flew three Space Shuttle missions, was program manager for the International Space Station, and in 2000 commanded Expedition 1, the first expedition to the new station. On that mission, he and his crew spent 136 days aboard the International Space Station, where Shepherd – as commander of the expedition – was responsible for the overall safety and success of the crew's prolonged stay in space. According to NASA, "the crew of Expedition 1 set the framework for international cooperation and attitude in space, displaying mutual respect and teamwork."
The ISS has been continually occupied since the arrival of Expedition 1 – the longest continuous human presence in space.
After Expedition 1, Shepherd later served as science advisor to the U.S. Special Operations Command, where he managed the Forces' science and technology portfolio.
In 2003, Shepherd was awarded the Congressional Space Medal of Honor.
According to Wilcox CEO Jim Teetzel, "Shep's experience and knowledge of special operations, aerospace, and defense activities will add unique depth to Wilcox's development team. We are continuing to grow into new technology areas and we know that Shep will be instrumental in this process."
Among its products, Wilcox manufactures night vision-mounting systems, small arms systems, and life support systems.