N.H. housing market 'returning to normal'
Realtors data shows another increase in median price, sales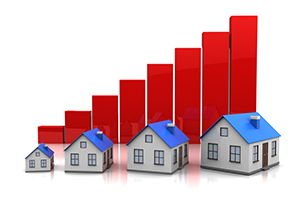 The weather might have started cooling off in the fall, but not the New Hampshire housing market.
In what is starting to become a pleasant routine, the median price of a home in September rose by double digits compared to last year – this time, 12.1 percent, to $213,000, according to the New Hampshire Association of Realtors. It was the third month in a row such an increase was reported.
So far this year, the median price of a single-family home has increased by 10 percent over the same period last year.
The state's housing market has been recovering for a long time, with sales numbers up every month for nearly two years. September was no different. Sales rose 15.4 percent for the month and 12.8 percent for the first three quarters of the year. Home prices, on the other hand, only started going up this year.
Put the two together, and you have a 26 percent increase in sales volume for the month.
In other words, things are back as they should be, said 2013 Realtors President Bill Weidacher.
"To the extent that there is such a thing as a normal market, I would say we're just about there," Weidacher said. "You'll always find distinctions in local markets, but from a statewide perspective, things truly are returning to normal."
There were fewer homes on the market last month, and they were moving more quickly.
In September, there was about a 10.5-month supply of homes on the market, four months less than a year earlier, and they sold in a little more than three months, some 16 days fewer than in September 2012.
September was a particularly good month for Strafford County, where prices jumped 22.3 percent on a 15 percent increase in sales. In Hillsborough County, September prices increased 16.4 percent. Only in Sullivan County did prices dip, and that by 2.5 percent. Sales, however, were up 16.2 percent in Sullivan, and year-to-date they are up nearly 24 percent.