N.H. foreclosures continue their 2013 decline
Year to date, they've fallen by 26 percent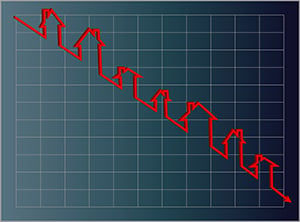 Foreclosures in New Hampshire continued to plummet in August.
According to figures released by the New Hampshire Housing Finance Authority, there were 213 foreclosures for the month — a 25 percent drop compared to August 2012.
New Hampshire Housing credited the improvement to a rebounding housing market as well as easing of attitudes by lenders, who were willing to let underwater homeowners (those who owe more on their property than it is currently worth) off the hook with a renegotiated loan or a short sale.
That's the way it's been going all year. Year to date, foreclosures have fallen by 26 percent, the fewest since 2007.
The downward trend is likely to continue, if not accelerate. Foreclosure auction notices, a future indicator, were down 37 percent since last August and 32 percent year to date.
Still, while foreclosure proceedings have reached pre-recession levels, delinquencies, while slowly falling, have not. About 6.7 percent of homeowners are behind on their mortgages, less than the 9 percent reported at the downturn's peak (the last quarter of 2009), but well above the 4 percent rate before the recession.