Mt. Washington Resort sues over oil spill
Insurer's denial of claim prompts federal lawsuit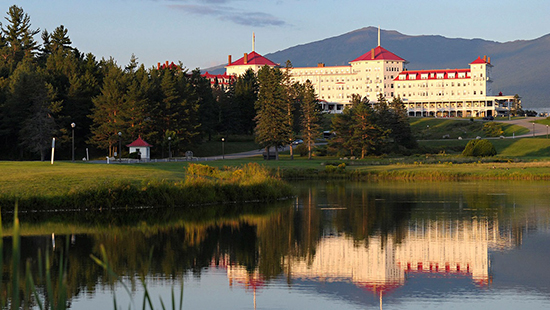 The Omni Mount Washington Resort spent $1.6 million to clean up an oil spill discovered last year near the landmark hotel in Bretton Woods, according to a lawsuit filed against its insurer that wound up in federal court on Aug. 16.
The spill, which apparently originated from a leak of its 25,000-gallon aboveground storage oil tanks, impacted nearby wetlands and the Dartmouth Brook, which empties into the Ammonoosuc River, according to the suit. It was filed by TRT Development Company Inc., the hotel's parent company, and Omni.
The soil was contaminated by as much as 30 times the levels required for remediation, according to a report for the New Hampshire Department of Environmental Service by Horizon Engineering, the contractor that assessed the damage shortly after it was discovered at the end of May and spend the next six months cleaning it up.
The DES issued an emergency permit to clean up 8,500 square feet of wetlands. Contractors had to dig as much as two feet under the brook, truck off more than 3,000 tons of contaminated soil and treat more than 177,000 gallons of oil-impacted waste on the 89.97-acre parcel owned by Omni.
Engineers could not determine the source of the oil or exactly where it came from – whether it was from an active or an inactive tank or a fuel pump or a line. There was no indication of oil diversion when looking at the hotel's fuel bills.
Omni oil tanks are insured by ACE American insurance Company for up to $1 million. The company first learned of a possible oil spill on May 29, and although it suspected that it was from the boiler house, it wasn't sure at first. On June 7, the DES told Omni to shut the pumps down, and on June 20 Omni notified ACE in writing. ACE didn't conduct an onsite investigation until September and the following month determined that it was "unable to deny this claim based on the leak not occurring from the [aboveground storage tank] system" so the "basis of [their] denial will have to be due to late reporting."
ACE contends that the company had to report the incident within 10 days. In Omni's complaint – originally filed in July in Coos County Superior Court – it argued that a late filing was not a reason to deny, especially since it didn't affect the insurance claim under the policy. Also cited was the insurer's leisurely response, showing that timely reporting wouldn't have mattered.
On Aug. 16, the case was moved to U.S. District Court in Concord. ACE, after asking for an extension, is not required to respond until Sept. 6. A request for a comment was not returned by deadline.
Omni apparently has more work to do. DES is requiring the company to investigate whether there was any other groundwater contamination, and it has to drill for samples to find out, according to documents. That testing alone should cost almost $50,000. But the documents also indicate that the company could be reimbursed to some extent by the state Oil Discharge and Disposal Cleanup Fund for remediation costs not covered by insurance.
When asked for comment, Omni general manager Josh DeBottis issued the following statement:
"We take the stewardship of our beautiful environment surrounding the Omni Mount Washington Resort very seriously and worked with state and federal agencies to take the steps necessary to minimize the impact of this release."