Most of $35 million raised for Ragged Mountain expansion came from Chinese, Russian investors
Feds have rejected visas for eight investors; money raised before reforms in visa for jobs program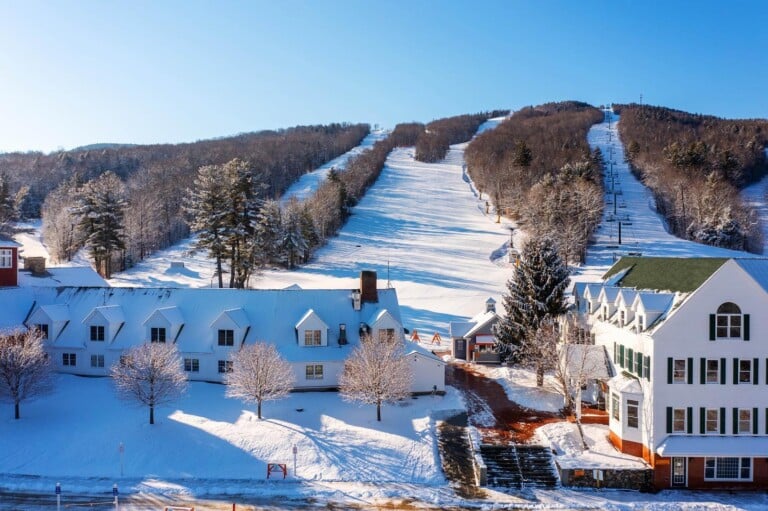 Sixty-six of the 71 foreigners who lined themselves up for a U.S. green card by investing in the Ragged Mountain ski area come from China or Russia, according to court documents.
The investors – including 36 from Russia and 30 from China – anted up $500,000 apiece between 2011 and 2019, according to documents associated with a federal lawsuit filed by a Ukrainian investor.
They did so at a time when relations between the United States and the two superpowers, while chilly, were not as frosty as they have grown during the 2020s.
"When we're talking about the EB-5 (visa program) investors, we're talking about people who are trying to leave these countries to come to the United States. That's the American dream," said Jason P. Gottlieb, a New York lawyer representing investment companies associated with Ragged Mountain.
But their dreams are a long time coming. Two investors have sued to get out of the deal. And in May 2020, the federal government rejected visa applications for eight, according to an affidavit filed in a court case brought by one of those investors.
"It is my good faith belief that none of these eight will receive a permanent green card, given the U.S. (Customs and Immigration Services') concerns about their source of funds," wrote Douglas Anderson, the owner of Ragged Mountain and the manager of New Hampshire EB-5 Regional Center, in a court affidavit.
New Hampshire EB-Regional Center raised the foreign dollar for the Ragged Mountain project.
The U.S. CIS has not responded to a request from the New Hampshire Business Review for details on the rejections.
Besides Russia and China, the Ragged Mountain investors come from Ukraine (two), Israel (one), Italy (one) and Kazakhstan (one).
Public court records do not include the names of the investors, and addresses for most were not disclosed.
But documents provided locations for some of the investors. Some locations were in American cities — Seattle, San Francisco, New York and the Massachusetts towns of Medford and Weston — for example. Still others list addresses in foreign cities: Moscow and Wuhan, for example.
Nationally, 22,069 EB-5 investors were awaiting visas as of March, according to U.S. CIS data available online. Except for 1,133 Indians, all are Chinese.
Details of the investors emerged in filings in one of two federal suits brought by investors who want out of the Ragged Mountain deal. One is a Ukrainian whose visa was rejected; his lawsuit has been thrown out.
The other lawsuit claims $35 million raised from the program was not invested as promised, including a hotel.
Anderson reported that as of October 2021, 61 of the Ragged investors were either living outside the United States or had not been granted even a temporary green card.
A temporary green card is the first step for EB-5 investors to eventually move to the United States permanently.
Gottlieb, who spoke to the Business Review, did not have an update on pending visas. But he said a couple of the investors have recently obtained permanent residency status.
As for Ragged Mountain, residential lots are being developed and condos built, but a large hotel is not going to be built, Gottlieb said.
Plans prepared in the distant past may not be what ends up happening, he said.
"We're building capacity for people to come and stay at the mountain," he said. "There's not a lot of beds close to the mountain."
The Ragged Mountain issues reflect some of the controversy that have plagued the EB-5 program.
During the 2010s, critics charged, the decades-old EB-5 visa program had become a means to swap permanent residency visas in exchange for cheap foreign capital. Congress had created the program in the 1990s to generate job-creating investment for hard-hit areas of the economy.
"Instead of creating jobs in undercapitalized areas, the program now primarily serves to provide wealthy developers access to cheap foreign investment capital subsidized by the sale of U.S. visas," Sens. Charles Grassley, R-Iowa, and Patrick Leahy, D-Vt, wrote in March 2019.
In a letter to the Trump administration, they also complained about rampant fraud and securities violations.
Last year, Congress passed the EB-5 Reform and Integrity Act, which aimed to ensure that investment funds come from legitimate sources. The law also established transparency goals for regional investment centers and raised minimum investments, according to the U.S. CIS.
And it upped the amount of minimum investment: $1.05 million anywhere; $800,000 in high unemployment or rural areas. But legal challenges have thrown those higher minimums into question, Gottlieb said.
Meanwhile, complaints have surfaced about the enforcement of the law. Last year, Senate leaders such as Majority Leader Chuck Schumer, D-N.Y. John Cronyn, R-Texas, and Lindsey Graham, R-S.C, wrote the Biden administration to complain that integrity measures in the new law were hurting EB-5 investment companies that did nothing wrong.
The U.S. CIS lists 10 EB-5 investment companies associated with New Hampshire. But only two EB-5-financed properties are connected to New Hampshire: the Ragged Mountain expansion and the $28 million Riverwalk Resort hotel at Loon Mountain.
Gottlieb said the Ragged Mountain expansion didn't focus on building residential but driving vistorship. Part of that is adding "pillow nights," which means new cabins and remodeling two lodges for overnight accommodations
Other aspects of the expansion include a new ticket and administrative building, additional parking for 1,200 cars, a beginner ski area, new lifts, and an additional 15,000 feet of piping for snowmaking.
The EB-5 funds were not sufficient, so additional financing was necessary, he said.
Meanwhile, in late August, the owner of Ragged Mountain, Douglas Anderson, stepped down as board chairman of Pacific Group Resorts Inc., the Park City, Utah-based company that owns five ski mountains.
Online, Pacific Group had listed Ragged Mountain in its "portfolio." But after the Business Review reported about the more recent lawsuit, Pacific Group chief executive Mark K. Fischer contacted this publication and said Pacific Group does not own Ragged. It only manages the ski mountain operations.
"Our job is to make sure the lifts turn, snow is made, snow is groomed and people are fed," Fischer said.
Anderson owns Ragged through several trusts, which acquired the area in 2007, Fischer said.
Anderson is an owner of Pacific Group, but in August he stepped down as board chairman to concentrate on real-estate development at Pacific Group resorts.
"We are in that awkward phase of a company's progression where we are too big to be a small company, but we aren't big enough to be a big company yet," Fischer said in a statement. The executive changes are designed to facilitate that transition, he said.
 Anderson is also the manager of New Hampshire EB-5 Regional Center LLC, the company that pooled the Ragged Mountain investments.