Liquor Commission issues invitation to bid on new Portsmouth store
22,000-square-foot outlet planned at traffic circle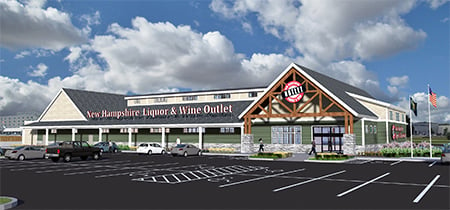 The state is looking for construction firms interested in building the latest outlet in the NH Liquor Commission's ongoing expansion plans.
The NH Division of Public Works on Tuesday issued an invitation to bid on behalf of the NHLC to identify qualified firms to complete the project. The invitation to bid is be available at the public works website as well as the Liquor Commission's.
The NHLC last week unveiled plans to build a new 22,000-square-foot NH Liquor & Wine Outlet at the Portsmouth Traffic Circle, doubling the size of the existing 11,000-square-foot store, which will remain open during construction, allowing for uninterrupted shopping.
The Portsmouth Traffic Circle location, built in 1969, has sales that are the NHLC's fifth highest among all its liquor stores, generating $23.7 million in total sales in the 2017 fiscal year. The commission projects the new store will generate $26 million in annual sales — a 10-percent increase.
In 2016, the NHLC reported $678.4 million in sales.
The NHLC expects construction to begin as early as February 2018, with customers beginning shopping there as soon as January 2019.
The new location will resemble many of the newly built New Hampshire Liquor & Wine Outlets locations like the Hooksett Welcome Centers on Interstate 93 and in Warner, while incorporating coastal architectural themes. Similar to Hooksett, the Portsmouth Traffic Circle location will have ample parking for the traveling public.
Since 2012, NHLC has relocated or renovated 28 outlets around the state, in Bedford, Concord, Epping, Gilford, Hooksett, Hampstead, Lebanon, Lincoln, Londonderry, Manchester, Merrimack, Milford, Nashua, New Hampton, North Hampton, Pembroke, Peterborough, Plaistow, Plymouth, Portsmouth, Salem, Seabrook, Warner and West Chesterfield.