Lethargy continued for N.H. GDP in 2012
N.H.'s real GDP grew 0.5 percent in 2012 -- 43rd in the nation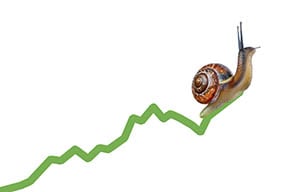 New Hampshire's gross domestic product growth was among the most sluggish in the nation in 2012, according to new estimates that show the state's economic recovery is still lagging behind several of its New England neighbors.
New Hampshire's real GDP grew 0.5 percent in 2012 from the previous year, according to advance estimates released Thursday by the U.S. Bureau of Economic Analysis. That landed New Hampshire 43rd nationally for GDP growth. Nationally, GDP grew 2.5 percent, or five times New Hampshire's gains.
Massachusetts' real GDP grew more than any other New England state in 2012, rising 2.2 percent, followed most closely by Rhode Island, at 1.4 percent.
Vermont, which had GDP growth of 1.2 percent – the New England average – also outpaced New Hampshire.
Two states fared the same as or worse than the Granite State in 2012 – Maine, which tied with New Hampshire at 0.5 percent growth, and Connecticut, where GDP actually shrank 0.1 percent – the only state in the country to see a contraction in GDP.
In New Hampshire, durable goods manufacturing and wholesale and retail trade contributed toward GDP percent growth in 2012, while the real estate sector in the state contracted in 2012.