Lessons from the election
Democracy seems to be alive and well in New Hampshire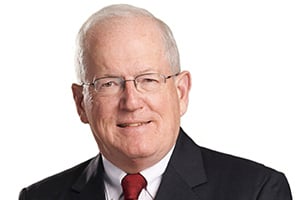 After voting in Ward 1 in Manchester, this writer accompanied Secretary of State David Scanlan and others on visits to polling places in Woodstock, Ashland and Campton — three relatively small and reliably Republican places. Ashland and Woodstock, along with Newington on the Seacoast, were towns testing a new ballot counting device being reviewed by the Ballot Law Commission and Secretary Scanlon. In all places, the turnout was high and steady, making me think there was a Republican wave brewing.
When the election results were known, however, that hunch turned out to be only partially true. In major races, the incumbents all prevailed, Gov. Chris Sununu besting state Sen. Tom Sherman with 57 percent of the vote, U.S. Sen. Maggie Hassan beating General Bolduc with 54 percent, Congressman Chris Pappas beating Karoline Leavitt with about 52 percent, and Congresswoman Annie Kuster defeating Robert Burns with 57 percent. All other than Sununu are Democrats.
Despite predictions prior to the election that New Hampshire's GOP nominees would do better than expected and part of a GOP wave spreading across the nation, that did not happen. Why?
The most obvious seems to be that the perception of the GOP candidates as extreme resulted in a lot of split ballots being cast. In Merrimack, for instance, 2,000 voters backed the governor and then switched to the Democratic column to vote for Senator Hassan and Congressman Pappas — a significant number is a traditionally Republican town.
Split tickets seemed to be the order of the day, given the results of the "downballot" races. Republicans retained control of the Executive Council with a 4-1 margin as well as the NH Senate and House, although possibly with a smaller majority in the House.
Notwithstanding the perception of the major GOP candidates as too extreme to be supported, the performance of both Bolduc and Leavitt in their concession speeches was classy and professional. One wonders how they would have fared if their campaign ads and events had reflected the same attitude.
The mere fact that those who lost conceded and brought closure to the process was refreshing and a pleasant contrast to the rhetoric of some national figures and candidates in other states. Leavitt, only 25, has a future in politics if she gets some experience and seasoning.
Senator Sherman, gracious as always, also can have a future in public life if he wants one, as his campaign was generally positive and high class. He is a capable and attractive candidate. His problem was he was up against the very popular Chris Sununu, whose positive campaign was almost Reaganesque in its optimism and spirit, right down to the cute puppy.
One clear winner of the election was the process itself, which should bolster voter confidence. Few, if any, issues arose, and Secretary Scanlan kept a firm hand on the process. He should be in a fairly strong position to win a term of his own as secretary of state when the Legislature meets in December.
Nationally, no wave of change seems to have occurred, although the GOP appears to be poised to control at least one house of Congress. Trump-endorsed candidates not only lost in New Hampshire but in many other prominent races across the country. What the former president says and does next may be the big political story of the coming weeks. So what conclusions should we draw from this election?
First, the identity of candidates matters, and less attractive candidates can cost a party otherwise winnable seats. Second, voters are smart enough to discriminate between candidates and parties, and are willing to split their votes in doing so. Third, New Hampshire elections deserve the confidence and support of voters. Finally, democracy seems to be alive and well here, and the hundreds of people who ran for office, winners and losers, should be saluted for participating, as should the thousands of poll workers who made the election so secure. Thanks to them all — and to the thousands of voters who took the time to vote.
Brad Cook is a Manchester attorney, chair of the state Ballot Law Commission and co-chair of the Secretary of State's Voter Confidence Committee. The views expressed in this column are his own. He can be reached at bradfordcook01@gmail.com.