Holloway memories, DeSantis report
Passing of a celebrated businessmen, plus thoughts on DeSantis political positioning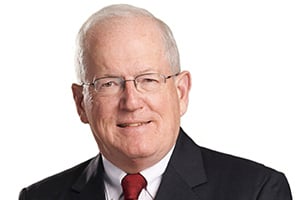 Paul J. Holloway was one of the giants of New Hampshire life since moving here in the 1960's to open a car dealership in Exeter, later building multiple dealerships, having been trained at General Motors. His accomplishments are being celebrated since his death on March 14.
His reputation as an honest businessman earned him many honors. However, it was his civic engagement that Holloway earned his place as a great New Hampshire leader. He spent 18 years on the University System board, serving as vice-chair under longtime chair Richard A. Morse, and then chaired the board. There are buildings named after him at UNH, Plymouth, Keene and community college campuses, and there is a Holloway Prize at the Paul School of Business at UNH.
I first encountered Paul Holloway in the '70s as a client of the law firm where I worked for 50 years. My favorite memory of him was when I was president of the UNH Alumni Association, and the combined system of higher education in the state was looking for a new name. Plymouth and Keene State colleges had been brought under the UNH trustees in the 1960s, and in 1971, they decided to formalize the system and needed to name the new combined entity.
Chairman Morse delegated the naming responsibility to Holloway. Many people, including Holloway, favored calling the system "The University of New Hampshire System." The Alumni Board disagreed, jealously guarding the name "University of New Hampshire" for our alma mater in Durham (not "at Durham.")
After about an hour of back and forth — in which Mr. Holloway patiently explained his position and I basically said, "Over my dead body" — I had the impression he thought that might be arranged! In any event, he suggested "University System of New Hampshire," then declared, "Done." And that is how we named USNH.
Paul Holloway and his wife, Anna Grace, have left a huge mark on their adopted state, for which we all should be eternally grateful. And I am particularly grateful that he patiently listened to a brash young lawyer almost 50 years ago.
My wife and I spent a week in Florida at the beginning of March, visiting relatives on the East Coast and friends on the West Coast. Among these were Trump voters, Republicans who did not vote for Trump, and a Democratic retired educational administrator. I was interested in the reaction of all of them, all transplants to Florida, to their governor, Ron DeSantis, now rumored to be running for President.
Interestingly, all of the GOP voters liked and had voted for the governor. They cited his administrative ability in the face of a major hurricane, balanced budgets, control over leaks from his office, and his fine personal and family attributes. He has a fine education, served in the military as a JAG officer, and served in Congress, where he decried the inability to get things done.
A couple of the voters regretted DeSantis' actions replacing the trustees of New College with political appointees, stripping the special Disney status around Disney World because of the company's stance on LBGT+ issues, and his opposition to a Black history curriculum. They blamed him for posturing when he says things like, "Florida is where WOKE goes to die," whatever that means. However, overall, they rated the governor highly on substance.
The Democrat, not surprisingly, gave a negative rating and considered Governor DeSantis to be dangerous and anti-intellectual.
All of these voters, whether they had voted for former President Trump or not, thought DeSantis a far superior candidate to Trump.
These opinions were, for the most part, thoughtful and enlightening, coming from a range of voters who had the opportunity to observe DeSantis as leader of their state, and who reflected the apparent opinion of Florida voters as a whole, who overwhelmingly reelected the governor last year.
These conversations were before DeSantis delivered his opinion of the Ukraine war as a "territorial dispute," which he said was not "vital to American interests," which got him in serious hot water and brought into question his knowledge of foreign policy, but such gaffs are not atypical of issues which arise early in presidential campaigns, and which, if handled properly, need not be fatal.
So, as DeSantis is soon to arrive in New Hampshire on his "book tour," it was good to get the views of those who have watched him up close, before New Hampshire Republicans get our chance to examine him as a candidate and alternative to the former president.
Time will tell how he does here.
Brad Cook is a Manchester attorney. The views expressed in this column are his own. He can be reached at bradfordcook01@gmail.com.