Executive Council to vote on head of Banking Dept.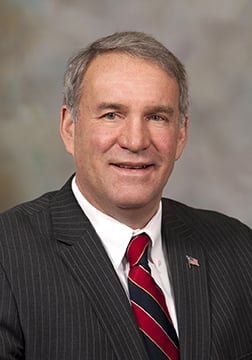 The fate of Gov. Maggie Hassan's nominee to serve as the state's new banking commissioner could be decided upon at the next meeting of the Executive Council, on April 6.
Jerry Little of Weare is currently a Republican state senator representing District 8, which stretches from New London to Antrim. He was elected in 2014 and is the vice chair of the Senate Finance Committee, vice chair of the Senate Committee on Energy and Natural Resources and member of the Joint Legislative Fiscal Committee.
But before that, he served as an executive with the NH Bankers Association for more than two decades, retiring as president in late 2011.
And it is his work lobbying for banking interests that has raised some eyebrows over his nomination.
On March 19, Little met with the Executive Council, as per decorum with all nominees. According to the Eagle Tribune, Democratic Councilor Chris Pappas said he'd heard concerns from constituents who are skeptical that Little could be fair and impartial.
Little said he has no more financial or professional ties to the banking industry and said lobbying represents only about 20 percent of the work done by the bankers association, as reported by the Eagle-Tribune.
Whether serving as town moderator in Weare, as president of the bankers association or as a state senator, Little said he has always put his constituents first, and he assured the council he would make consumer protection his top priority if given the job.
"Once I take the oath of office, I have one responsibility and that's to the people," Little said. "That's the way I behave."
Several of Little's colleagues in the Senate, including Democrats, spoke in support of Little's nomination and defended his integrity.