Eastern Slope Inn looks at the big picture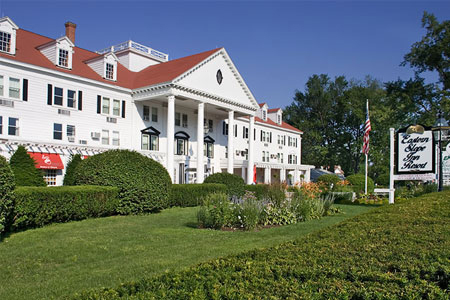 The Eastern Slope Inn in North Conway dedicated an entire year to making its buildings more environmentally sustainable rather than picking "just one thing."
Gil Harris, trust manager for the inn, created a 12-step program that allowed him and his team to tackle a different project each month, with each step containing a different environmentally themed undertaking.
The program began in January 2014.
"We try and take a look at one a month, but it's not etched in stone," said Harris, explaining how the list is more of a general guideline rather than a rigid set of rules.
Among the projects: monitoring electricity consumption for a month in order to figure out where and how to make improvements; figuring out how to update to more efficient lighting; weighing the use of organic paints as well as what alternative landscape and laundry chemicals to use.
The list also has tackled questions about water usage and solar energy.
"The inspiration behind it was what we are doing an awful lot to be sustainable," Harris said. "The idea of the 12 steps was just something catchy. In most of these things, we can look for longer term investments that have a payback."
Already, the inn's work has been recognized and its efforts rewarded. The New Hampshire Sustainable Lodging Program has awarded Eastern Slope Inn its "Environmental Champion" status.
When it comes to incorporating environmental or social initiatives into a business model, Harris believes the economic benefits that come along with it make it a total crowd pleaser.
"It satisfies the cost-conscious people as well as the 'greenies.' It's good for everybody," said Harris.
The "Just One Thing" Campaign is an 18-month effort of New Hampshire Businesses for Social Responsibility. Its purpose is to challenge businesses to consider incorporating a sustainability initiative into their operations. Companies can celebrate their achievements and inspire others by sharing their stories on the campaign's webpage.
To submit your story or read others, visit nhbsr.org/jot.